And now on to Lexus. She came to live with us on 04/29/08. She was around 12 weeks old and weighed in somewhere around 1.5 pounds. Unlike Bentley, she didn't come from a breeder here in SC. She was flown in from Oklahoma. But, the moment I saw her picture I knew she belonged with us. And after speaking with her breeder numerous times about her and her personality, it sealed the deal for me. And she has been such a joy to have around since then. Lexi is very much a Mama's baby as well (but she very much loves her Daddy too). She follows me everywhere and loves to cuddle with me. At night, she refuses to go to sleep until she has given my feet a good thorough licking. If she doesn't have access to my feet, she will make do with some other exposed body part (leg, arm, hand, face, etc.). As strange as it may sound, I thoroughly enjoy her feet-licking session every night. For some reason it soothes me and helps me to sleep as well. I think somehow she knows this and that it soothes her or comforts her as well.
She loves to give kisses, but she isn't as free with her kisses. She gives Mommy and Daddy and other family members or friends that she is close to kisses pretty freely, but won't even attempt to kiss strangers. Every now and again we'll catch her licking the hand of a stranger that is petting her, but it isn't something she practices routinely.
Lexi is also very in-tune with mine or hubby's moods. She is very quick to comfort us or snuggle with us if we are having a bad day or feeling sad. She is pretty spunky. She will fuss at strange dogs without a second thought sometimes, which is something we are working on.
She is a super jumper. She can jump as high as the counters in our house. She has even jumped high enough to take things OFF the counters. She loves to run. When we go out into the backyard, she immediately starts running circles around the yard. Sometimes Bentley will chase her and it looks like the Chihuahua derby in our backyard!
She loves her Bubba. She likes to cuddle with Bentley, but she doesn't always like to share Mommy and Daddy with Bentley. She is very quick to push him out of the way to get kisses when he is getting kisses. If he is laying or sitting where she wants to sit, she will sit or lay on top of him until he moves or will worm her way in the middle. But, if she wants to play with Bentley and he doesn't want to play with her, she will twist and turn and pout and whine and cry and make the cutest little noises to try and get his attention.
She is most definitely our sweet little girl.
Her first night at home. Gotta love those ears!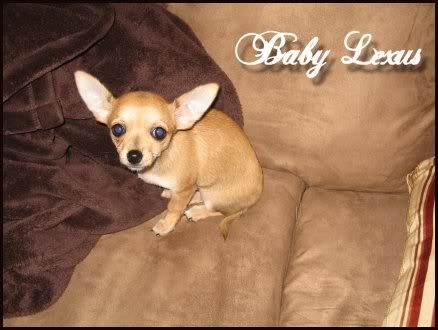 Our precious little pumpkin.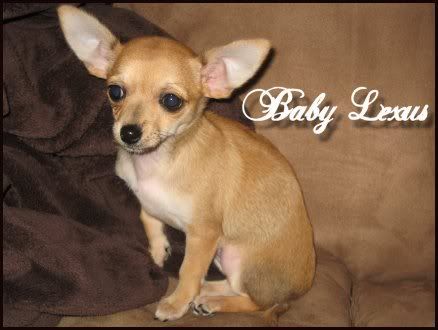 She is about 5 months old here.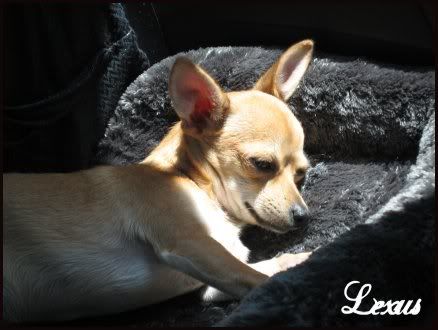 Watching Daddy work.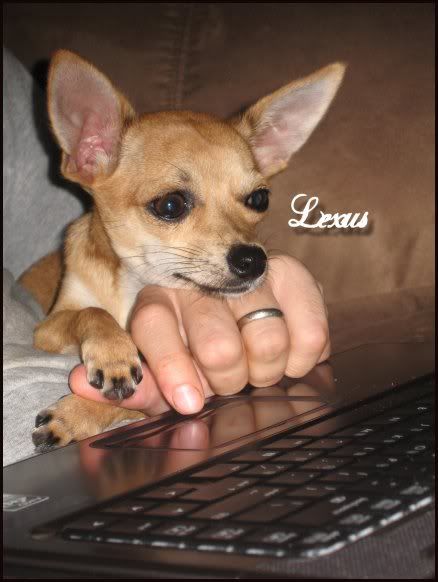 In her party dress on her 1st birthday.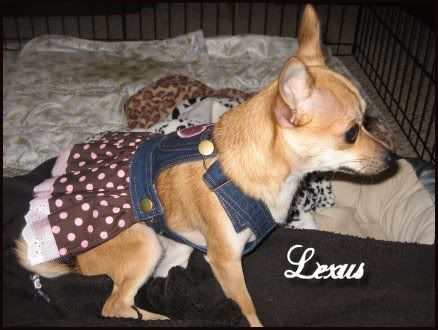 Beach baby.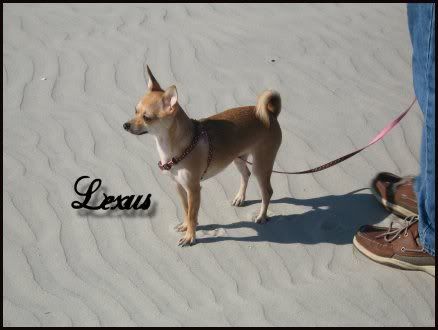 Lexus at 15 months old.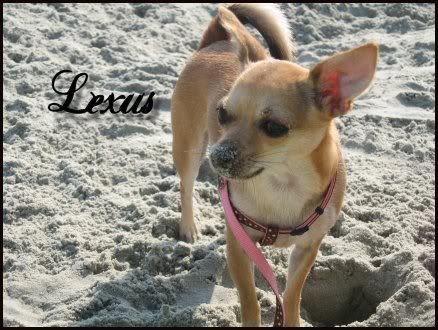 Chillin' with her Uncle Rascal.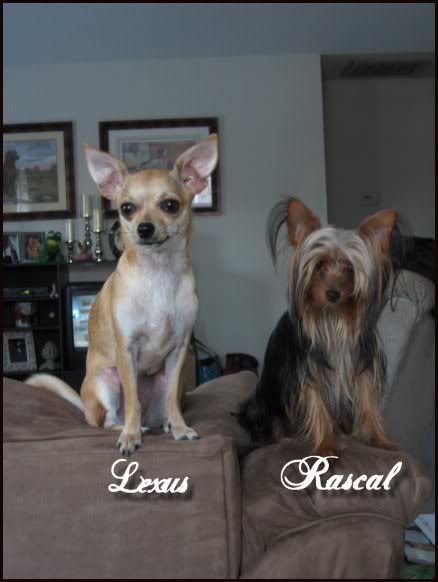 This is the "intense" side of Lexi.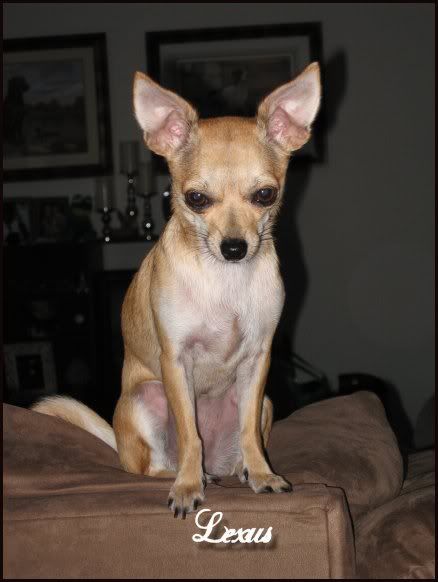 My Miss Priss.