Hey everyone srry i havn't been around. Christmas week has just been sooo crazy for me and super busy. I hope everyone had a wonderful Christmas!
Heres a couple pictures i got of gizmoe with his pressys and he got a snuggle bed to in but he still hasn't figured it out yet
so hopefully he uses it so i can get a picture
His bra toy lol!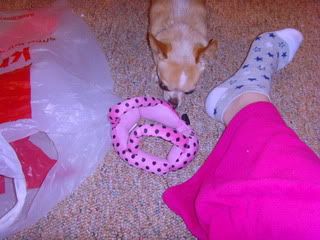 He was shaking this football.
srry i dnt have better pics he ended runnin uup stairs