Just the girls, now..
---
Well, with a few tears from me, little Drummer boy went to his new home on Monday. I saw his new mom today who said he is having a great time being spoiled and playing with his new 6 month old chi sister. lol
So, it's just the girls, Holly and Snowy, as the babies here now.. They are continuing to entertain us with all their antics. Here's a new pic of them.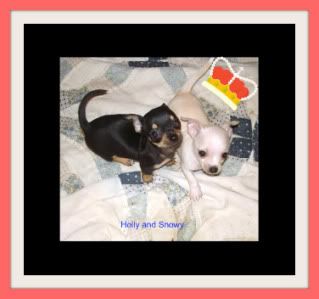 __________________
"There's no changing people, and we can't even help people with whom we're emotionally involved. Let them be, stop expecting things from people who cannot provide those things, and recognize that we can live happy, productive lives regardless of what others, even close relatives, are doing or saying."