Well.. for those of you who don't know, Mandy was my secret Santa and being the gorgeous person she is, she sent it on time at the beginning of December but of course Australia Post decided to hang on to it for awhile and make Mandy worry
We both had decided to give up hope until today the mail man came with a surprise for Pebbles and Shadow!!!!
I was over the moon with excitement (seeing as i had a bad day) and we just want to thank Mandy so so so much for going to all the trouble of getting such beautiful things for us and shipping them all the way to the other side of the world, you truly are a dear friend and we love you!!
Mandy also sent us some gorgeous personalised bowls and the best snuggle sack, a few months earlier and i have to tell you they are used every day! We are so lucky to have been spoilt by you Mandy, thank you!
These photos just do not do these things justice they're awesome!!
When I received the package i took a photo on my desk at work LOL
Hmm mumma itís not Christmas what could this beeeee....
WOWWW TOYS MA FAVE!!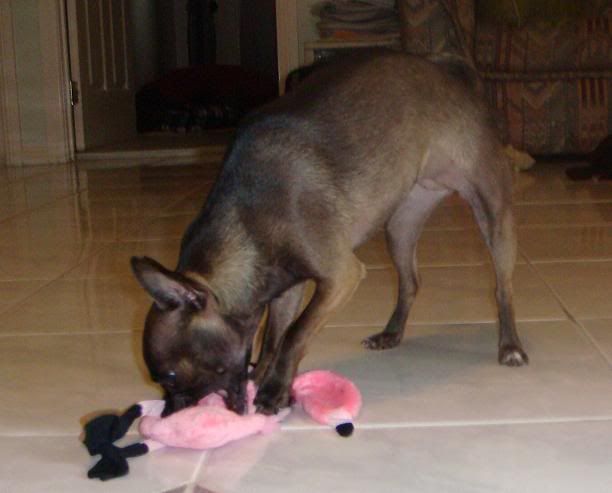 Flamingo is so light i can shake him around woooooooo
aw i love this heart it squeeeeeks!!
Hmm i like this guy GIMMEEEE
Oh Shadow you are so immature.. to think... you play with toys pfffttt...
I found it hard taking most of these photos of the clothes because they wouldn't sit still and all they wanted to do was sit on me! so I had to take them with one hand LOL
Oh come on mum I can pose on my own take your hand away!!!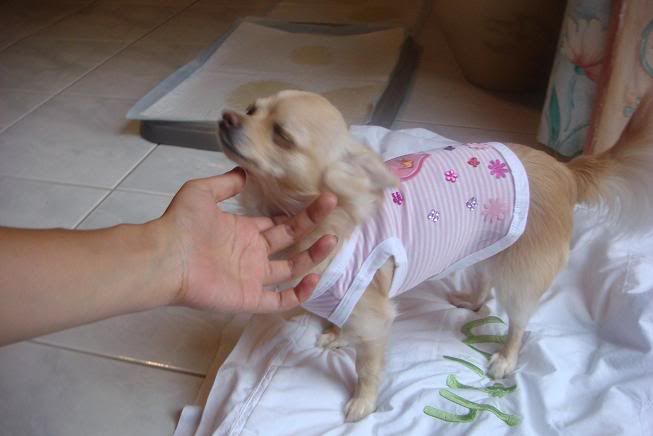 Seeee... aren't I pretty
Back shot.. look at all the pretty flowers and butterflies!!