Bed full of Black and Tans
---
Couldn't help but be amused this morning when all the black and tans (except little Holly) decided to nap together..
Fancy who is 14 years old is at the bottom of the picture, Cocoa is at the top, and Bandy, our "special needs" boy is sandwiched in the middle. lol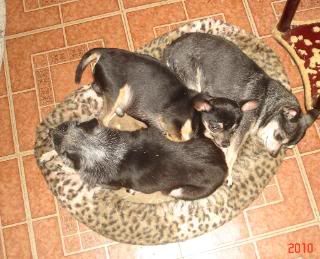 __________________
"There's no changing people, and we can't even help people with whom we're emotionally involved. Let them be, stop expecting things from people who cannot provide those things, and recognize that we can live happy, productive lives regardless of what others, even close relatives, are doing or saying."