Yay, an Ears Up day!
---
I realize the rest of the world would not understand how excited a chi puppy owner can get on an ears up day...lol
I knew you guys would know exactly how exciting it is
Snow has such
enormous
ears, that many times only one is carried erect...Today, however, has been a
great
ear day..teething and all.. Deb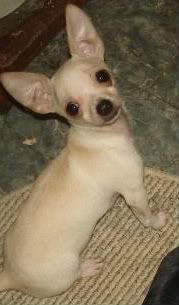 __________________
"There's no changing people, and we can't even help people with whom we're emotionally involved. Let them be, stop expecting things from people who cannot provide those things, and recognize that we can live happy, productive lives regardless of what others, even close relatives, are doing or saying."