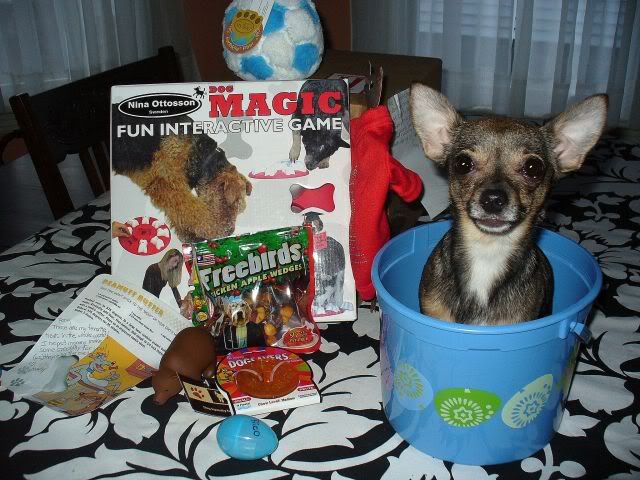 Rico is thrilled to sit in this sweet Easter bucket Just look at all of the clothes--very adorable red fire-hydrant t-shirt-some new treat that he hadn't had before, squeeking toy animals,an EASTER EGG--Rico's favourite--inside was homemade treats. Rachel included the recipe too ! What a sweetheart she is.
This is a game that I mentioned in a post asking who likes it, etc. I was thinking of Rico's birthday...well the SB..and her mum Rachel ran straight away to the store and got one !! He has such a fun time with it.
There were so many treats and toys..a really fantastic lifesaver toy that you can put treats into--great if the pup has to be home alone for a bit. He loves all of the animals. The futbol/soccer ball is amazing..it makes noise and Rico is showing some real promise as a footie-star--LOL.
Thank you Macy and family for the best SB gifts ever !! xoxo