Today me and Jake ventured out to Irchester Dog Show, Jake was so excited to be out among other dogs and most were sooo friendly and gentle with him especially two particular nice whippets.
One bloke however had a husky type dog and ti was barging into me, trying to jump on Jake and twice grabbed my hand in its mouth. I put up with it but when it again lunged at Jake I immediately pushed it away, it was only then the bloke handling it moved over.
Anyway in the Pedigree class Jake got
5th
for the Utility and Toy class...
A
3rd
for Most Handsome dog
AND.......
1st for Best Visitor over 10 miles away
Here is Jake with his Rosettes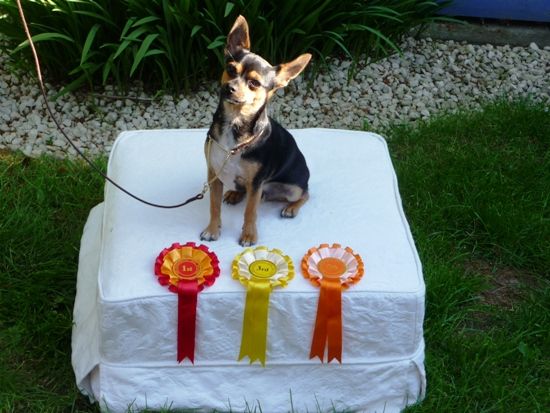 Didn't I do good mummy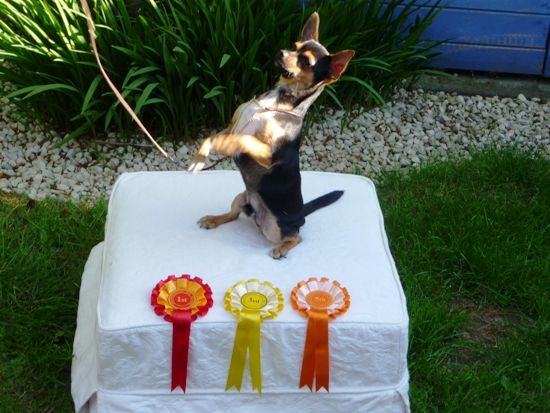 I'ms tired now, no more posing I lies down
I took my camera but never got a chance to ask anyone to take photos for me and I was on my own, however there was a photographer there so I am gonna check her site out, she says to give her a few days and she told me she got a great photo of Jake carrying his 5th place rosette.
When Jake won a rosette he insisted on carrying it himself, he looked so cute. I got OH to take some photos when we got home, he's on the puffy as our grass is a bit long ..
So me and Jake had a fabulous day and I am so proud of my little boy espeically when there was about 16 - 20 dogs in each of his classes.