Maribelle & Marley joined my girls, my mother & I at the parade this year. Then we took an unexpected visit to my brothers cottage so my youngest could do a bit of fishing with her uncle (my oldest went with her nana for the afternoon for a picnic & to watch the Alewives run). Anyway, the pups have never been to my brothers or met (properly anyway) his lab Tucker. Tucker is very sweet but a typical lab. Happy, very nosey & completely oblivious to his size.
Marley isn't usually crazy about other (big) dogs but really hasn't had a chance to spend much time with a bigger dog either so this was great for him. I took this video about 5-10 minutes after we got there & even the rest of the time he kept growling at Tucker (though he certainly wasn't being "mean" the silly boy!) but still kept running around like he owned the joint. Too funny!
Maribelle was just her pretty little self all calm & collected. Though as you can see in the video she had to tell Tucker off when she was tired of him getting a little too nosey. But I absolutely don't blame her.
She is so patient but he was trying her nerves a bit. LOL
First a couple pics of us at the parade. Excuse the quality of both pics & video...both taken on my cell phone unfortunately. Hope you enjoy none the less!
Here we are in my favorite parade watching spot.
I think Mari was getting bored....
"Yes mum, we will look for ONE picture..."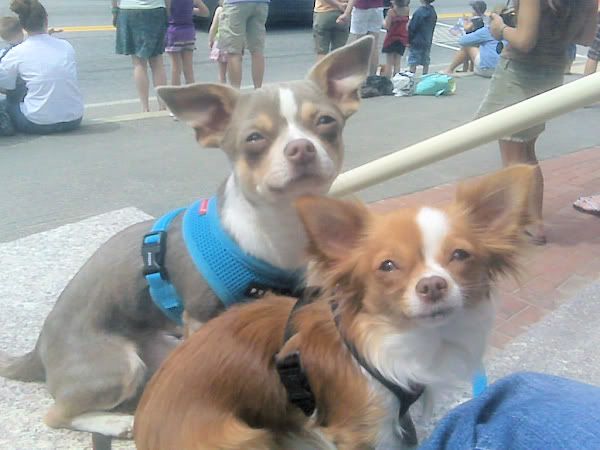 Bad pic but one of the very few other Chi's around. Odie is SO FREAKING cute. He's never leashed but follows his dad around. He always looks a little scared but he lets everyone pat him & hand him around w/o making a peep. I finally got to meet him yesterday (after seeing him at other parades from afar & talking with his owners in online LOL) & he's so soft & sweet. He weighs 3lbs & is nice & stocky. Not much smaller at all than Maribelle. Just shorter in length & has a bit shorter legs. I'd love to steal him though. hehe Cute as a button he is!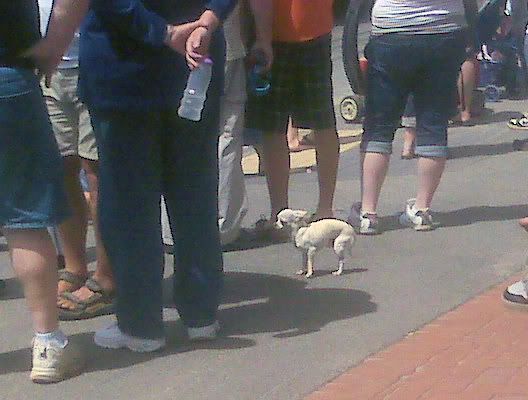 And the video.... **and to add that particular time was NOT the first time I put Marley in the water. I had done it before I taped the video so I knew he could swim. Just to clear that up. LOL BUT listen to this - Maribell literally jumped in the water off the dock. I couldn't believe it!! Scared the crap outta me. She went right under but came right up & swam back to me. Crazy girl!! Then she went into the water, swam under the narrow part of the dock (head out of the water of course) & back up on shore. She's a little fish I guess!
http://www.youtube.com/watch?v=dqM5-gIAlyE