Hey all! I'm new so I thought I'd introduce Shayley & Kizzie and share some of their photos!
*SHAYLEY*
Shayley is my 7 1/2 year old black Chihuahua! She was my first dog I got to pick out and I knew she would be my responsibility (I was 16 at the time!) When I went to look at the puppies (there were 4 from a litter) I knew Shayley was the one I wanted right away. Not only because she was the sweetest & shiest but because she was the chubbiest!!! I couldn't imagine life without Shayley! When I was 17 we had a tragic event that took place in our family and having Shayley was like a gift from Heaven knowing that she would be by my side through all the hard days a head. I am so so so blessed to have Shayley! I love her forever!!
Shayley all snuggled under our heated blanket! She knows how to stay warm!
Shayley with her blue pup outside our house.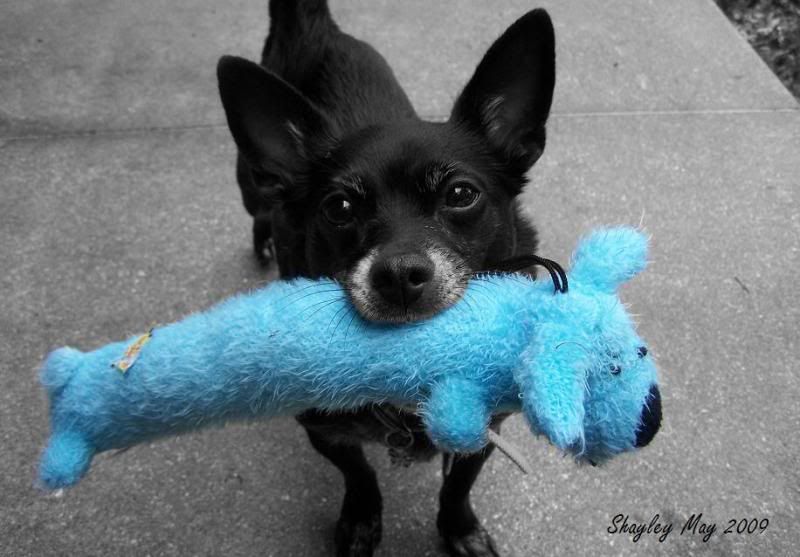 Just adorable
Shayley having fun playing in the mud at the river.
Shayley all proud of herself here, standing in the Meramec River!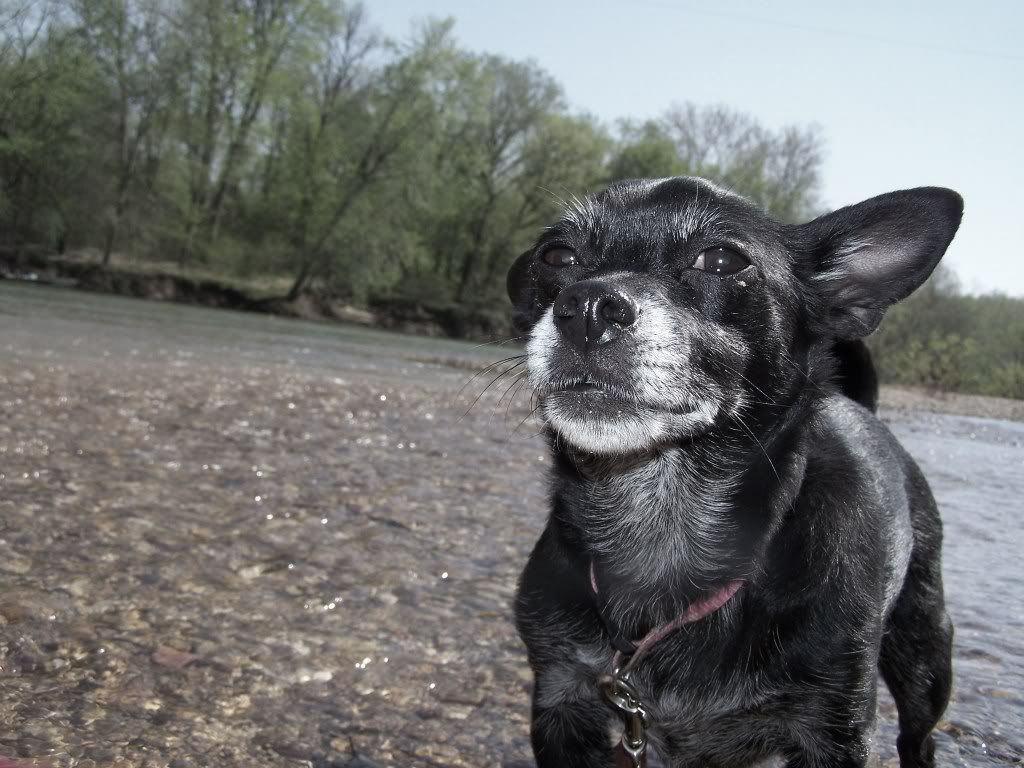 *KIZZIE*
Kizzie just turned 1 years old June 1st. She's my cute little black Chihuahua that has one of the best personalities ever! She has to go potty she runs up to you and growls (like COME ON I GOTTA GO) kinda way! She steals her sisters treats and is a toy hog but she also knows how to be the sweet little cuddle bug too. My fiance got Kizzie just a few days before my birthday last year. We were wanting another Chihuahua because I felt Shayley was getting older and needed a friend after my mom's dog passed away.....I found Kizzie on petfinder and she and her sister had been dropped off there at a young age. =( Kizzie was the puppy I saw online and wanted but after hearing the story I would have taken her sister too but thankfully she had already found a home! =) So we drove 3 1/2 hours to get Kizzie through a pretty bad storm too! It was such a fun long ride! Coming home was the best though! Holding the little cutie in my arms! I love my little Kizzards!!!
Kizzie's 2nd day home with us! She was laying on the rug in my mom's room and while I was taking pics of her the little cutie started to chew on the rug. It was so funny and cute! I love this picture!
Kizzie in her dress. (Actually this is Shayley's dress lol) She was about 6 months old here)
This is Kizzie at the Meramec river. One of her favorite places to be when we leave the house! She was playing in the mud/sand and got it on her nose!
Kizzie all wet after jumping into the river!
Ok last photo I swear but I had to throw this one in for you all! This is Kizzie's favorite thing to do at the river....chasing the rocks we throw in the water! She gets pretty wild with this! She jumps in after the rocks and can't never get them so she grabs a hold of her leash and shakes it back and forth growling the whole time. It's just so funny and we stay at the park for hours just playing with her! Its the best!