So my youngest daughter, Ivy, turned 10 yesterday. She had her family party on Sunday (about 15 people)& then yesterday she had 4 friends over for the night. It's always a bit nerve wracking for me because I worry about my dogs (I'd worry even w/o my dogs LMAO!) ...especially Maya since she is new to big crowds, children & elders. But I know in order for her get used to it she needs to experience it. We don't typically have big crowds here unless it is one of our girls birthdays or what not. The rest of my crew barks upon arrival (like most do LOL) but settle w/no problem. Some don't like to be fussed over or patted but they mingle amongst my company w/o issue.
Anyway, Maya did great with the big crowd on Sunday. I did crate her and Matilda (who has big time fear aggression when it comes to people trying to grab at her and/or pick her up) for a bit while I was busy with gifts & cake because my 1 1/2yo nephew was here running around (and he doesn't always follow the rules if you kwim LOL). Maya did bark/jump at a couple people who were showing too much interest in her but all & all did okay. And for those who don't know - Maya's previous owner informed me when we picked her up that her friends would always tease her when they came over. So yeah.
Here are a few pics from that party....which I didn't get a lot of the pups I'm just seeing but you get the idea. LOL
New gift...hamster! They had to check it out...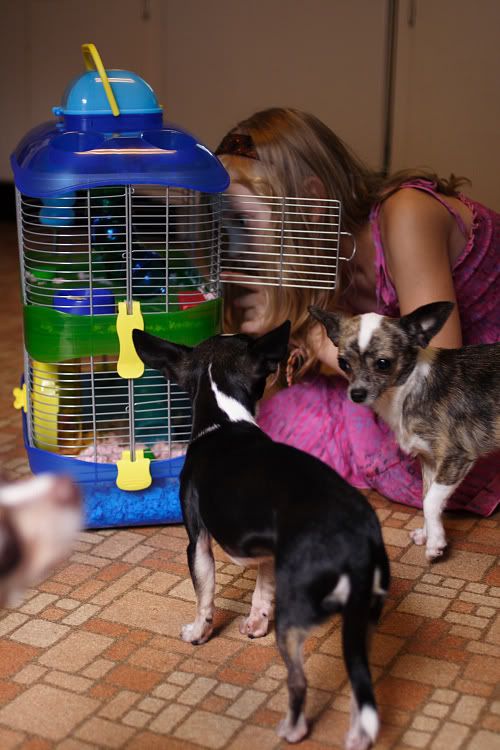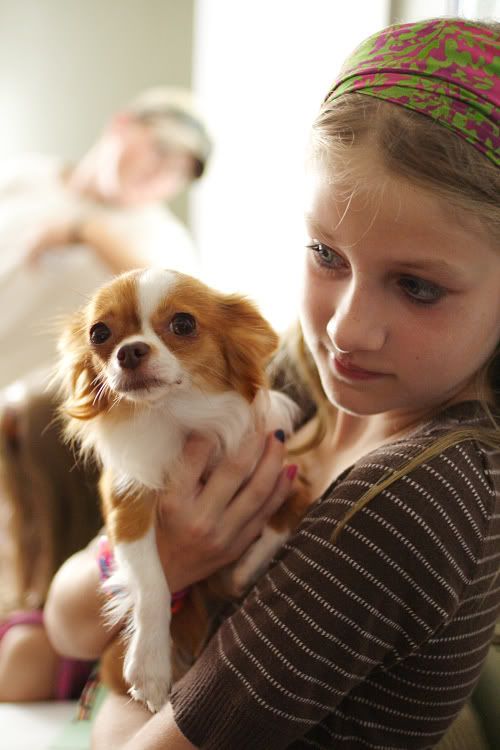 Marley mingling with my sis (and her bf which you can't really see)...
Ivy's Noni gave her this bag & said "you can use it for your dogs if you want" so Ivy had to try it out. haha
The kid party made me a bit more nervous with Maya. My Chi's are funny...they actually prefer kids over adults! I think we have too many adults coming & going all the time (which drives the pups nuts because they don't have time to warm up. I mean, dont' get me wrong...they do warm up if someone comes for a bit - but they tend to warm up to kids very quickly. Anyway, as I said Maya hasn't been around kids since she left the breeder at 8 weeks old. She tried attacking my 2 daughters for the frist couple weeks we had her but now loves them as much as the rest. She did jump at one girl we had here a few times because the girl 1)despite me telling her to let them come to her, would reach for her & 2)she showed fear which freaks Maya out. If you have a sure hand...Maya totally respects you! If not...it goes the other way. Anyway...here are the photos from THAT part of the party.
The morning after the sleep over. The pups were so happy to see everyone! (they usually sleep with my girls but I crated them all so they wouldn't be freaked out if someone got up in the middle of the night & what not. Anyway..they were pretty excited - even Maya was going to the girl, she had barked/jumped at the day before, for attention!
**excuse the blurred faces - since they're not my children I don't feel comfortable not blurring them**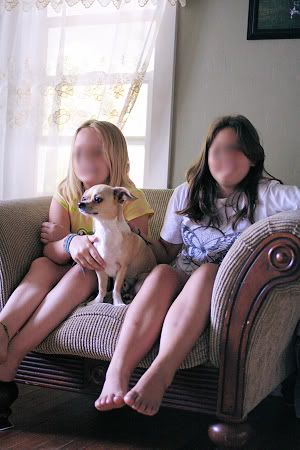 And finally...I wanted to get a friend shot but Ivy insisted we first get a friend & CHI shot since there were 6 girls & 6 Chi's. LOL Trying to instruct 4 people how to handle 4 of my Chi's wasn't easy...then to get them all looking...I was happy with this result to say the least! haha
Thanks for looking!