---
Aww, what an adorable baby.. We have 4 black/tan chis...I think they are lovely..
This is my favorite pic of Argon..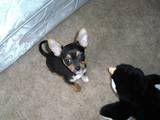 __________________
"There's no changing people, and we can't even help people with whom we're emotionally involved. Let them be, stop expecting things from people who cannot provide those things, and recognize that we can live happy, productive lives regardless of what others, even close relatives, are doing or saying."