Now for da best part! Hurryz up mom! We sittin nice for u and everyding!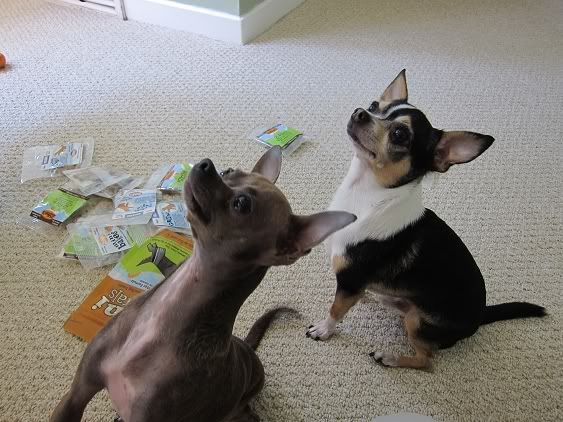 I tried to get a pic of them eating their treat (twice! I gave them two treats for two photo chances, lol) but I failed each time.
The minute the treat came down chaos ensued and they woofed them down before I had a chance to get a decent pic. lol. Pip is almost impossible to capture when treats and toys are out as he never stops moving, haha. But they LOVED them.
I love that the treats are wheat, corn, and soy free, I really think these will be perfect for them! I'm SO happy!
Oh and later on Roo claimed the duckie as her own. She loves little stuffed toys, it's her favorite thing. (And these are the perfect size for them. I can never find small ones like this!) Pip has tried to lay claim on the foggie, we'll see how long Roo lets him "borrow it" for. I'm sure Roo will claim the frog soon too. haha.
All da xcitement haz made me sweepy. I takes a naps with my duckie now.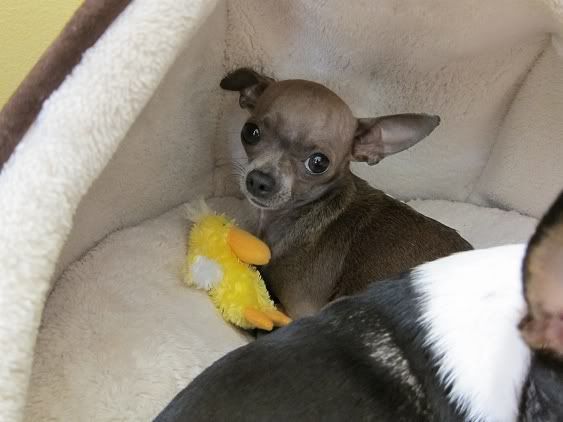 After this pic, Pip left the bed and went back over to the floor to smell where the treats once were hoping to get more. haha.
Thank you again SO much for everything, Kristi, (I'm excited for them to try the Keen too!) you are the best! Pip and Roo send tons of puppy kisses for such awesome treats and toys.
(Btw, I love the bag too!)