Quote:
Originally Posted by
elaina
awww, very sweet pic of Gia under the tree. is that the snowbaby hoodie? i love those , so soft. we must have the same taste in doggy clothes, we both bought the cherry jubilee dress and the pleated coat and now this snowbaby hoodie
Thank you Elaine!! Yeah, that is the Snowbaby hoodie. I bought one for each of the oldest 3. They look so cute!!! So soft, and warm! I was thinking that too, about our taste in clothes.
We have awesome taste!!
I bought the Red coat here in town, but they didn't have Lexie's size in stock. But I loved it so much that I bought it anyway. I had to tie the belt on her it was so big, and it hung past her tail. But I was determined to keep it.
Silly, I know! But it is so pretty! Anyway, Moni saw that the one we had was too big, and she went and bought it in the right size for Lexie and sent it to us. Wasn't that sweet!
It is my fave. coat for her! It's perfect for our weather too. Warm, but not super bulky and restraining. She will wear it without a fuss. I sent the one I had to someone else, but can't remember who now.
Here she is wearing it last year in the Snow.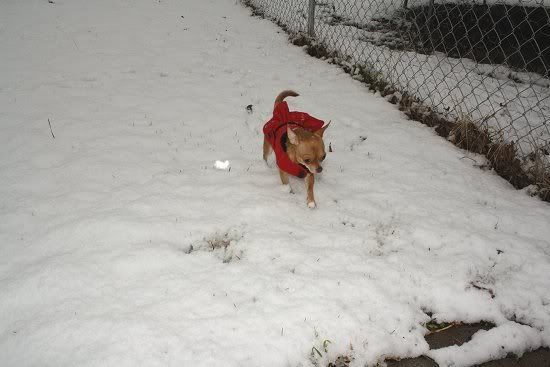 Quote:
Originally Posted by
sugarbaby
nawww love the first pic , she really is a little heart stealer with that look .
Thank you so much! She is a little sweetheart!