***FIRST OF ALL*** I am not looking for critisism, advice, anti-breeding spews, etc. This post is for the folks here (who have not read on facebook) who would be interested in knowing our news.
No negative replies will be acknowledged & will be asked to be removed. This is an entirely "if you have nothing nice to say--say nothing at all" thread.
Saying that...
Maribelle doesn't only have one secret to tell you about...she has three! Well, since she is preoccupied at the moment I'll share the news for her. LOL She gave birth to three healthy boys yesterday afternoon following a fairly quick & thankfully uneventful whelping. I'd been temping her for several days so we knew we were close. Contractions started at 1pm yesterday (1/6/11), she began pushing at a little after 3pm. First pup was born around 3:30pm & last pup was born right around 4:30p. Mom & pups are doing very well thus far. It's always a bit iffy the first couple weeks but so far so good. Everyone is happy, healthy, eating & doing well! Here is a little rundown of our past 2 1/2 months...
We housed a wonderful stud name Jessie James for 2 weeks. Our whole family didn't want to let him go back to the breeders. He was a complete SWEET HEART!! Not to mention gorgeous. But anyway...here is a snap from his last day here...with the Misses.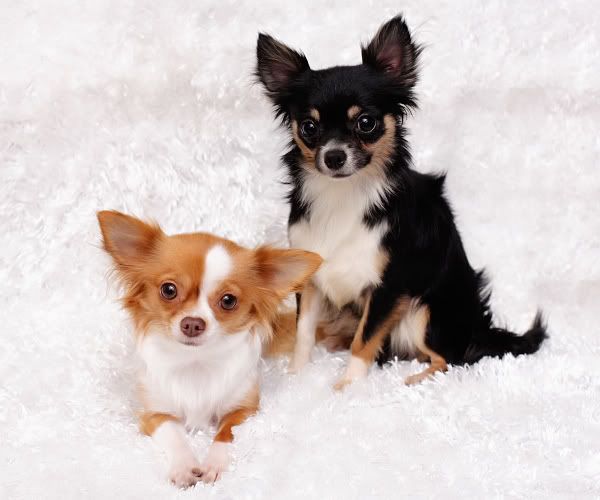 Dun dun dun dun....the next several weeks at a glance:
Xray done at 55 days showed 3 puppies--largest head was 2cm--pelvic canal 3cm (big relief there!). Pic was shot with my cell so it didn't pick up all the shadows of the skeletons but you can sort of make out at least 1-2 spines. Two showed head down & one breech in the xray...that is exactly how they were born.
Day 60--day before they were born Mari spend the day in her whelping bed. I'd just trimmed her belly up in the morning for easy access to the milk bar. hehe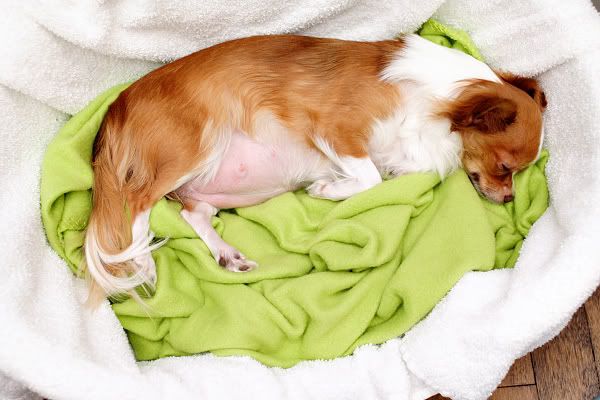 So after their arrival...here is Mari & her 3 boys after the big event. All pups different colors...how wonderful!
Specifics:
Boy #1 is a black tricolor who my 13yo, Gabby, named "Mojo". He weighed in at 3.6oz.
Boy #2 is white but I'm sure will mature out fawn or fawn spotted on white. Ivy (my 10yo) named him "Mobie" & he weighed in at 3.1oz.
Boy #3 is a sable with white markings. I named him "Myles" & he weighed in at 3.4oz.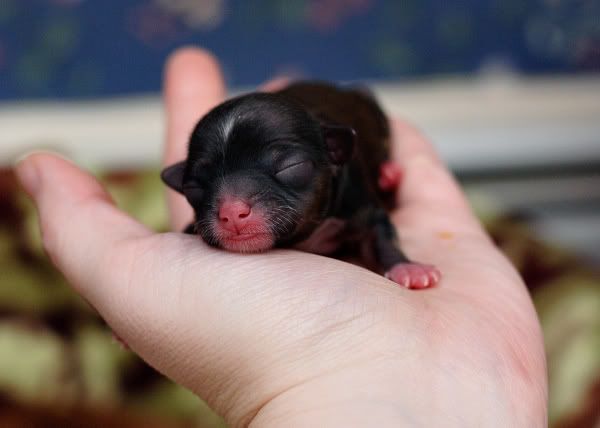 And the boys almost 1 day after birth happily nursing...
Thanks for letting me share! I was unsure on if I was going to share on the forum but I'm such a proud grandma I just couldn't keep quiet.
The rest of the MChi crew is very curious about the new little lives that seemed to have come out of nowhere. They've only heard/smelt/seen from a distance so far as they are gated out of the room where Mari & pups are. I am sure in a few weeks they'll have better introductions. But for now the remain somewhat a mystery to them... haha