Yes, I had him scanned...Nothing...
I'm really starting to wonder if someone had him here with him on vacation and lost him. We had a huge festival here last weekend (Tater Day, no less) and I'm really starting to wonder if he belonged to one of the vendors and made his escape. The crowd would have terrified him, and then we had a couple of days of stormy weather following that. You would think if he was local some of the vets or shelters would have heard something...
He's settled right in, he's under foot so much that I have to be really careful not to step on him. He's stuck to me like glue. He and Gracie are big friends already, Pedro just grumbles at him now and then, then forgets he doesn't like him and starts playing with him. It's like a zoo. I swear I saw the cat roll his eyes last night.
Here is another pic I got of him sunning this morning on top of all the pillows on the bed...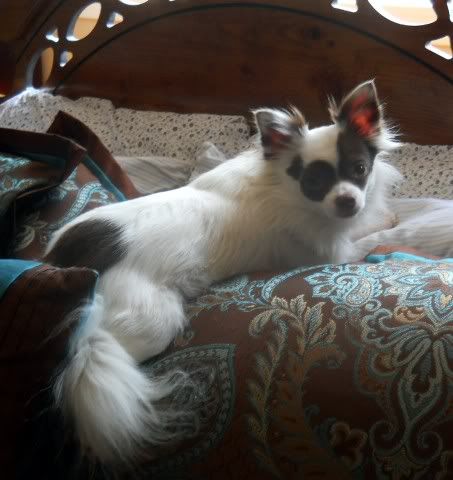 We've decided if we wind up keeping him, we'll call him Diesel! (I wanted to name him Chigger because he gets under your skin so fast, but my husband looked at me like I'd lost my mind!)