A pic from the past- Rio (1996-2008)
---
Our little Rio was Fancy's littermate/brother. Some of you remember that Fancy passed away at age 15 last year. We lost Rio at age 12 in 2008.. I was looking at old pics today and found this one of Rio.. who was affectionately known as "The Prince" around here..This was taken when he was 10 years old. I miss him so...He was the tiniest chi we have ever had, but thought he was the size of a German Shepard dog..
He ruled the roost for the 12 years he was with us. He was a boney, thin haired little rat whose tongue protruded most of his adult life~~ but boy was he ever loved..
The hands are hubby holding him.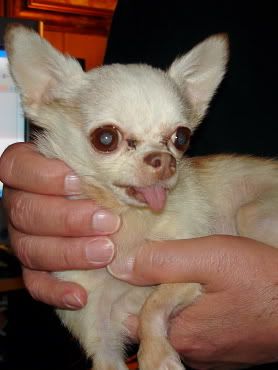 __________________
"There's no changing people, and we can't even help people with whom we're emotionally involved. Let them be, stop expecting things from people who cannot provide those things, and recognize that we can live happy, productive lives regardless of what others, even close relatives, are doing or saying."