I hope I'm doing this correctly. I plan on posting updates to this thread as he improves so at least I can mark his progress.
Thanks for looking! All suggestions are welcome.
(Bacchus was adopted from the local animal shelter and is suffering with demodectic mange, I am going to try to get this guy feeling better and mange his health as best I can). Wish us luck!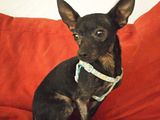 [/URL]