Hi everyone!!!!!! I've been told some of my old friends here have been asking about the girls so I've popped back to give you all an update and some pics
I still dearly miss old Cookie. I had a dream about him the other night and I was holding him and kissing him. When I woke it felt like I had really seen him and cuddled him and it brought back how much I miss him. Whenever my little Niece see's a picture of him she says "that's Cookie, he's in heaven"
Lola and Tillie are well. I've still got to keep taking Tillie to the grromer every month to have her anal glands emptied or she gets blocked up. I'm on top of that now and always get them done.
Lola did have a very bad bout of sickness recently. She was throwing up and went downhill within a day! She had a high fever and was dehydrated and very ill. We don't know what caused it but it was shocking how sick she got. She was laid there like a rag doll with no life in her at all! I had to spoon water into her mouth and she just let it run out the other side so I had to hold her up and spoon it right back into her mouth so she'd swallow it. Luckily with medication and a few vet visits she got better.
As some of you know i was posting here when my sister was pregnant and had just had my Niece. There were a few problems at first with my sister not wanting my dogs around my Niece because of germs but that's all changed now. My Niece Lexy was 3 years old in February!!! She is the apple of my eye and calls me Auntie Rie Rie. That started when she couldn't say my name and called me Rie Rie and just stuck lol. I see Lexy most days and have her overnight a lot. I love her so so much. Lola and Lexy have become the best of friends now. It's so sweet how they are with eachother. Lola gets so excited when Lexy comes over and they are stuck together like glue the whole time. Lexy kisses her and cuddles her non stop. She says Lola is her dog. When Lola rolls over Lexy says "I know what you want" and gives her a belly rub. She keeps a framed picture of Lola by her bed at home. It was funny the other day because Lola is so gentle and tolerant of Lexy whatever she does. I turned around and Lexy had covered Lola in toys. On her head, on her body, all around her. Lola was just laid there gentle as can be letting herself be played with. When Lola was ill recently Lexy came over just as I was taking her to the vet. I had her lead on and Lola was just laid down not moving. Poor lexy was shaking her saying "come on Lola" she was so upset because Lola is usually jumping around kissing her and getting her toys out and bringing them to her to play.
Tillie has become my little shadow. Where I go she follows. If I'm upstairs then so is she, if I downstairs she is too. She is always cuddled right into me. Lola loves my dad and follows him around. He sits on his chair in the evenings and she is always right there with him cuddled in. He calls her Queen of the Dogs lol.
I thank you all from the bottom of my heart for your donations to help pay Cookie's final vet bill. It has all been paid off and I have his ashes safely put away next to Benny my other chi that sadly passed who grew up with Cookie. They are tucked away with their collars, tags, favourite toys and their blankets.
There is a possibility of a 3rd Chi in the future. A friend of my sisters is going to stud out her Chi and is allowed a pup from the litter and has offered it to me for free. It's a way off yet and I haven't decided if I could financially have 3 when you factor in all the potential possibilities if one got ill and stuff. I could easily afoord it day to day but I worry about the long term if anything happened. Plus I have to consider Tillie. She's become so attached to me I wonder how she would take it. She gets mighty jealous if Lola sits on my lap and literally climbs over her and jams herslef in between us so she is next to me and Lola isn't!
Now the best bit, some pics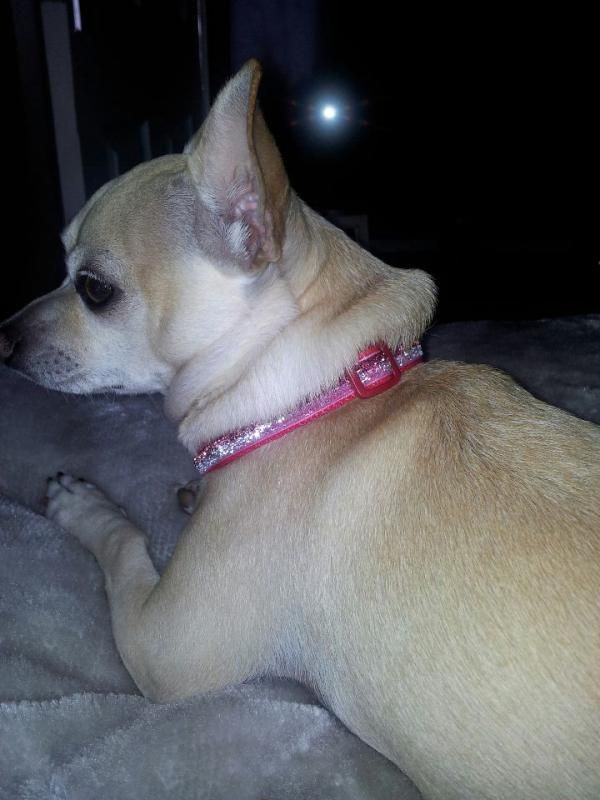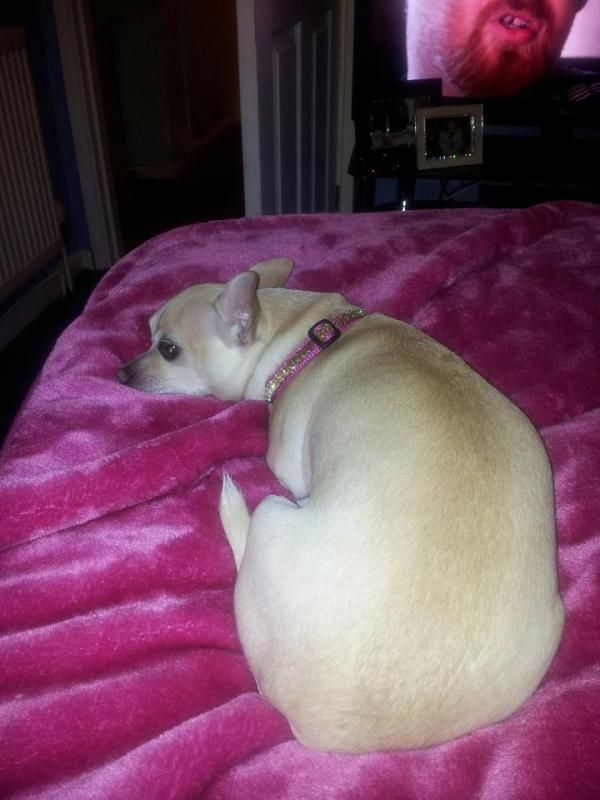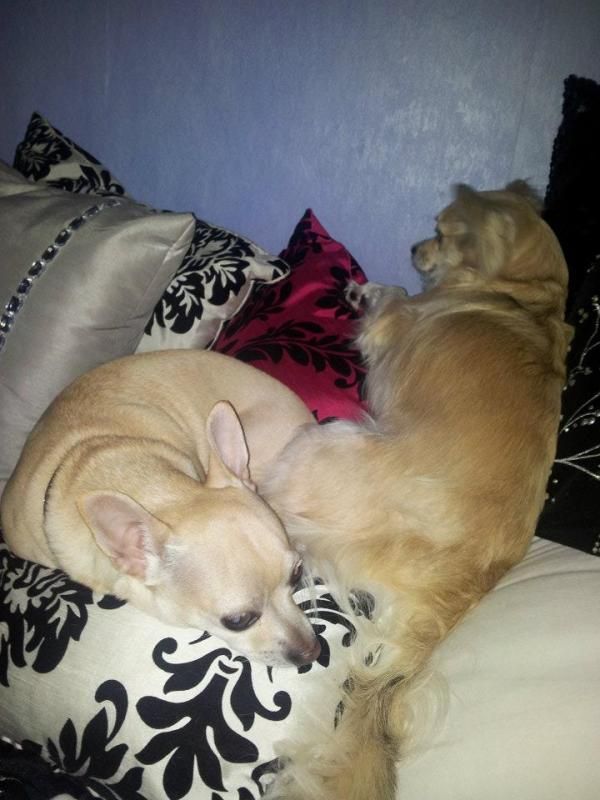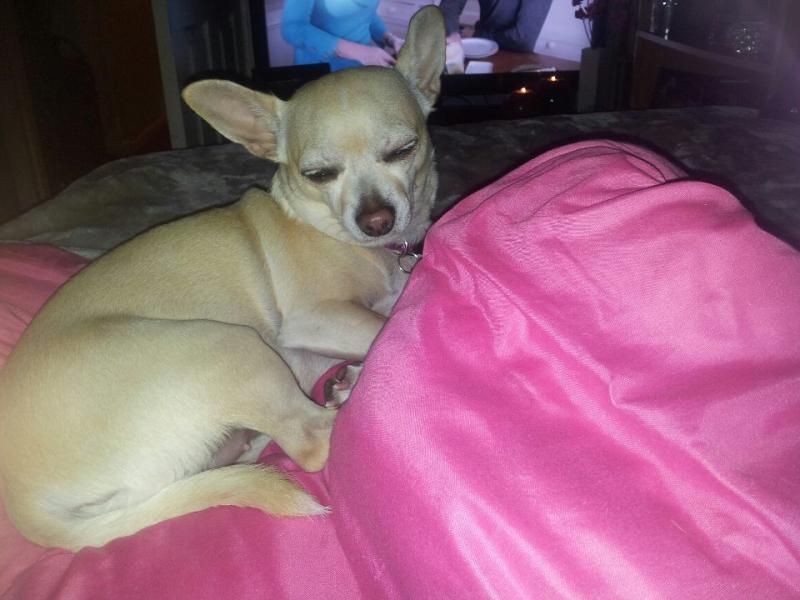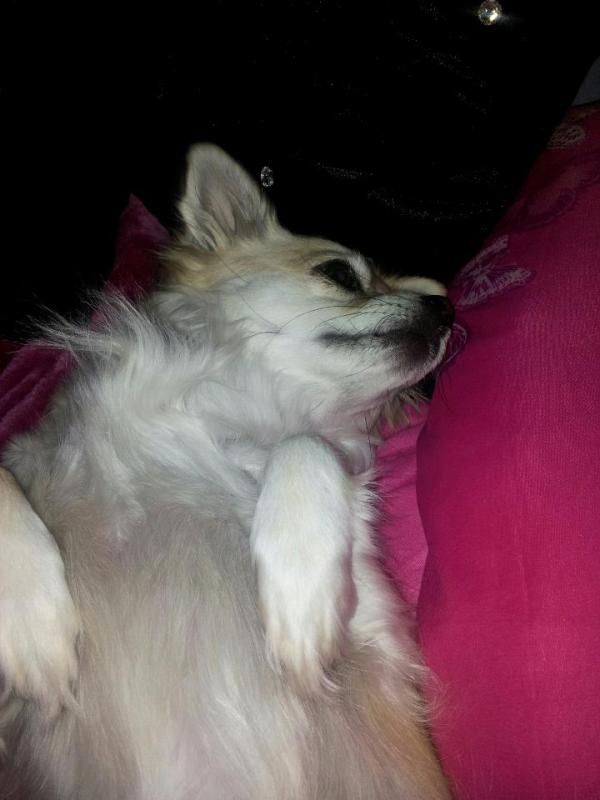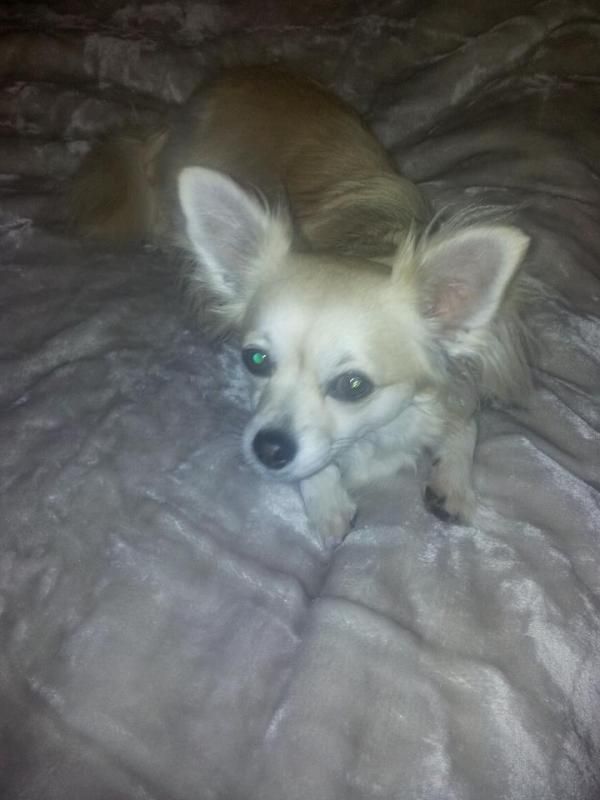 This is an old one and the quality is rubbish: