And a bath???? Ugh!! This was a perfect day, with lots of wonderful goodies, and you just had to mess it up and try to make me smell like a girl.
Lexie, Chance & Jade have tummy aches today. :/ So far Gia seems fine. I give grain free Nylabones once in awhile for teeth cleaning, and it always makes their tummies icky for a day or two. Getting the goodies in the mail got some tails wagging, so I'm happy for that.
So on with the pics.
The Wee's wanna send big hugs and kisses to Aunty Elaine for the beautiful clothes. The envelope was decorated so pretty with stickers. Everything nicely wrapped in tissue paper. I was smiling before even opening the package.
Starting with lil Man, who never cooperates for pics. But we did our best to show off how sexy he looks in his beautiful new clothes.
First the cocoa hoodie. Talk about cute!!! I love it!! The fit on both outfits are perfect. Cool wash, cool dry. These clothes are truly the best fit I've found for my crew.
Yes, yes, I know I iz handsome.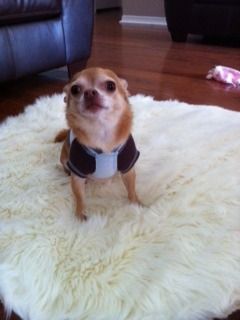 Mama!! One pic! Dats all! I scweam at you now!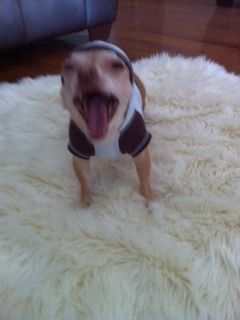 The back. Not sure why this pic is so small. ::: confused ::: I'll see if I can fix it.

Cropped in on this one, so it's blurry. But I thought it was cute.
More pics to come.... The pics are taken on the new bed. Gosh is it soft!!! Steal for the price. I love it!!