Eight years ago, my 11 year old Golden Retriever died. I swore off dogs then. (I swear if you could get a soul mate in a dog, he would be mine. I knew no other dog would compare to him.) I just decided I would drool over other people's dogs from now on and would never be a dog owner again. I held off for almost a record number of years and then, two years ago, the urge hit me. I needed a dog. I just did. There was no other explanation. However, I decided to do some research before jumping into pet ownership again. So, I studied. And I studied, and I studied dog breeds until I made my decision. A chihuahua it was. I really wanted a black, a Black and Tan, a blue, a blue and tan, a chocolate, a chocolate and tan or some other dark long haired chi. However, a certain individual chi just kept running through my mind, over and over again. I decided he must be the one for me. He looks like a miniature version of my Golden Retriever. Here he is, Cairo: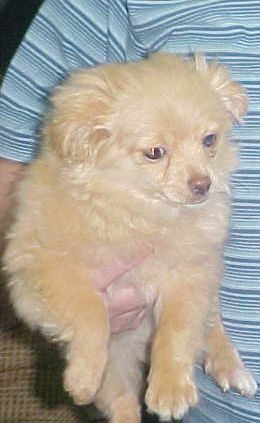 He is just over 3 months old now. The breeder said she would hold him until I am almost finished with my Spring semester. So, at the end of April, I will be the proud new Mom of this little cutie.
Pictures are not so great but you get the idea of how cute [I]and[I]fluffy he is! He is just over two pounds right now and should be a 5 pound adult. I can NOT wait to get him in my arms!