| | |
| --- | --- |
| Flying with Chi for first time | |
12-09-2015, 02:10 PM
chi fan

Join Date: Apr 2014

Name: Jackie Shiloh

Location: Philadelphia, PA

Posts: 53

Thanks: 21

Thanked 9 Times in 8 Posts
Flying with Chi for first time
---
Hi All!

Rango is coming with me this Friday morning to Miami, FL to visit my very best friend (her pup--a chocolate Havanese--is his best friend, so I definitely couldn't leave him behind), and it will be his first time on an airplane. We're from Philadelphia, so it's a short non-stop flight, about 2.5 hours. He's generally really well-behaved and calm, and normally just hangs out in his backpack or sits on my lap and observes everything going on without making a peep. I'm thinking he'll probably just fall asleep on me during the flight and everything will be fine, however, I'm wondering if anyone has any tips or "hacks" for flying with your little pup because I am just a touch nervous.

Practical notes: he eats meals in the evenings (and, therefore, won't be full of food or need to poop in the morning), and is trained to do his "business" on pads (I guess I could lay one down in the bathroom if necessary).

Other than these things, is there anything I'm overlooking or should know before getting to the airport early Friday morning?

Thank you in advance everybody, and happy holidays!
__________________
Jackie & Rango
Best Friends
12-09-2015, 02:28 PM
chi fan

Join Date: Nov 2013

Name: Fannie

Location: binghamton, ny

Posts: 75

Thanks: 25

Thanked 11 Times in 10 Posts
---
Just a couple hours should be really fine for Rango. I would just call the airlines to double check their suggestions and their policy for containment, etc. He may whine a bit at first but will settle down shortly after he is used to being separated by the crate and under the seat ahead of you (if that is the policy). Don't worry about anything-the normal things like a little walk before and after, waiting to feed until after arriving if an am or early pm flight. Airlines are strict but not unreasonable. I've seen it all traveling with Lolli from Cancun, Europe or even here in the states. I was really nervous at first but learned it's absolutely nothing at all. There have been 'escapees' on flights I have been on (one tiny baby was extremely entertaining; luckily Lolli was out cold from the medicine given to her. It was a 14 hour flight with 4 hour lay over; the little escaped shi tzu pup ran right by her under the seat and she slept on, lol). I was wound tight as can be but all was well. Honestly, it will be a wonderful way to spend a vacation with Rango.

Just get ready for some attention and smiles at his cuteness (smile). Enjoy your time here in Fl!
__________________
The Following User Says Thank You to EpochNia For This Useful Post:
12-09-2015, 08:12 PM
chi fan

Join Date: Apr 2014

Name: Jackie Shiloh

Location: Philadelphia, PA

Posts: 53

Thanks: 21

Thanked 9 Times in 8 Posts
---
Thank you so much for sharing your encouragement and experience! Rango is actually my Service Dog, so he will be on my lap for the flight, and I've already called ahead to American Airlines to let them know that I'll be traveling with a Service Dog. So far, they've been very polite and professional with accommodating us.

I'll try to update this post or start another to share my experience and any tips I can think of along the way.

Thank you again!
__________________
Jackie & Rango
Best Friends
12-10-2015, 02:17 AM
chi god/godess

Join Date: Mar 2011

Posts: 6,156

Thanks: 3

Thanked 1,006 Times in 950 Posts
---
I flew with 2 chi's (my roommate had one) from Midway to Manchester NH. But they had to go under the seat. I bought 2 carriers from Southwest so they couldn't say that they weren't 'the right kind'. They did great. No one, even the man that sat in the same row knew they were on board. Good luck on your flight. Have fun and don't worry. Mine lasted 8 hours until they got into the motel, and their pee pads were down, did they 'do' any business. I stopped many times, but nope they waited.
12-10-2015, 05:55 AM
Join Date: Aug 2015

Location: Hawaii

Posts: 116

Thanks: 12

Thanked 12 Times in 12 Posts
---
I have flown with my chi's to numerous locations. Before we travel we get them ready by carrying them in their carrier more then usually to get them
use to it. I always make sure we have them on our reservations cause they have a cap on how many pets can be in the cabin. Also they must stay under the seat and remain enclosed in their bag. Our last flight from Seattle to Hawaii was hard for our older chi the last hour of the flight, my daughter actually his him under our blanket to calm him down, but of course the airline attending would tell her to put him back in our carrier, but as soon as the attendant was gone we would hide him under our blanket. What were they going to do throw us off, lol. But since he is your service dog you should be ok.
12-10-2015, 07:48 PM
chi-aholic

Join Date: Sep 2015

Name: Reta

Location: Connecticut, USA

Posts: 488

Thanks: 20

Thanked 107 Times in 103 Posts
---
I flew on one trip with my dog, and he was totally great. He is the type that doesn't mind anything going on as long as he is near me, so he was pretty calm the whole time. With him being a service dog and used to being in a variety of settings (I assume) he should take it all in stride. Just be prepared for plenty of attention as you more through the airports!
__________________
-Reta
First time Chihuahua owner with many years of dog experience!
The Following User Says Thank You to MelodyoftheForest For This Useful Post:
12-15-2015, 06:54 PM
chi fan

Join Date: Apr 2014

Name: Jackie Shiloh

Location: Philadelphia, PA

Posts: 53

Thanks: 21

Thanked 9 Times in 8 Posts
---
Just thought I'd post a brief update--Rango was AWESOME during both flights. He was very curious and definitely watched everything that was going on, but was his typical calm, quiet, polite boy self. I did get tons of attention, and he handled that perfectly as well. Probably about 20 people, no exaggeration, complimented him and how well-behaved he was. The best part was him snoozing away on my lap on the return flight while there were two "children" SCREAMING their heads off in the row beside me. Proud momma moment for sure.
__________________
Jackie & Rango
Best Friends
12-15-2015, 11:11 PM
Join Date: Jun 2012

Posts: 5,089

Thanks: 75

Thanked 884 Times in 846 Posts
---
I recently flew with two of my Chis in a divided carrier (in cabin). The flight was just about two hours. I about worried myself sick but they were perfect. Since they are under the seat in front of us, they know we are near. The only thing that was a tiny bit difficult was I had to take both out of the carrier and they did some special security scans while I held them and I walked though security. I was afraid they would start to freak but they didn't.
__________________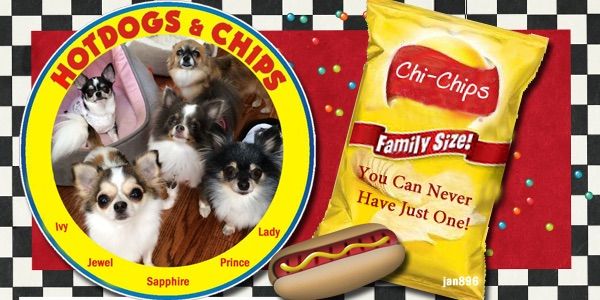 Posting Rules

You may not post new threads

You may not post replies

You may not post attachments

You may not edit your posts

---

HTML code is Off

---
All times are GMT. The time now is
11:27 PM
.