| | |
| --- | --- |
| Am I right or wrong? | |
02-18-2016, 10:10 PM
chi person

Join Date: Apr 2015

Posts: 10

Thanks: 0

Thanked 0 Times in 0 Posts
Am I right or wrong?
---
My Merle chi pups are now 5 weeks old. I am going to keep them until they are 10 weeks or even 12 weeks. I feel like I want to give them the best care and potty training before they leave the nest. I have so many people interested in them and I am narrowing it down to a few (with me possibly keeping one). My question is, is it wrong that I want to spay the female before giving her up? I absolutely don't want anyone to mate her. Especially because she has such a gorgeous color, I feel like her future owner just wants to make money off of her, as he already wants to put cash down! I offered to get her spayed at my expense, but he insisted he'd do it himself. Why? Aren't I saving him time and money?

Also, he claims he "used to" breed chihuahuas and he no longer wants to do that as it puts a tremendous toll on their little bodies. If this was the case why won't he just let ME do it?

So am I right or wrong to have her spayed before adoption?
02-18-2016, 10:44 PM
chi god/godess

Join Date: Jul 2008

Name: Elaine

Location: Massachusetts

Posts: 10,017

Thanks: 404

Thanked 771 Times in 754 Posts
---
i would take your time to pick just the right home that wants to buy the girl chi puppy. if your not having a good feeling about this guy, then... i wouldn't sell it to him
__________________
02-18-2016, 10:49 PM
chi god/godess

Join Date: Nov 2012

Posts: 1,358

Thanks: 2

Thanked 224 Times in 211 Posts
---
She's going to be MUCH too young to be spayed. It's not safe at such a young age.

If the new owner is giving you bad vibes then pick a different person to adopt her to. One bad vibe can be a sign of evil things to come.
__________________
Douglas the chi, Alli the heeler/boston terrier, Kaira the yorkie/chi
02-18-2016, 11:34 PM
chi king/queen

Join Date: Sep 2015

Name: Alaina

Location: Campbell River, BC, Canada

Posts: 839

Thanks: 26

Thanked 159 Times in 152 Posts
---
Yes, it's a little of both sides I think. He MAY just be refusing to have you get her spayed because she is way, way too young to be spayed. No WAY I'd agree to my breeder wanting to spay my puppy before I took them home at 12 weeks. And I have never bred a dog in my life, mine are always spayed/neutered at the appropriate age.

But, if you don't trust him and don't want the pup to go to him, you certainly don't have to sell to him. They're your pups, you can pick and choose people to take them as you see fit.
__________________
02-19-2016, 02:48 AM
Administrator

chi god/godess
---
Take your time and find another home that doesnt mind a spayed female. Sounds fishy to me.

I am editing this because I realized you are talking about a puppy. I have to agree that she is to young to spay. I would wait and find a home you trust and just sell on a spay/neuter contract.
__________________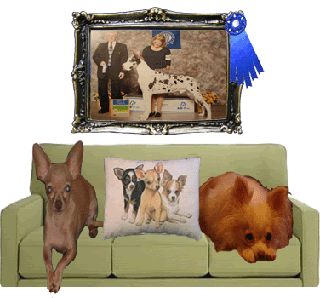 RIP Yoshi...You will be forever in my heart as you took most of it with you...
The bitterness of poor quality lingers long after the sweetness of a low price is forgotten....
02-19-2016, 06:58 AM
chi god/godess

Join Date: May 2012

Name: Camille

Location: London UK

Posts: 3,306

Thanks: 823

Thanked 679 Times in 635 Posts
---
I agree with the others, that is way too young to spay. Like Alaina said, I would never buy a puppy if the breeder wanted to spay her before giving her to me at that age. I personally believe spaying/neutering should be done way later once the dog is fully grown. I completely understand your concerns though. If you don't really trust him, give the dog to someone else. Take your time to pick the right person.
02-19-2016, 09:27 AM
chi person

Join Date: Feb 2016

Name: Jenny

Location: Swindon, Wilts, UK

Posts: 11

Thanks: 0

Thanked 0 Times in 0 Posts
---
I agree with what the others have said, that she is too young to spay, and that you shouldn't give her to this man, wait until it's somebody you feel comfortable with.

At the same time though`,
02-19-2016, 11:39 AM
Administrator

chi god/godess

Join Date: Oct 2011

Name: Stella

Location: Frome, Somerset, UK

Posts: 5,713

Thanks: 230

Thanked 1,605 Times in 1,262 Posts
---
Pediatric spays are detrimental to the long term health of the dog. Ideally a bitch should be fully grown and have had at least one season before spaying.
Sell her with a contract to spay or at least not be bred from. Don't sell to anybody you don't trust
__________________
Posting Rules

You may not post new threads

You may not post replies

You may not post attachments

You may not edit your posts

---

HTML code is Off

---
All times are GMT. The time now is
11:56 PM
.