| | |
| --- | --- |
| 6 minute seizure! | |
12-01-2006, 02:55 PM
6 minute seizure!
---
Hi guys. I haven't posted in a long while. But I often come by to read and get some info.
My girl, Flea - is 4 years old and has seizures.
When they started last winter - there was a 7 month delay between the first and second. Then, they were pretty sporadic.
As time went on, they got more frequent. To the point where in October, she had 3 of them - between 2-3 minutes in length.
I have been hesitant to put her on meds, for all the obvious reasons. But I think now, we have to start.
November was seizure-free (as far as actually witnessing one...who knows if she had one when we were @ work) - and I was thrilled.
2 days ago, she had one that lasted about 3.5 minutes. And this morning - 6 minutes. 6 MINUTES! Is a lifetime for a little dog to go through that.
I just wanted to hear from other chi owners whose dogs are on meds for epilepsy and how it affects them. I have been consulting the net like mad, but I really want to hear personal experiences...
Thanks!
12-01-2006, 05:09 PM
chi addict

Join Date: Jan 2006

Location: Phoenix Arizona

Posts: 224

Thanks: 0

Thanked 0 Times in 0 Posts
---
Excellent question. First, let me direct you to a solution that works... I'll explain after the link:
http://www.canine-epilepsy-guardian-...om/icepack.htm
Jack, my black poodle has had about 7 seizures in his lifetime. He started at age 2. It is the most frightening thing I have ever observed in a dog. I gave him karo syrup and comforted him and I have to say the post-ictal stage was worse than the seizure, sometimes lasting 2 days.
I found that link and applied the cold pack and his last seizure was minimized to almost nothing - with NO post-ictal stage. None.
Another thing, an animal can 'train' his brain to have seizures. You can find information on that online. One thing I will do if I see him 'thinking' about seizuring is distract him and get him busy playing or something of that nature to take him away from the oncoming seizure and that works too.
I was advised that most likely his seizures were low metabolism, and not epilepsy. Please read about the cold pack. It does work! And it's so non-invasive. Good Luck to you. I hope this helped.
__________________
Toby Lee
---
Last edited by tlspiegel; 12-01-2006 at

10:05 PM

.
12-01-2006, 09:59 PM
chi god/godess

Join Date: Sep 2006

Location: Missouri

Posts: 1,287

Thanks: 0

Thanked 0 Times in 0 Posts
---
I don't know anything about the meds, but I know that seizures can be brought on by various things that you might never think of or link them to. If you document each one and everything you did that day leading up to it, you might notice a pattern developing in possible stressors. For instance, even simple things such as certain cleaning products (particularly those containing pine) can sometimes bring them on. I've also heard that food can play a big role, you might consider something different, and maybe even have her tested for allergies. I'm beginning to think a raw diet can solve a lot of problems, or at least raw rotated with the usual food. Also, chemicals such as vaccines and flea medication can be factors, so maybe try to find some natural alternatives for flea products and lessen the frequency of the vaccines. You might look into acupuncture and using herbs, also, I've heard that it can be very helpful. And finally, think about how often she eats, maybe it's simply caused by low blood sugar, in which case nutri-cal would be good to keep on hand (or Karo syrup as mentioned above).

I don't have any personal experience with seizures, so I'm basing all this on hearsay and stuff that I've read, but they do seem to be things that have really made a difference for other people. I wish you and Flea luck, don't give up!

ETA: Have you had a thyroid panel done? That could be another thing to look into.
__________________
Siggy courtesy of Tricia (hollysmommy)
Beau's Dogster
---
Last edited by Jangles021204; 12-01-2006 at

10:03 PM

.
12-01-2006, 11:07 PM
---
Hey guys ...thanks for your input!
I have read about all the stuff you mentioned in terms of seizures.
Thing is, I truly don't feel any of them apply. She gets vaccinated every 3 years. She doesn't take flea/tick meds (she is mostly an indoor dog and my vet does not recommend extra meds if they are not needed). I use pet-safe cleaners on the floor (including vinegar and water to clean the puppy pad areas).
She has also been tested for liver/blood issues. All clean. She is also not hypoglycemic--as indicated by the blood results.
Today, I asked the vet about her food. Which she has been on for over a year. He said its POSSIBLE but highly unlikely given that her last blood results did not show abnormal levels of sodium or magnesium (lacking in epileptic dogs on a subpar diet).
So..ergh. I did, however come home with some Potassium Bromide. It comes in a liquid form and is caramel flavoured. Less side effects than using phenobarbitol. I still hate the idea of giving her meds...but...I feel I have no other choice. And this 6 minute seizure today was absolutely horrible.
I feel a bit like a ...failure? Isn't that weird? I feel like I should be able to control her seizures some other way, but I don't think there IS another way.
Anyhoo - thanks for you input...much appreciated. And the ice pack thing is very interesting! I will keep it in mind!
12-02-2006, 12:16 AM
chi god/godess

Join Date: Nov 2005

Posts: 1,218

Thanks: 0

Thanked 2 Times in 2 Posts
---
Oh, don't feel like a failure! But I know how you feel.

My dog Pip has seizures. They haven't gotten to the meds point, and I know why you are leery, because I have read all about them and they can have pretty awful side effects (liver tumors, etc). I think (and have read) that stress is what gets Pip started. By stress, I mean, a sting from a wasp or scorpion, too many new people in the house, us being gone overnight, that sort of thing.

If it is stress-related, I hope that I can try to figure out what really stressed him and then control it. BUT, I know that if he was having the sort of seizures and the length of seizures you are talking about, I would have to consider the meds.

He isn't a chi either. The small size makes EVERYTHING harder (the seizures and the meds!).

Good luck, and remember..it's not your fault at all.
12-02-2006, 01:22 AM
chi god/godess

Join Date: Mar 2005

Location: Texas

Posts: 9,363

Thanks: 0

Thanked 1 Time in 1 Post
---
I just wanted to say I'm sorry I hope things improve for her soon ((hugs))
__________________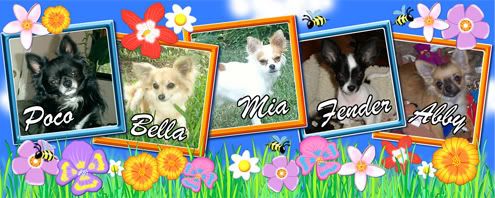 Siggie made by Jen
Dogster
http://www.dogster.com/dogs/312568
12-02-2006, 01:23 AM
chi fan

Join Date: May 2006

Location: Lakeside N.B.

Posts: 80

Thanks: 0

Thanked 0 Times in 0 Posts
---
I know what you are feeling and the helplessness that goes with it. My lab started to have seizures at 2 yrs, he was put through all the tests and given phenobarb 2 tabs daily,once that was adjusted he was back to normal. He has had one seizure in 2 yrs after a day of high stress. He now has developed addisons disease and takes 8 pills daily for that, with a salt pill, thats 11 pills a day and he is still the best dog I will ever own,he rarely has a bad day. So keep your chin up everything will be ok
12-02-2006, 02:31 PM
chi god/godess

Join Date: Feb 2005

Location: Connecticut

Posts: 3,249

Thanks: 0

Thanked 3 Times in 3 Posts
---
i think meds at this point are a must, even if just temporary...
6 minutes is way too long to be having a seizure and can do som lasting residual effect on the brain.
Ive not delt with an epileptic dog before but i myself am, and the meds along with some natural herbal remidies and keeping a detailed journal of things noticed before and after the seizures to see if you can figure out triggers, light, sond, activity level in the home, everythign and anything that could act as a trigger...
id suggest going with the meds for a short amount of tiem 3-6 months, then slowly lower the does, the idea to use the least dose possible to control the occurance of seizures...
__________________

and welcome aboard Ruby
Posting Rules

You may not post new threads

You may not post replies

You may not post attachments

You may not edit your posts

---

HTML code is Off

---
All times are GMT. The time now is
09:40 AM
.