| | |
| --- | --- |
| Dog aggression | |
12-04-2006, 12:08 PM
Dog aggression
---
When my inlaws were here, they saved a steak bone to give to my dogs as a treat. So yesterday my little Kelly is sitting on the couch happily chewing on his bone when my other dog, Otis comes over and tries to take it. After that Im not entirely sure what happened, but my dogs were snarling and making a really loud racket, which was mostly made up of Otis sounding very vicous and Kelly crying.My dogs play fight sometimes, but this was obviously NOT play fighting. I rushed over and saw that Otis was biting Kelly around the neck area and pinning him into the couch, trying to get him anywhere he could. Of course I seperated them and sent Otis running down the hallway, while Kelly was still screaming at the top of his lungs, which he has only done when he has been hurt. He didnt stop screaming for about a full minute, and he wouldnt put his foot down. After my boyfriend and I held him close for a few minutes he eventually calmed down, although he was limping for about an hour.
This is not the first time that Otis has appeared vicious towards Kelly, although he has never made Kelly cry like he did tonight.
Im not sure what to do, because 99% of the time, they get along fine and play with eachother. Otis is the absolute sweetest little dog and I have trouble believing that he is even capable of being like this.
My biggest fear is that the dogs will get into a similar fight like this when Im not home, and what happens if Im not there to pull them apart?
In the bottom of my heart, I honestly dont think that Otis would ever seriously hurt Kelly, but at the same time I dont want to dismiss this incident and then have something terrible in the future just because I didnt want to believe it.
Has anyone else had similar experiences? Am I worrying to much? I know its normal for dogs to but heads, but Im not sure if this wasnt something more serious...Its almost Christmas and I really dont want to have to think about re-homing Otis, he is my baby boy....but Im not sure what to do....I just need some advice please...
12-04-2006, 12:48 PM
chi-aholic

Join Date: May 2006

Location: Australia

Posts: 455

Thanks: 0

Thanked 0 Times in 0 Posts
---
Both your chis are still young and probably still trying to establish their rank. This doesnt really make it any easier for you in the mean time but i would guess its something that they will get over, but i would suggest keeping them seperate while you are not around just to be safe. Are either/both of them neutered? This would probably help with agression aswell
__________________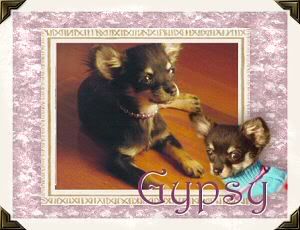 12-04-2006, 01:29 PM
chi god/godess

Join Date: Apr 2004

Location: Maryland, USA

Posts: 4,825

Thanks: 0

Thanked 1 Time in 1 Post
---
Here is my 2 cents:

I have 3 chis, all girls.
You need to establish some rules for your chis. My girls know they are not allowed to take any chew or bone from each other while one is actively chewing on it. Once it is put down then another can pick it up to chew on. Also, they cannot stare at the one that is chewing because that is a challange and a sure signal that a fight is about to happen.
While training them to these rules you have to watch them like hawks, and if you can't watch them, then take away what ever it is they have a tendancy to fight over. If that means they can't chew on bones unless you have time to watch them, then that's the way it has to be.
You can also practice putting bones or chew sticks on the floor and making them stay and not take it until you tell them to.
Don't ever give just one of them a chew or bone, you have to be fair and give them each one at the same time. If they choose to trade that's fine, but one of the chis cannot have all of the chews or bones.

If you don't feel like you can go through with training them, then I would seperate them when ever you give them bones to chew on, and take away anything they have a tendancy to fight over.
__________________
Sandy, Koke and Lelaska's Mom
12-04-2006, 02:06 PM
chi god/godess

Join Date: Nov 2005

Posts: 1,218

Thanks: 0

Thanked 2 Times in 2 Posts
---
I agree with Ms P. Dolly is my only chi, and the other two are big enough to kill her if they wanted to, so I basically don't give them anything they will fight over, ever. Period. If one gets a bone, they all do...and they go to separate corners. Luckily, DOLLY is the biggest pain about wanting theirs...they will give them up (trade) to her, and take hers and there isn't any growling. If there was, I would not even give bones out equally. I would give Dolly hers in another room, or something.

But since yours are both chis, just watch them and train them. At least you don't have to worry (fingers crossed) that there would be anything more than a hierarchy fight between two dogs. I know that my dogs all love each other, but they are still dogs and if something happens, they outweigh Dolly by 40 pounds each, so I try to avoid it at all costs.
12-04-2006, 09:59 PM
chi god/godess

Join Date: Jun 2006

Location: Missouri

Posts: 1,272

Thanks: 0

Thanked 1 Time in 1 Post
---
I agree with Mrs P also. It may take some time & patience, but it is definitely worth it. Sammie used to growl anytime another dog even came near her while she had a bone. She has gotten a lot better with it though. Are they only fighting when one of them has a bone or toy? I think letting each one have their own bone or toy is easiest. Doesn't mean that they won't want what the other has, but if they can trade nicely then its fine. Just keep on them...Always watch them VERY closely when they have something the other has. Its definitely not something that can't be corrected. Good Luck!
__________________

~Siggy by Lin~
http://www.myspace.com/gracie_nola
http://www.myspace.com/stewie_dog
12-04-2006, 11:40 PM
chi lover

Join Date: May 2006

Posts: 138

Thanks: 0

Thanked 0 Times in 0 Posts
---
I wouldn't rehome a dog for this...one of them will naturally be an alpha,and try to take all good things from the other..... Lately Scrap has been trying to get Tinkerbells food dish, once they got into an ugly snarlfest over it, so i watch them now- if they have anything really juicy,either they both have one,or one gets put in another room while one has a treat, it's just easier that way for us. And natural behavior for them- I don't think Scrappy would truly hurt Tink,but she will beat the c*** out of her over a pig ear,if allowed,thus we usually have no pig ears lying around.
BTW,they spend a lot of time play fighting all day anyway...so they're usually fine!
12-05-2006, 01:24 AM
chi god/godess

Join Date: Jun 2006

Location: Largo, Florida

Posts: 2,928

Thanks: 12

Thanked 50 Times in 43 Posts
---
The same thing happened to my two chi's. Now they do not get any kind of bones at all whatsoever! Even when the have an appropriate dog bone made just for dogs, I separate them into two different places where they can't get to each other (such as separate rooms with a door closed between them, or one in the pen and the other out of the pen), and watching them, also. I will never give them a bone when I'm not there. I would be really afraid they would harm each other severly if they had a bone and then got into a fight , and I wasn't there to separate them. Just don't ever give them bones when you aren't there to separate them if trouble starts brewing. And really, even if you are there, they may still fight about the bones. That's the animal in them. You can't really stop that. I learned my lesson with my two. It scared me the way they started fighting with each other over the bones. Other than those bones, my two get along great. The bones brought out the viciousness of the animal in them! So I would say don't give them any more bones, whether it's a steak bone OR a dog type of bone. I don't think it's worth the trauma if one or both gets severly hurt!
12-05-2006, 04:40 PM
chi god/godess

Join Date: Oct 2006

Location: hampshire uk

Posts: 1,134

Thanks: 0

Thanked 2 Times in 2 Posts
---
As you will probably know if you have read my messages before now as well as chihuahuas I have great danes and I would never let them have meat bones unless they are separated it can be just too tempting to fight over ,and trust me to seperate them in a fight is next to impossible. Other treats dont seem to have the same effect on dogs as meaty bones. I treat my chihuahuas the same and they all have probably too many treats but when I get bones which I do occasionally I give them separately in their beds and they get taken away when they leave their beds and given back later when they return. That way I avoid any real fighting which can be very scary and also in one way its natural for them to find their pecking order but can also backfire and has been known to make them enemies. Not a good outcome if it means one of them has to go. x x
Posting Rules

You may not post new threads

You may not post replies

You may not post attachments

You may not edit your posts

---

HTML code is Off

---
All times are GMT. The time now is
08:54 AM
.