| | |
| --- | --- |
| Advice on breeder | |
12-12-2006, 03:50 PM
chi god/godess

Join Date: Nov 2005

Posts: 1,218

Thanks: 0

Thanked 2 Times in 2 Posts
Advice on breeder
---
Hey,
My adult daughter wants a chi in the next year...so I'm looking for a breeder near by. I found this one:
http://www.hillcountrychihuahuas.com/index.html
What do you guys think? She uses the "T" word, and hasn't been around so terribly long, but it all seems so "happy". Maybe too much! Anyway, they are close to me, so I was curious.
My druthers would be to rescue one like Dolly, but that sort of "happens"...it's hard to plan!
12-12-2006, 04:10 PM
---
not sure havent looked at it in too much detail but things that particularly stand out - i dont like the mention of the T word and i dont like on the health garantee page some of their terms but especially Breeder invites questions and offers verbal help via phone or emails throughout the first year - a good breeder would always be available to offer you support throughout the dogs life because they love the breed and care for the dogs welfare

i think the best way if ur not sure and shes close to you - ask her if you can visit and see her dogs and current litters ask lots of questions - if shes a good breeder she will want to ask you lots of questions as a potential owner - i imagine if she has any objections perhapes shes not that great
__________________
www.teclo.co.uk
12-12-2006, 04:43 PM
---
Well, I don't like the fact that they say they have teacup, toy, and standard chihuahuas, when there is only one chihuahua.
I also am not too fond of the way they call it a family business either but that's probably a preference. The thing that bothers me the most about the site is their kennels, I don't believe in chis or dogs living out in kennels seperate from the home at all, in my opinion any good breeder will have them in their home all the time as part of the family, like our own pets. My other complaint would be that most of their adults are not very close to the breed standard, which of course isn't important for your pets but is something people who breed need to be working towards.
I personally wouldn't want to get a puppy from them. Have you tried looking on
www.breeders.net
to see other breeders in your area? Breeders.net requires their members to conform to their breeding code of ethics which is good, there are still some breeders on there which in my opinion don't but there are good ones there.
__________________
~*~Gypsy, Deedlit, Cosette, and Isabeau~*~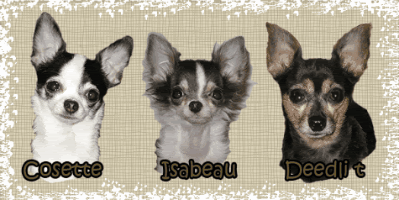 12-12-2006, 05:12 PM
chi god/godess

Join Date: Nov 2005

Posts: 1,218

Thanks: 0

Thanked 2 Times in 2 Posts
---
Thanks for the advice...I was thinking pretty much the same as you were. The kennels disturbed me as well...even though they are pretty swanky. I will check to see others in my area. San Antonio has a million and they all look awful..totaly BYBs with six different breeds, etc etc. The only reason I spent some time with this one is that it is closer to me, and at least seemed to only be a chi breeder. The prices weren't outrageous either (maybe for good reason!).
I've never gone the breeder route--just rescued dogs, so it's new to me. She wants a puppy, specifically a black female if possible (shedding!), but she's like me, and will probably take whichever dog "comes into her life". The perfect solution will be someone with a chi who needs a home just when my daughter is settling into her own home. She is so in love with Dolly and now just "needs" a chi of her own. We all understand that, don't we!
12-12-2006, 07:53 PM
chi god/godess

Join Date: Nov 2005

Posts: 1,218

Thanks: 0

Thanked 2 Times in 2 Posts
---
Well,I went to breeders.net and it's not too helpful...although it had a link to the Texas Chihuahua club that looks like a neat group.

However, what I WANT is this... some wonderful chi owner with one female, one male (or access to one!) and one litter a year that she breeds solely for the betterment of the breed! And then, to be really picky about who she sells to because they are her babies. Yeah, well, that's hard to find! I can't buy over the internet anyway, I just have to meet the puppy, and not only that...I would like to go to the breeder's house no matter what.

Well, I'll sit tight. Sometimes you just have to get the word out. Most of my friends, my vet, etc know what a great home I give my dogs.

If anyone knows anything good in South Texas, let me know!

Thanks!
12-12-2006, 08:29 PM
chi god/godess

Join Date: Sep 2006

Location: Missouri

Posts: 1,287

Thanks: 0

Thanked 0 Times in 0 Posts
---
Here's a list of a few breeders that might be worth looking at...most of them don't have very much information on their websites, but I think visiting them in person is the best way to find a good breeder anyway, or at least calling and speaking with them and asking a lot of questions. Their dogs look pretty nice though, and maybe you can find one that has (or will have) puppies available to pet homes.
http://www.texaschihuahuaclub.com/resources.htm
--->
http://www.geocities.com/willo_barfield/
(this one might be a good one to contact for either a puppy OR a rescue)
And since your daughter is just wanting a pet, you should remember to ask about limited registration, because you can often get a discounted price that way (versus full registration).
Here is another breeder, I'm not sure what I think about this one, but I decided to list the link anyway...
http://theforcedehart.tripod.com/
I don't know if any of these are very close to you or not...but if nothing else, they might at least be able to refer you to other breeders who are closer. Also, you might check with your vet and let them know you are looking for another chihuahua...they might be able to provide some leads or let you know if something comes up. Hope you find something!
ETA: Have you checked Petfinder? Check out their classifieds, you might find someone who is looking to rehome their chi.
__________________
Siggy courtesy of Tricia (hollysmommy)
Beau's Dogster
---
Last edited by Jangles021204; 12-12-2006 at

08:32 PM

.
12-12-2006, 08:30 PM
---
I'm like you, my babys are all rescues except Lawna. I did get her from a breeder. What I noticed about this site was that one of the adult females was refered to as "new to our collection". I don't know about you, but I don't collect dogs. And yes, i agree that they do look nice but not up to the standard and for that price I think that might be a factor. I really did like the adult female named Opal.
Cyn
12-12-2006, 09:05 PM
chi god/godess

Join Date: Nov 2005

Posts: 1,218

Thanks: 0

Thanked 2 Times in 2 Posts
---
It is interesting to see how breeders make their sites look sort of homey, yet when you look closer you do start to wonder! I went to the texas chihuahua club, but didn't see anything about actually getting a puppy! I'll try that geocities link.
I think telling my vet is a great idea! I mean, Dolly just "came" into our life, and we never looked back. The only "bad" thing she did was hook us on chihuahuas to the point that my daughter wants to figure out where she is going to law school, get her apt., and get her chihuahua...basically in that order!
Of course, she has built-in dog-sitting with me!
Posting Rules

You may not post new threads

You may not post replies

You may not post attachments

You may not edit your posts

---

HTML code is Off

---
All times are GMT. The time now is
05:09 AM
.