| | |
| --- | --- |
| So scared | |
01-20-2007, 12:51 AM
Just arrived!

Join Date: Jan 2007

Posts: 3

Thanks: 0

Thanked 0 Times in 0 Posts
So scared
---
I'm new. I found this site a while ago but only came on here and there and lurked. On Wednesday morning my chi was sleeping in her bed and out of nowhere she screamed really loud and ran underneath the bed. I coaxed her out from under the bed and she wagged her tail a little at me but then she started doing this weird thing where she kept squinting her eyes repeatedly. I picked her up and she was shaking(which she does often, so I wasn't too worried about that) but then I put her down and had her walk to me and she got about half way and fell over. I then panicked and rushed her over to my vet. By the time I got there, she was acting better--still doing the squinting thing but was walking fine. The vet thought it may have been some kind of pain response that scared and disoriented her a little. She had x-rays done and everything looked normal. I was sent home with anti-inflammatories. About two hours after I got home she had been sleeping and then stood up, barked twice, fell over on her back, and started squirming to get back up. Her left side was NOT moving, however, her right legs were struggling to get herself back up. When I picked her up her eyes closed and she went completely stiff. I rushed her back to the vet where she determined she was having seizures. She was given valium to prevent anymore seizures and had a blood test. Blood test showed her liver enzymes were up. Vet isn't sure whether she has epilepsy or if she was poisoned by something. I'm really worried. I looked around my house and couldn't find a thing that she could have gotten into. Also, she is an inside dog that goes on pee pads so she couldn't have gotten anything from outside. I have another dog also but he has not presented any symptoms. Sorry this is so long. Does anyone have any experience with dog seizures? My brother has a seizure disorder and it looked like a seizure to me but I don't know why she'd have two in one day?? She had another blood test today plus a liver stunt? test and her liver enzymes are still up. The liver stunt test will take a couple days to get back.
01-20-2007, 01:02 AM
chi god/godess

Join Date: Mar 2005

Location: Texas

Posts: 9,363

Thanks: 0

Thanked 1 Time in 1 Post
---
I don't have any help I can offer but I wanted to say I hope your baby is better soon ((hugs))
__________________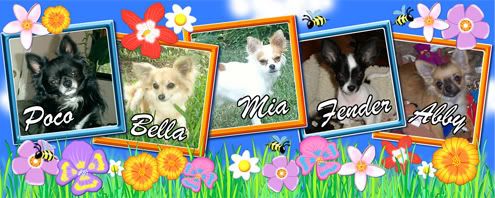 Siggie made by Jen
Dogster
http://www.dogster.com/dogs/312568
01-20-2007, 01:24 AM
chi god/godess

Join Date: Jun 2006

Location: Missouri

Posts: 1,272

Thanks: 0

Thanked 1 Time in 1 Post
---
Stewie has microvascular liver displasia (mvd for short). Basically his liver can't filter the toxins like it should. He had a couple of episodes somewhat similar to what you described before we found out what was wrong. The worst one he had, he started going in & out of consciousness. He never did the thing that you described with the legs, but I know that dogs with liver diseases (liver shunts, mvd, etc) can have neurological problems which would cause the falling over. Stewie had the liver shunt test done, but they knew right away if it was that. It wasn't, so they took a biopsy of the liver, which is how we found out what he has. Pretty much if we keep him on a low protein diet he's fine. The surgery to find out what was wrong with him was pretty pricey. Once your test results come back, you should have a little better of an idea. If they're negative, there could still be liver problems or it could be epilepsy. I know there are some people on here with experience with epilepsy, so they may be able to help with that. I personally don't know much about it. Just in case it is liver related, I would try to keep her on lower protein (around 20% maybe or lower for dry food). And no treats. Just until you find out more from the tests.

I hope she gets better soon & you can find out whats wrong with her. Lots of hugs from Stewie & Gracie.
__________________

~Siggy by Lin~
http://www.myspace.com/gracie_nola
http://www.myspace.com/stewie_dog
01-20-2007, 01:33 AM
chi god/godess

Join Date: Feb 2005

Location: Connecticut

Posts: 3,249

Thanks: 0

Thanked 3 Times in 3 Posts
---
even if its epilepsy i would still cut back on the protein to about 20%.

it seems strange that this came seemingly out of nowhere, epilepsy in dogs is usually triggered by something, an allergic reaction, a fall, exsisting condition.
with the enzymes being up it wouldnt suprise me if its liver related and causing seizures, possiby even just a virus or something.

if its epilepsy youll want to start keeping a diary, keep a close eye out for triggers. it could be smells, lights even certain sounds. sometimes its food triggered, othertimes allergy triggered. a good diary will help you figure out causes, typical behaviours during the seizures and how to avoid and help her.

with it being so sudden and quick though with the enzymes being up id think keep a close check on the liver even if the shunt comes back with nothing.
__________________

and welcome aboard Ruby
01-20-2007, 09:27 PM
honorary chi

Join Date: Jun 2006

Location: kansas

Posts: 533

Thanks: 0

Thanked 0 Times in 0 Posts
---
I don't have any advise but hope everything turns out ok.
01-20-2007, 11:00 PM
Just arrived!

Join Date: Jan 2007

Posts: 3

Thanks: 0

Thanked 0 Times in 0 Posts
---
Thanks for your input. The vet let me take her home today as she has not had another episode while in their care and is acting much better. The vet said the test results should come back sometime mid next week. She seems to be back to her normal self, just sleeping a little more than usual, but I figure she may not have gotten enough sleep there. I'm going out now to look for new food. I usually use nutro from petsmart. I don't have a bag of it on me because I empy it out when I get it into a tupperware pour-out container, so I'm not sure what the percentage of protein is in it. One of my friends mentioned Avoderm may be a better option of food so I'm going to check that out and see what the percentage of protein is. Anyway, thanks for all your info. I'll update once her results come back. I'm just glad to have her back home with me today.
01-21-2007, 12:16 AM
chi god/godess

Join Date: Jun 2006

Location: Missouri

Posts: 1,272

Thanks: 0

Thanked 1 Time in 1 Post
---
I'm glad she got to come back home & has been doing better. I think that Solid Gold Holistique has a lower protein food...I was thinking about switching Stewie to that. Look for something without red meat too, that will help. Its harder for the liver to process red meat rather than white.
__________________

~Siggy by Lin~
http://www.myspace.com/gracie_nola
http://www.myspace.com/stewie_dog
01-22-2007, 02:02 PM
chi god/godess

Join Date: Nov 2005

Posts: 1,218

Thanks: 0

Thanked 2 Times in 2 Posts
---
I'm so sorry! I would have been so terrified if I were you.
My border has epilepsy and we think he might be triggered by stinging bug bites (we live in Texas...lots of opportunities for that). His first seizure scared me a LOT, but now (they are pretty few and far between), it's not so bad. I know it can even be a one or two time thing if it is an allergic reaction to a sting. I hope it never happens again, and I hope you have a really good vet who can find out what it is.

Good luck!
Posting Rules

You may not post new threads

You may not post replies

You may not post attachments

You may not edit your posts

---

HTML code is Off

---
All times are GMT. The time now is
04:47 AM
.