| | |
| --- | --- |
| Saving the soul of the abused... | |
02-28-2007, 12:27 PM
Saving the soul of the abused...
---
We just recently rescued a former breeder chihuahua who was used purely for breeding purposes mearly because he throws adorable blue puppies (supposedly). The owner said he was "shy" but now that we have him home, we think his being "shy" has nothing to do with personality but feel maybe there was a sense of neglect or abuse.

For example, he is very tense when you touch him or hold him. It takes a lot of coaxing to hold him. (That is, if he doesn't snap at you first..) He hasn't snapped at me, but has snapped at Forrest a few times. Harley cowers in a corner. He runs away. He lowers his head with his tail between his legs.

If you raise your hand to pet him, he instinctively cowers as if to cushion the blow of a hit. I have pictures of him on my camera and will upload them tonight. He looks like this sad, frightened, pathetic dog.

He is six years old.

We have tried to coax him with treats, but he does not have interest in them. The owner said that he will not take treats from your hand. He has also not eaten much in the past few days (which won't hurt him as he's a bit on the portly side anyway).

We want to turn him back into a pet and adopt him back out. But we are unsure of how to do this. Is it even possible? Any advice would greatly be appreciated!
__________________
Chi Sis to
GUINNESS
(M), Born November 23rd 2004.
Chi Momma to JADA (F), Born July 2nd 2006.
Chi Momma to HARLEY (M), 6 years old. FOSTER/RESCUE. (R.I.P)
Grandma to BLUE BOY (M), 12-26-07 to 01-20-08. (R.I.P.)
R.I.P Sweet Angel Boy
02-28-2007, 02:31 PM
honorary chi

Join Date: Jun 2006

Location: Nanaimo, BC

Posts: 563

Thanks: 0

Thanked 0 Times in 0 Posts
---
im no expert in the matter but i imagine it will be a long patience testing process....it doesnt take much for a dog to loose trust in people...but it takes alot to gain it back... im certain theres lots of info on the computer from people who have rescued abused animals-and their info from experience might help you out.... just be patient and i wish you guys the best
and congrats on your new addition and i think its great that you opted to rescue
__________________
02-28-2007, 03:11 PM
---
It's going to take alot of patience and love. Try to make every movement slow, so he knows what to expect. Also, don't try to go to him. Let him come to you on his terms. For now, I would just give him treats from the ground. Eventually, you can move the treats closer and closer to you. I do have some personal experience dealing with a chihuahua that was severely abused, and I've found that it's the best to let them come to you when they're comfortable instead of chasing them around trying to pick them up or pet them or whatever. Just let him be for now and let him get used to his new environment. This will probably take months, if not years even for him to come around, but I'm sure you will see improvement as time goes by. When I got my second chi I got it as a gift for my parents. She wouldn't even go anywhere near them at first and she was particularly afraid of males. She now goes up to my dad and asks to be petted. Iit's been about 8 months since I got her and she has improved so much. She's like a whole other dog. So please be patient and just let him relax and know that the pressure's off of him. Good luck! Please keep us posted on his progress.
__________________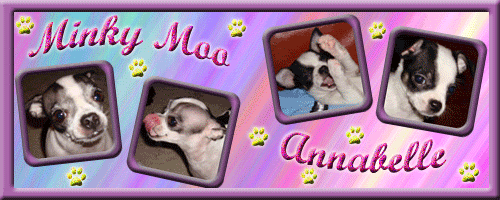 Pawlicious Siggy by Hollysmommy
02-28-2007, 03:17 PM
---
Thanks for your help! I understand about letting him come to us - that makes sense. However, how do we get to him to take him out? Will that be one instance where I have to go to him? Unlike my other dogs, I can NOT let him out without a leash. He will run off and never come back. Even in the backyard, I cannot let him out or he will find a way to hide.

Will that be the only time I should go up to him? Should we set a constant schedule so he'll know what to expect every single day? Do dogs react when they see other dogs being treated a certain way? Like will he see our love for our other chihuahua's and realize that we love chihuhauas and we would not hurt them?
__________________
Chi Sis to
GUINNESS
(M), Born November 23rd 2004.
Chi Momma to JADA (F), Born July 2nd 2006.
Chi Momma to HARLEY (M), 6 years old. FOSTER/RESCUE. (R.I.P)
Grandma to BLUE BOY (M), 12-26-07 to 01-20-08. (R.I.P.)
R.I.P Sweet Angel Boy
02-28-2007, 04:36 PM
---
Yes, I would say that you should be able to approach him when you have to take him out to potty. I would just take things very slowly when approaching him though so he knows that you're not trying to hurt him. Maybe come up with some kind of process that you can repeat each time, and in time it will just become second nature to him. I don't know if this would work, but maybe you can lay down the leash so he can sniff it and kind of investigate it on his terms. Maybe you could even put some treats around it and on it, so he knows that the leash isn't something that's going to hurt him. Then, when he relaxes a bit, maybe you could approach him and put the leash on. I was also thinking, until he feels more comfortable, would it be possible to have him pee on potty pads indoors? I totally understand that that's personal choice, but with my chihuahua (the one that was abused) there was just no way we could get to her to put on her harness, so we just used potty pads. Now that she's more or less out of her shell now, we can take her outside to do her business. I do also want to personally say thank you for rescuing this chihuahua. I know it couldn't have been easy, but it's just very heartwarming to see that there are people out there like you that really care for the welfare of animals. Please don't lose hope. He WILL get better in time. I know personally, I got frustrated alot and wanted to give up at times, but I was seeing improvement each day, which gave me hope. Well, good luck. Just know that we are here for you!
__________________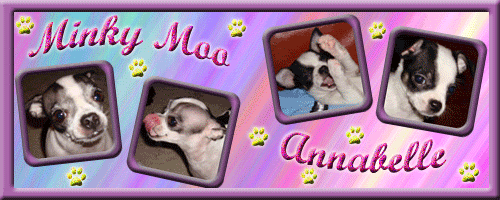 Pawlicious Siggy by Hollysmommy
02-28-2007, 04:57 PM
chi god/godess

Join Date: Feb 2005

Location: Connecticut

Posts: 3,249

Thanks: 0

Thanked 3 Times in 3 Posts
---
when you aproach him aproach low, speak in a soft but happy tone and let him see your hands, just reachign for him will be a spook, rember anything from above is predator behaviour and can be very scary (especially if he is an abuse case)
for the trusting you, just work slow, infact half ignor him.
Sit on the floor with something tempting, hotdog usually works well and just sit there watching tv with your hand out, let him come to you, when he does dont look at him dont even talk to him just let him move to you.
after hes comfortable comming to you with you pretending hes not there start saying good boy in a soft happy tone when he does, again dont look at him dont pet him just let him get used to the voice now being attatched.
Work up to it so now your looking at him when he comes, keep things upbeat and gentle, and finaly as he gets bolder pet him under the chin. (on the head and back can eb a very dominant action on your part and can be very scary)
Slow and steady is going to be the only way to go anywhere with this little man, it sounds like for the most part hes just not been socilized (rather than physical abuse) when it comes time to put his leash on to go outside tell him, again happy upbeat tone "ok potty time" or "time for leash" or "time to go out"
he will soon associate those words with not only the action of going outside to potty but also it tells him ok your going to come over and touch him and its ok and a good thing, use key words when your going to pick him up something as simple as "Up?" or "down" when your goint to put him down. using these key words will let him prepare himself that something is comming but it ends positivly.

good luck!
__________________

and welcome aboard Ruby
02-28-2007, 06:22 PM
---
I would recommend contact a chihuahua rescue, they will have TONS Of information to give you regarding this type of rehabiiltation. Patience is key,as are slow, gentle movements and no staring at him, he will interpret this as a threat so try not to look him in the face, at least until hes more comfortable with your family, Also keep in mind that he is still adjusting, though when adopted out he will go through another adjustment period at his new home and you will have to warn the new owners about that. Also he will eat when he gets hungry, just check is dental condition, because poor teeth, decay etc can cause them to not want to eat much either and also causes other health problems.
__________________
Meghan
www.ccrt.net
http://www.myspace.com/40327587

02-28-2007, 08:30 PM
---
Great advice Foxy! I totally agree with every word you said.
__________________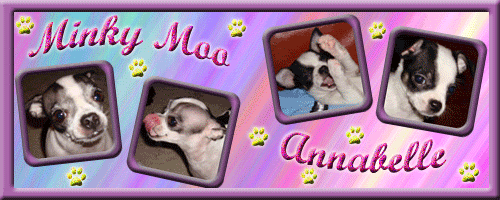 Pawlicious Siggy by Hollysmommy
Posting Rules

You may not post new threads

You may not post replies

You may not post attachments

You may not edit your posts

---

HTML code is Off

---
All times are GMT. The time now is
09:24 AM
.