| | |
| --- | --- |
| New chihuahua owner- need help! | |
03-06-2010, 02:08 PM
Just arrived!

Join Date: Mar 2010

Posts: 2

Thanks: 0

Thanked 0 Times in 0 Posts
New chihuahua owner- need help!
---
Hi, my boyfriend and I recently inherited his ex-wife's chi. She's 9 years old. When we got her she was all matted up and in bad shape, and was apparently biting the ex's little girl. We found out later that the toddler was pulling on her and stuff so we assumed that was the problem. We got June (the chi) shaved and put her on some decent food. Unfortunately, she has some behavior problems that I don't know how to deal with! I am a big dog person and have trained many giant breeds, but am clueless about chi's!

June hides under the bed... all day and all night. She won't come when called and will try to bite you if you attempt to remove her from under the bed. She won't go outside (which is why we have to get her out from under the bed) and so chooses to pee on our bathroom rugs at night while we're sleeping. She seems to have no desire to socialize and no interest in us at all (although she's known my boyfriend for many years and even lived here with him for 2 or 3 years).

My initial reaction is to begin crate training her as if she was a puppy to teach her to come when called and to be able to get her into a routine going outside. What do you experienced chi owners think about her behavior? Is this normal? Is this common? Any thoughts or ideas? Thanks so much! I feel bad for this little dog. I have no idea what her life was like, but it seems clear that she's never gotten much care or attention (and definitely no training).
03-06-2010, 02:24 PM
Administrator

chi god/godess
---
Welcome to the board
It sounds like the ex shouldnt have had a dog.
You are on the right track by coming here and learning as much as you can
IMO, yes you should start the training over again, using positive reinforcement. Not saying no, or popping as those types of things usually makes matters worse. A crate will be a very useful tool. Google "NILIF" Nothing in life is free, it is a great training program where you and your bf can establish pack order with her then she will respect you and do what you need her to do. It is basically a reward system where she has to do something for you in order to get something she wants, lets say eating, in this situation as it doesnt seem that she wants to really do anything else. So she will have to come out if she wants to eat and then she will have to do what you want or she doesnt get fed. Then we she does right then praise her and treat her each time. She will eventually learn. She can go without food for several days so dont freak out about that part.
Before using the techniques above... it would be better to take her to the vet to get a check up to make sure there is no medical conditions that is causing her to be like this as they act funny when in pain
Good Luck and I commend you on taking this girl in
__________________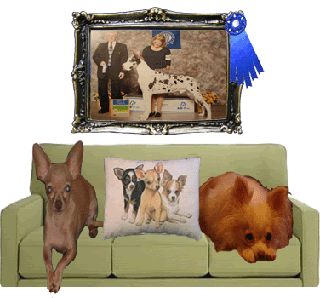 RIP Yoshi...You will be forever in my heart as you took most of it with you...
The bitterness of poor quality lingers long after the sweetness of a low price is forgotten....
03-06-2010, 03:23 PM
chi god/godess

Join Date: May 2009

Location: Cornwall

Posts: 3,056

Thanks: 2

Thanked 2 Times in 2 Posts
---
Cookie my older Chi used to like hiding under my bed. I would have to get on my stomach and crawl under to get him out and he would snap at me.

I solved this problem by putting boxes under my bed. I bought plastic storage boxes and put all the stuff I wanted to store away inside and put them under the bed. I got anough so that the whole underneath of the bed was blocked off by boxes so that problem was solved.

The snapping was a big problem. I needed to lift him up to put him out at regular intervals to go to the toilet. It scared me when he snapped and I kept pulling back. So I got a thick pair of gardeneing gloves. Now I just pop them on and pick him up when I want. At first he put up his usual fight, snapping at me but I just ignored that because the gloves protected me. After a few months he soon realised there was no point fighting it. Now I hardly ever have to use the gloves. But even when i do just in case he just lets me pick him up.

You say she's not interested in coming to you and stuff. Cookie is 13 and is set in his own ways. He does his oown thing really and will come sit with me occassionally but that's it. remember she's an older dog so she will like to just settle down on the sofa or in her bed. Also remember she wasn't treated all that well from the sounds of it so she will be cautious.

I would take the bathroom rugs away for now and shut all the doors in your house. then she can't just wander into a room by herself.
__________________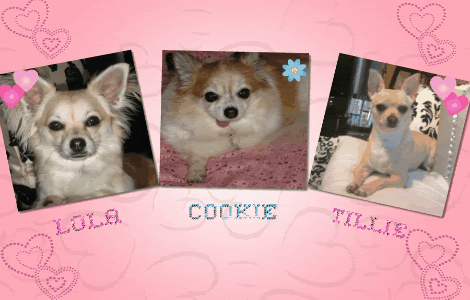 ---
Last edited by MarieUkxx; 03-06-2010 at

03:25 PM

.
03-06-2010, 03:50 PM
chi god/godess

Join Date: Feb 2010

Name: Pam

Location: Bakersfield, CA

Posts: 3,686

Thanks: 0

Thanked 21 Times in 20 Posts
---
When I first got my two pekes, they were 2 and rescued from a puppy mill/breeders. They had 37 pekes in a single wide mobile home. Ling Ling was so scared she lived under my bed for a year. She would come out to play with her sister, but the second I stepped in the room, she would bolt back under the bed. Each day, I would get on the floor and talk to her but never tried to force her out unless I had to, to go to the vets or to get a bath. She wasn't interested in treats until I got some chicken training treats, dried chicken that you can break into small pieces. After I got those, she finally started coming out and I would put her up in the bed with me. It took forever, but it was worth it. She is very bonded with me now. Try closing off the bathroom and maybe using some puppy pee pads in your room.
---
Last edited by svdreamer; 03-06-2010 at

04:00 PM

.
03-06-2010, 04:02 PM
chi god/godess

Join Date: Jul 2009

Name: Leah

Location: North East England

Posts: 3,123

Thanks: 0

Thanked 1 Time in 1 Post
---
hi & welcome

all the info above is good advice - good luck
__________________
Thank you Kristi!
03-06-2010, 05:21 PM
chi god/godess

Join Date: Oct 2009

Name: Ronni

Location: Nashville Tennessee

Posts: 2,206

Thanks: 51

Thanked 134 Times in 103 Posts
---
Welcome to the forum.

I'm very sad for June, she sounds like she hasn't had much of a life up to this point. I hope you can change that for her, and it sounds like you really want to. I'm glad she's with you.

Very first order of business is getting her to your Vet for a thorough checkup, get her up to date on shots if she's not, and have her checked over thoroughly for any underlying physical conditions that could be causing her pain and contributing to her negative behavior. Get her heart checked for heartworms, and get her on a heartguard medication. Have her teeth checked, she will probably need a dental. You've already had her groomed, so that takes care of that.

Get her on a premium, 5 or 6 star dog food if she's not already. Go here: dogfoodanalysis.com to determine the superior ones.

First of all, June may be a chihuahua, and a different breed than you're used to training, but she's still a dog. Chis have some characteristics peculiar to the breed, but they're still canines and behaviorally will respond like canines. Treat her as a dog first, and a chihuahua second.

Biting can be either a fear reaction, or a dominance issue, or both. Regardless you need to establish yourself as the alpha. You don't say whether or not she's housetrained. Peeing on the rugs could be an indication that she's pee pad trained, and is looking to find the closest thing to a pee pad to eliminate on.

I would suggest you go back to basics. Right now she believes under the bed to be her den, her safe place. I won't go into detail about crate training, assuming you're familiar with it if you've trained dogs before. She needs to feel that her crate is her safe place and that she can retreat to it rather than under the bed whenever she needs to feel secure. I don't know how your house is set up, but that would obviously entail making under the bed off limits.

Basics. Crate training. Housetraining, either to pee pads (which it sounds like she's already familiar with, or at least inherently has some clue) or to outside. Establishing yourselves as the alphas.

It's difficult to know whether June's problem is fear biting, or human-aggression, and it will be hard to determine which until she's a little more settled. Each of those behaviors require different approaches, so I'd be inclined to just get her settled in, take care of any physical problems, get her used to her crate, determine what state or stage her house training is at, and work on becoming alpha.

Good luck. Keep us informed and well done to you for taking this on. June's a lucky girl.
03-06-2010, 07:27 PM
chi god/godess

Join Date: Jul 2008

Location: Boston

Posts: 3,403

Thanks: 12

Thanked 40 Times in 34 Posts
---
Everything my smart pals have told you..the only yhting to add is the "bathroom rugs" thing...I say keep them off the floor . My chi is very well trained..too much so he loves piddle pads...he can sometimes mistake a rug for a piddle pad. Small rugs like that can be confusing.

I would get her a harness and lead and get her out for regular walks.
The exercise is great and I believe that behavior is better with regular exercise. It might be a tough go at first but keep at it and eventually she'll come around to walkies.

Okay so now where is her picture. ??..we like pictures around here..
__________________
Rubia -y mi perrito que Rico
03-06-2010, 10:35 PM
chi king/queen

Join Date: Oct 2009

Location: Knoxville, TN

Posts: 809

Thanks: 0

Thanked 21 Times in 16 Posts
---
Kudos to you for deciding to take the time and make the effort to make this little girl's life better. It may take a bit of time but will be well worth it in the end.

All the advice you have gotten above is great. I would definitely use a crate to give her a 'safe place' to be other than under your bed. One problem you might run into is her being unwilling to come out of the crate once she decides she likes it (kind of like how she is under your bed). I would arm myself with some extra tasty treats and I'm talking extra cool, not dog treats, but cooked chicken liver or hot dogs and help her learn that going in and out of the crate is good.

I would also use a light leash and start the tether method of training. Tether her to you so she can't run away and hide or potty in inappropriate places. Then if you see her starting to sniff around you can nicely whisk her outside to potty. It will also allow her to interact with you and the world instead of hiding all the time. Don't make a huge fuss over her, just go about your day with her leash tied to your belt loop or ankle.

I got a foster once named Dillon (not a chihuahua but breed doesn't matter). He was about 5 months old at the time. All Dillon could do was lie in his crate or on the floor with his eyes closed. The world and living in it was simply too much for him. I had to crawl into his crate and physically drag him out, carry him outside and press on his bladder to make him pee as he couldn't even pee on his own. I tried letting him have some time to come around but I soon decided that left on his own he never would. So I tied him to me and went about my life. He cringed and panicked and tried to run away. I ignored that but when he calmed down and started following me around he got gentle praise and encouragement. I spent 12 months forcing him to interact with the world. I never allowed him to be hurt or anyone to scare him (like at petsmart) but he did have to go into petsmart. My thoughts were that he is a dog and he is going to live a dog's life, even if I have to force him to start.

He is now 6 years old and has been living with his new family for about 5 years. If you met him he would appear to be a completely normal dog. He still has a few issues and he truly has a few screws loose upstairs, biochemical reasons for his extreme fears, but he lives in this world and makes it his own. I actually spent 2 hours at the park this morning with him and his mom.

The point to that long winded story is to tell you that fears can be overcome, even if it takes years and that these dogs can learn to live full, healthy lives. Treat her as a dog, forget the chihuahua part for now, and you can do it!

Olivia
__________________
Posting Rules

You may not post new threads

You may not post replies

You may not post attachments

You may not edit your posts

---

HTML code is Off

---
All times are GMT. The time now is
08:54 AM
.