| | |
| --- | --- |
| Oh oh, she's in heat! | |
09-06-2012, 09:12 AM
chi person

Join Date: Sep 2012

Name: Monica

Location: Venice Italy

Posts: 12

Thanks: 0

Thanked 0 Times in 0 Posts
Oh oh, she's in heat!
---
Maybe you already know my my beautyful couple of chihuahuas, Jacques and Isabelle (see the videos) they play all day long, never tired, Jacques is one year old, Isabelle is eight months old...I think she's in heat now, it's the first time, Jacques seems to go out of his head sometimes, Jacques has tried many times to copulate but Isabelle has always refused angrily, now she doesn't refuse any more...I'm worried, she's still a puppy, too young...Do you think that to separate them for a few days could be the only solution?
Thanks
Monica
P.S. here are the videos...
Damaisin1979 - YouTube
Just for fun...
09-06-2012, 10:09 AM
Join Date: May 2009

Posts: 0

Thanks: 177

Thanked 255 Times in 152 Posts
---
Yes – seperate them this minute! They will be need to be completely seperated while she is in heat, locked doors, he will do everything he can to get to her. One tye and she could be pregnant – it only takes a minute. You say that they have already tyed, bring her to the vet to see if she has already taken. If she has, the vet will be able to advise you on your options, which really should be to prevent the pregnancy going further. I shudder to think of the consequences if she went on to have pups.

She is far too young and too small to have a litter it could put her life in danger, he is much larger than her, so should never be allowed to mate with her.

I love your videos and can see that you love those dogs – do the best for them. There are many threads on here which deal with problem births, deaths of mothers and puppies and caseserean sections - they make for very sobering reading. Your dogs are so mismatched, he is so much larger than her that you should really neuter both of them. You will be doing them a huge favour by doing so.

Also they are very young dogs and letting them jump up and down off beds is very bad for their legs, many chis can break their legs easily and many suffer from Luxating Patellas which requires major surgery, which means pain for them and a a lot of money for you to pay. I know it is so hard to stop them jumping, maybe you could put some steps beside the bed?

Your videos are stunning as are your dogs and I love the captions that go with them,
---
Last edited by Aquarius; 09-06-2012 at

10:14 AM

.
09-06-2012, 01:30 PM
chi god/godess

Join Date: Mar 2012

Name: Ashley

Location: NC, USA

Posts: 5,776

Thanks: 331

Thanked 783 Times in 685 Posts
---
Everything Jane said! An accidental breeding would be especially dangerous for her because she is so small and Jacques is bigger than her. You need to make sure she is not pregnant, if they already tied. If she is pregnant, and you value her life, than a spay/abort is the best option to protect her.

Is there anyone Jacques can stay with for a couple of weeks? It is vital that Isabella be protected from him. Dogs are sneaky- they will chew through doors, walls, jump fences, tie through cages, etc. It is much easier to simply keep them completely away from each other. You also need to be weary and alert when on walks and NEVER leave her unsupervised or take your eyes off of her. It only takes a minute.

May I ask if you are going to spay/neuter them? If you have a pair of the opposite sex and you are not a responsible breeder that has not done the hundreds of dollars in health tests that ensure they are both physically sound, the responsible thing is to get them spayed/neutered. What if she goes into heat without you realizing it and they tie? Are you prepared for the devastating possibilities? Thousands of dollars for a c-section, potentially death of mom and pup, and maybe raising puppies by hand for 10-12 weeks if mom rejects them. If not, I'd get Jacques neutered right away and as soon as feasible after her heat get Isabella spayed.
__________________
09-06-2012, 03:07 PM
chi god/godess

Join Date: Dec 2009

Location: Colorado

Posts: 6,940

Thanks: 0

Thanked 9 Times in 5 Posts
---
YES, separate them, and book an appointment NOW for your male to be neutered. Neither of your beautiful babies are breeding quality, they are best suited to continuing to be your best beloved pets. I would spay Isabelle about 2 months after her season ends.
09-06-2012, 06:35 PM
chi prince/princess

Join Date: Oct 2011

Name: Hayley

Location: Northern Ireland

Posts: 659

Thanks: 13

Thanked 11 Times in 11 Posts
---
I agree with everyone, after watching ur video, very cute pups, but Isabelle is way to small and young for puppies! And your male is too big for her, way too risky and not fair on her, she's only a baby. If ur not breeding anyway why don't ur neuter ur male?
__________________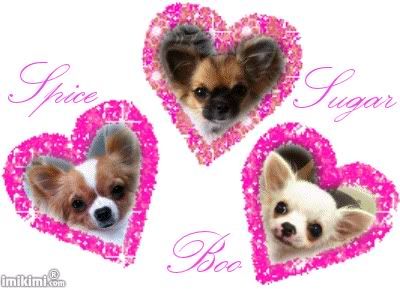 09-06-2012, 09:52 PM
chi-aholic

Join Date: Oct 2011

Name: Savannah

Location: North Carolina

Posts: 475

Thanks: 21

Thanked 11 Times in 7 Posts
---
Get the male neutered or get her spayed ASAP. Seperate them if you do not want litters. It only takes a minute for them to breed, if you turn your back for a second it could already be done.
__________________
09-06-2012, 10:32 PM
chi god/godess

Join Date: Apr 2012

Name: Caitlin

Location: Falun, Sweden

Posts: 3,206

Thanks: 49

Thanked 107 Times in 98 Posts
---
I second what everyone else has said, but I just had to mention how cute your video was. It had me laughing so hard when Isabelle was crashing into the side of the bed. I can't believe she how she jumps and climbs up that big bed. They are both so cute!
__________________
Posting Rules

You may not post new threads

You may not post replies

You may not post attachments

You may not edit your posts

---

HTML code is Off

---
All times are GMT. The time now is
03:18 PM
.