| | |
| --- | --- |
| Give me 5 minutes, just 5 | |
07-11-2013, 05:44 AM
chi prince/princess

Join Date: Apr 2013

Name: Andrea Nicole

Posts: 704

Thanks: 464

Thanked 134 Times in 114 Posts
Give me 5 minutes, just 5
---
With the person who dumped this precious baby in the rain on a main road with no lights. I think it would take all the strength I have to not hit them over the head with a bat (excuse me but Im furious). I haven't stopped crying since 8:00 the time we picked her up. While posting ads on Craigslist for the local urgent need dogs, I came across a horrible ad. It said ugly chihuahua for RE homing. Nice lady picked her up in the rain soaked, she brought her home and the husband said he would dump her again because she was so ugly. They wouldn't even spend the gas to take her to the shelter. This little girl is at least 10-13 years old, her teeth are pushed out her mouth, her tongue is sticking out. She can't weight more than 2.5lbs and she's only 7 inches long. She knows what belly rubs are and she knows to look for a bed so she's had a home. How can someone be so heartless? I want to have faith in humanity but times like this its hard too. After the dog is a senior you dump her like trash. I hope karma finds its way to the person who caused so much pain and suffering upon this loyal dog. My husband and I are spaced out after seeing her with a blanket in a shed, she just hasn't had luck from being abandoned by her owner to being rescued and nearly abandoned by her rescuers husband. Am I the only one who thinks she's just adorable? I will try to find her a home, I named her Ruby. An older couple will do best with her, it's going to take someone with a big heart since she's partially blind but I know that there is someone with a big enough heart to give her a stable couple of years. If there isn't then she will have a home with me, I have only been with her for a few hours and she looks for me. Poor thing was starving... Wow Im still pretty shocked.
__________________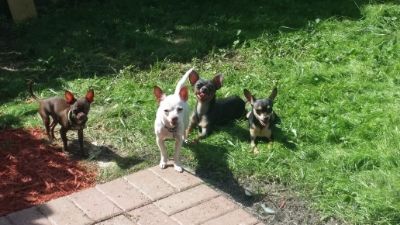 Sometimes the smallest things, take up the most room in your heart......
Mia
Nina
Jade
Ruby
---
Last edited by Chihuahuaobsession; 07-11-2013 at

05:49 AM

.
07-11-2013, 05:55 AM
chi lover

Join Date: Mar 2011

Posts: 189

Thanks: 36

Thanked 39 Times in 28 Posts
---
Omg!!! She is ADORABLE!!!!! I would adopt her in a hot minute!!! Bless you for taking her in! I just adore her!!!
__________________
My dogs are my heart!
The Following User Says Thank You to Kelliope For This Useful Post:
07-11-2013, 05:57 AM
chi god/godess

Join Date: Oct 2011

Name: LS

Location: Canada

Posts: 10,706

Thanks: 2,062

Thanked 813 Times in 693 Posts
---
Oh Andrea thank goodness for you girl! I'm glad you took on the responsibility,
I know you'll provide all the vet care, love and affection she needs. You said
there is a chance you guys will keep her, what's stopping you from keeping her?
I definitely agree with you she is very cute, and with a proper diet, medical
attention and TLC she'll bloom, even at her age you will see a big difference
after some proper care. You are her angel, give her a gentle kiss from me.
07-11-2013, 01:14 PM
Administrator

Join Date: Mar 2012

Name: Christie

Location: Leesburg VA

Posts: 9,988

Thanks: 919

Thanked 1,670 Times in 1,540 Posts
---
Thank you for taking her in! People can be down right cruel but then there are people like us who take them in. I think she is beautiful!
07-11-2013, 01:20 PM
Just arrived!

Join Date: Jul 2013

Posts: 6

Thanks: 0

Thanked 1 Time in 1 Post
---
Poor thing! She's adorable. People can be so cruel. I'm glad she's safe now.
Sent from
Petguide.com Free App
07-11-2013, 01:52 PM
chi god/godess

Join Date: Jan 2012

Name: Tina

Location: Alabama

Posts: 5,186

Thanks: 647

Thanked 940 Times in 878 Posts
---
I adore her! I hope she gets to spend the rest of her life being taken care of as she deserves.
__________________
Life is better because I have a friend like you.
07-11-2013, 01:56 PM
Join Date: Oct 2012

Name: Evelyn

Location: FLorida : from South Jersey

Posts: 2,899

Thanks: 352

Thanked 603 Times in 585 Posts
---
Thank God you found her, poor little girl. Bless you.
07-11-2013, 03:58 PM
chi god/godess

Join Date: Mar 2011

Name: Cindy

Location: Massachusetts

Posts: 3,287

Thanks: 330

Thanked 580 Times in 565 Posts
---
Thank you! What a horrible thing to do to a poor innocent dog! I couldn't call her ugly! She is adorable! Some people are so superficial! So if they had an "ugly" child would they toss it out! - I guess some people don't think that dogs really have feelings! That was so thoughtful and caring of you.
Posting Rules

You may not post new threads

You may not post replies

You may not post attachments

You may not edit your posts

---

HTML code is Off

---
All times are GMT. The time now is
10:45 PM
.