| | |
| --- | --- |
| Can you guide me on the best way to find reputable Chi rescue groups in my area? | |
03-18-2012, 10:33 PM
chi god/godess

Join Date: Dec 2010

Name: Karen

Location: Kansas City, MO

Posts: 4,172

Thanks: 0

Thanked 319 Times in 214 Posts
Can you guide me on the best way to find reputable Chi rescue groups in my area?
---
Obviously, my house is full but my heart and wallet have more that I can give.

I'd like to connect with a REPUTABLE Chihuahua rescue group in my area.

I work outside the home FT so fostering would not be practical. We could certainly do transport and we could also provide forever home packages for dogs (blankets, treats, clothes, great food, leads) or something similar. I could even take (and pay for) dogs to be groomed before they go home.

Also, having worked 26 years in corporate America means I understand business, legal matters, contracts and a whole lot about marketing, advertising and more that could perhaps be helpful to an organization who has willing homes but may not have volunteers who have those skills to offer.

I have searched Chihuahua Club of America, AKC and also just Yahoo search. Clearly, I do not want to associate with an organization that may not be reputable or doing the best for the dogs and not know that until I was involved.

Can you offer suggestion on how I could get involved in this way and find a group locally?

Thanks!!
__________________
03-18-2012, 11:25 PM
chi god/godess

Join Date: Jul 2008

Location: Boston

Posts: 3,403

Thanks: 12

Thanked 40 Times in 34 Posts
---
Some breeders maybe active in the area and know of a rescue. Also the local ASPCA might be a lead or a Chihuahua 'meetup" group. Around here the dog bakeries and boutiques have very knowledge-able people...just some ideas. but honestly eventually you will find someone who will be your connection....just keep asking/talking to people...

__________________
Rubia -y mi perrito que Rico
03-18-2012, 11:46 PM
chi god/godess

Join Date: Jan 2009

Name: Tracy

Location: Wichita, KS for 26 years... just moved to UTAH!

Posts: 14,441

Thanks: 415

Thanked 426 Times in 299 Posts
---
Karen, I'd start with Chihuahua Club of America. I'd contact the national chairperson and maybe the Oklahoma person as well. There may not be a contact in KS listed, but they may know of people who regularly help!
Rescue
That's really sweet of you to volunteer to help. I'm sure they'll jump at the chance to use your knowledge/expertise. Let us know how it goes!!
__________________
"Having heard all of this, you may choose to look the other way.....
but you can never say again that you did not know." William Wilberforce 1759-1833
03-19-2012, 03:11 PM
Administrator

Join Date: Mar 2012

Name: Christie

Location: Leesburg VA

Posts: 9,988

Thanks: 919

Thanked 1,670 Times in 1,540 Posts
---
Go to Petfinder.org search chis in your area and then look where they are at and research the groups.
03-19-2012, 04:10 PM
chi god/godess

Join Date: Dec 2010

Name: Karen

Location: Kansas City, MO

Posts: 4,172

Thanks: 0

Thanked 319 Times in 214 Posts
---
Well, good news, bad news.

Took Tracy's advice and emailed the lead person for rescue at CCA. She responded super quickly.

I copied what I posted here in my email to her and of course sent a pic of the girls (hey, they are a Chi specific group, after all!). I got a bounce back on the email for the Oklahoma contact.

Here was her kind response:
Hi Karen,

Itís nice to hear from sensible people such as yourself. Iím happy to hear you are doing your homework.

Chihuahua Club of America does not do rescue directly. We do support our member clubs and our individual members in rescue efforts. Iím working on a push to encourage more of that and trying to find ways to help our clubs and members who do rescue.

I donít know of a group that operates in Missouri right now. Chihuahua Rescue & Transport, Inc. used to have a presence in Missouri, but no longer has a direct person there. River City Rescue out of St Louis is the closest to that sort of thing.

Chihuahua Club of Oklahoma does some rescue, on a shoestring, of course. I donít know, at this point, what assistance CC of OK could use. Their person is in NE Oklahoma as I recall. Barbara, correct me on the details.

Anyway, Iíd love to have a conversation with you on the topic. By the way, I love the dogs.

lynnie

So, as I suspected, nothing in my area and we are a major metro! There are various general rescues and one she mentions that is 4 hours away. I can still help with goods and money and that may be it for now.

I am very surprised not to see rescues (specific to Chis), meet ups and the like since I see so many Chis out and about. They are typically "sausage" dogs that frankly look pretty unhealthy. I sometimes feel as if I am the only one in my area with Chis who really researches foods and cares about nutrition.

So, I will follow up and call her as she suggests.
__________________
03-19-2012, 04:28 PM
chi god/godess

Join Date: Sep 2010

Name: Fabulous Finn

Location: Colorado

Posts: 1,188

Thanks: 0

Thanked 0 Times in 0 Posts
---
Finn's Chihuahua rescue is in Colorado. We have rescued over 800 dogs and are a reputable non-profit organization. We don't foster outside of Colorado, but we do have opportunities listed that could work long distance.
Chihuahua and Small Dog Rescue
I am very proud that this weekend in one day alone we raised over $500 for Olive's surgery. She is an adorable Chi puppy--I will be fostering her Mom soon.
__________________
03-19-2012, 05:48 PM
chi god/godess

Join Date: Jan 2011

Name: Kelsey

Location: Ontario

Posts: 1,495

Thanks: 3

Thanked 15 Times in 14 Posts
---
Why not broaden your horizons to more than just Chi's? Even though I know they are your passion, if your having this much trouble I'd hate to see it be a wasted effort.
Are there any small dog rescues you can help out? A would also try Petfinder, many reputable rescue groups will post their fosters on there. You could find which groups are in you area then find out which ones you think are a fit for you to volunteer with and go from there.
I volunteer with Canadian Chihuahua Rescue and Transport (CCRT) and it was by looking for a chi that I found them
__________________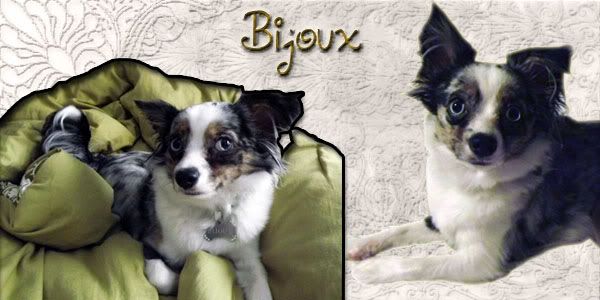 ďThe better I get to know men, the more I find myself loving dogs.Ē
― Charles de Gaulle
03-19-2012, 06:55 PM
chi god/godess

Join Date: Jun 2010

Name: Katy

Location: Kansas

Posts: 2,020

Thanks: 0

Thanked 0 Times in 0 Posts
---
Karen take a look at the rescue Hombre, that little Chi in OP that I like, is in. They have one or two other small breeds, but about 30 chis so I think that must be their primary focus. I don't know anything about them but it's somewhere to start!
__________________
Posting Rules

You may not post new threads

You may not post replies

You may not post attachments

You may not edit your posts

---

HTML code is Off

---
All times are GMT. The time now is
07:30 PM
.