| | |
| --- | --- |
| Dozens of Chi's seized in Rhode Island | |
07-20-2012, 04:48 AM
Administrator

chi god/godess
Dozens of Chi's seized in Rhode Island
---
__________________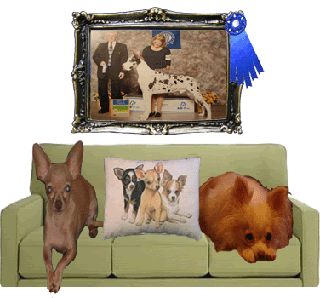 RIP Yoshi...You will be forever in my heart as you took most of it with you...
The bitterness of poor quality lingers long after the sweetness of a low price is forgotten....
07-20-2012, 06:01 AM
chi god/godess

Join Date: Oct 2011

Name: LS

Location: Canada

Posts: 10,706

Thanks: 2,062

Thanked 813 Times in 693 Posts
---
Poor dogs. They are all so sweet looking, and some look so afraid.
Thank goodness they got them out. Hopefully all will find good homes.
07-20-2012, 06:20 AM
chi god/godess

Join Date: Mar 2012

Name: Dee

Posts: 2,480

Thanks: 317

Thanked 255 Times in 173 Posts
---
Hmm, this kind of upsets & angers me, greatly - those dogs ALL look to be in PERFECT health, are happy & well adjusted ie. shots of them going up to strangers in that city pound wagging their tails & looking perfect confident (much more so than my own would), these don't appear to be the least bit frightened & upset. Look how immaculately clean they all are, hell, they're cleaner than mine who get bathed every couple of weeks, how is that possible if they were living in filth as alleged, hmm?

The owner's neighbour mentioned, "It's an illness" (hoarding) and she hopes they "get help" - now we all know how the media lie, exaggerate, embelish and make up what they don't know, how do we know that this is a case that warranted such drastic action.

This "raid" could well have broken the owner's heart & soul, and it may be that they were doing absolutely nothing wrong apart from keeping a whole lot of dogs, but surely to God there's no harm in that when they're all so obviously happy and very healthy.

Sure I agree when any animal is living in abject squalour, not receiving enough food and care etc. but there's something not quite right about this case, just look at those beautiful dogs .... it's the owner my heart goes out to, it's breaking for for her/him right now.

What reaally upsets me is that I could actually find myself in exactly the same position as this person with only x 4 of the darlings if our so-called "authorities" chose to flex their muscle and I'm here to tell you, it would be the end of me, no two ways about it .... I sure hope reason prevails and this poor person gets at least some of their babies back.
__________________
07-20-2012, 06:34 AM
chi god/godess

Join Date: Feb 2010

Name: Pam

Location: Bakersfield, CA

Posts: 3,686

Thanks: 0

Thanked 22 Times in 21 Posts
---
I was thinking along the same lines, Dee. They say the dogs were well taken care of. But the house was condemned, that threw me. Unless it smelled of pee, or had maybe pee pads in the house that were used and not picked up. There are police that take offense at that. Granted, 35 dogs in that little house probably was a bit too much, but they look well taken care of. I got two pekes from a situation like this. They were in great condition, only they weren't fixed. The owners loved their 36 pekes, but lived in a single wide mobile house and the mom tripped over one of the dogs and broke her hip. The rehab wouldn't let the mom come home until they got down to a reasonable number, they decided to keep 5. It broke their heart, but it was a lot more managable for a retired couple to take care of 5 than 36. One of the pekes was so traumatized from moving out of the house, she lived under my bed for a year. I, too, hope after the hysteria calms down they get to keep a few dogs.
__________________
Pam's Chihuahua Sanctuary
07-20-2012, 06:42 AM
chi god/godess

Join Date: Oct 2011

Name: LS

Location: Canada

Posts: 10,706

Thanks: 2,062

Thanked 813 Times in 693 Posts
---
Dee, I also noticed that they were clean, but figured the shelter groomed them.
I did not once think that the media would lie about something like this, because
here in Quebec for example, this and much worse goes down far too often, and
people wish more bybs and puppy mills got raided. I think that the fact that the
home was in such horrid condition that they had to evacuate the owners says a
lot. If that was a lie surely the owners could sue, right?

I don't know, as a rescuer I am fed up of hoarders. I don't understand how it
would be in the media's or shelter's best interest to lie about something like this?
Why lie when there are sooooo many darn bybs and puppy mills that break the
law, if they wanted donations, publicity or whatnot they can just bust a real
place, why make up a fake one? It doesn't make sense to me Dee.
07-20-2012, 06:46 AM
chi person

Join Date: Jul 2012

Name: Natalie

Location: Minnesota

Posts: 17

Thanks: 0

Thanked 0 Times in 0 Posts
---
sad 4 all
07-20-2012, 06:46 AM
chi god/godess

Join Date: Oct 2011

Name: LS

Location: Canada

Posts: 10,706

Thanks: 2,062

Thanked 813 Times in 693 Posts
---
And I'm not wrong, some of these dogs do look sad. Sure it could be lack of
socialization, or it could be the fact that they were kept in a shed sized house
with no sunlight. It's one of those things where it's all unclear because we did not
witness it ourselves, right. I'd like to believe they are doing what is in the best
interest of the dogs.
07-20-2012, 06:51 AM
chi god/godess

Join Date: Mar 2012

Name: Dee

Posts: 2,480

Thanks: 317

Thanked 255 Times in 173 Posts
---
Not a deliberate lie on the part of the media LS, I'm thinking more of an assumption & then embellishment to make a nothing story more dramatic on their part. The best they could show us about the "terrible state of the house" was a council sticker & tape over the door??!!

Maybe the owner was old and frail and needed to go into care themselves, hence the house was emptied & placed in lock down. Whatever, the state of those animals clearly indicate they were in immaculate condition and very well fed, no signs of parasites whatsoever.

Hell, my place with puppy pads in several locations could be deemed a health hazard by over-zealous authorities if they walked in and only one of them had a poo on it.

If this person/people kept these dogs for their own pleasure, enjoyment and love, that is to say they didn't breed and sell, then who the heck has the right to tear them all asunder in such a way. Damn, I'm going to have to step back for a while, this has really, really upset and angered me, I'm ropable and right now just want to hug the owner whom I bet was an old widow/er or couple who had nothing else in their life/ves. I'll step back after I've perhaps written a letter to the reporting media.
__________________
Posting Rules

You may not post new threads

You may not post replies

You may not post attachments

You may not edit your posts

---

HTML code is Off

---
All times are GMT. The time now is
06:54 PM
.