---
shes deffinately a little cutie pie, you should use the prepaid spay voucher and get her spayed the 6th is not that far off, is she the smallest dog in your pack? Is the other one she fights with bigger than her? If so she is deffinately challanging the other one for for alpha roll also many smaller females non spayed will head warnnings to a much larger female thats not spayed. Alot of little dogs always try to make them selfs look tuff and mean as a warning to bigger dogs or other dogs. Alot of times the trigger dog will indeed be the one that recives the bad end of the deal so to speak, you need to watch and learn body language from Belle and not just this female, 2 dominating females will constatnly challange each other till one backs down and becomes second in the higer archy. Keep them seperated untill the one is spayed and has a chance to heal from it and her hormones start to ease up. Then do a re-intro and watch Belles body language anything outa the norm eye stare, hair raised, tail up, body ridgid, standing tall and over the other one as if to say IM POWERFUL are all triggers to this female, you need to step in and correct right at that second befour the fight happens. What was this little girls back ground like where did she come from how did she act there?

But she really should be in a 1 dog home as she vows for all the attention to her self.
__________________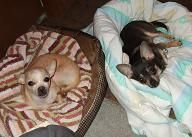 "Deja Voo" & "Muffin" My sweet little girls.
Saving one rescue at a time.