| | |
| --- | --- |
| How can you tell what a puppy's conformation is going to be? | |
04-05-2009, 02:11 AM
chi god/godess

Join Date: Mar 2009

Posts: 1,004

Thanks: 0

Thanked 2 Times in 2 Posts
How can you tell what a puppy's conformation is going to be?
---
I remember when I first saw my Boo. He had a cute little apple head, short little legs, soft fur. I pegged him for a standard chihuahua. Then he grew up. He kept the apple head, but has really long legs and a concave stomach...like a greyhound's. I love him, and I feel bad for talking "ill" about him, but I had no idea from his puppy shape that he would grow into his adult form quite like he did. I think people refer to him as a deer chihuahua?

So how can you look at a puppy and make a judgement about his looks when they haven't grown into them yet? Boo is also very sparse in the hair department, for instance. His tail is thin and rat-like instead of the fat and bushy tails of other chihuahuas. But I've seen pictures of beautiful, bushy, right-on-standard chis when they were puppies, and nothing about them gives you any clue as to their adult form. But I'm not a breeder/show person/etc...so maybe you know better.

Finally, how come some chihuahuas have eyes that are so dark, with irises so large, that you can't really see the whites? Poppet's were like that: dark, anime eyes that looked like they belonged on a baby seal or doll. But others I've seen (Boo included) are almost human looking with whites on each side. Is there preference of one over the other? Is the one not desireable? What causes it?

And finally, are there two "types" of chihuahuas: deer and apple? Or is this just an embellishment like the words "teacup" and "mini"?
__________________
---
Last edited by unchienne; 04-05-2009 at

02:14 AM

. Reason: Additional information
04-05-2009, 04:20 AM
chi god/godess

Join Date: Nov 2008

Location: USA

Posts: 1,003

Thanks: 0

Thanked 1 Time in 1 Post
---
Deer refers just to the head shape, I think. Mine has an apple head (I think, LOL) but has the body of a pitbull. My dog is also rather bald in patches, I think it is normal for the short-haired ones.

As for what they look like after growing up... luck and experience? I don't know for sure myself.

I think the standard is for the normal dog eye... and ones were you can see the white happens because the eye is out too far. Has to do with the weird shape humans have bred the head into.... it's nothing like a 'natural' dog head at all.

The 'deer' and 'apple' describe differing takes on how the dogs should look. Most kennel clubs prefer apple over the other, but a few take both.
__________________
04-14-2009, 02:14 AM
Administrator

chi god/godess
---
If you go to a reputable breeder that breeds to keep their traits, then they will be able to give you an idea of how your pup will turn out. They can usually tell which one will have the conformation to show. Better to look at a Chi pup when it is around 4 months old to really see how they will turn out if it is for the show ring.

Sometime's you can look at the parents and grandparents to get an idea of how your pup will turn out but only if it is a line that has stayed within the breed traits. A lot of breeder's now days just throw a female and male together and are not trying to better the breed and really have no idea what will turn out. There is really no way to tell with these pups how they will turn out, just have to wait and see.

The standard calls for the larger eye's and yes they are very dark.
__________________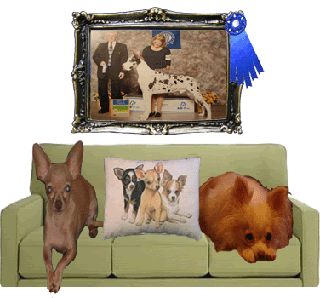 RIP Yoshi...You will be forever in my heart as you took most of it with you...
The bitterness of poor quality lingers long after the sweetness of a low price is forgotten....
04-14-2009, 02:55 AM
chi lover

Join Date: Oct 2005

Posts: 130

Thanks: 0

Thanked 1 Time in 1 Post
---
A pup will look the closest to what it will look like as an adult at 8 weeks. Most go though the uglies. some later then others and some for a long time.
04-15-2009, 01:02 PM
chi addict

Join Date: Oct 2008

Location: South Shields, N.E.

Posts: 288

Thanks: 0

Thanked 0 Times in 0 Posts
---
From a newbies point of view I would recommend a breeder/exhibitor with their own lines. You will also be able to see the parents, possibly grandparents too, in my case with both my dogs I saw quite a few generations. If they are already in the show ring they should be very knowledgable and be able to point out to you what is good and not so good about the pup, and more importantly what can change. Most breeders I know would not let you take the puppy before 12 weeks and will not fully make their mind up what they are keeping and letting go of until at least 10 weeks. However, even at 12 weeks there is absolutley no guarentee what the pup will turn out like at 6,9,12 and 18 months. They do go through some funny teenage stages where you may doubt what they will turn out like but on the whole if you have bought from someone who knows what they are doing with their breeding and is happy to support you then your half way there.
04-20-2009, 09:59 AM
---
A breeder will be able to tell up to they leave whether the pup is still showing potential however they can change. I can look at a pup and think "yeah it is still looking good" but I know if it starts to change before 12 weeks that it is likely to go off.

Don't forget that at about 5 months they go through the "ugly" stage and can look terrible. Dead scraggy, leggy etc, but as long as they were OK at 12 weeks they should stay reasonble.

Remember also that it is unlikely that a show breeder will sell you their best....they keep the best for their own show purposes. (Occasionally they will of course but highly unlikely)
__________________

04-20-2009, 12:26 PM
chi god/godess

Join Date: Mar 2009

Posts: 1,004

Thanks: 0

Thanked 2 Times in 2 Posts
---
Thanks all for the great advice. I've had a good look at both parents and was hoping that she would grow to look like her father instead of her mother. Mom is cute, but of the really sparse, skintight fur, longlegged, large eared type. Not that I'm saying these types are bad. Boo is one himself. I was just hoping for something a little more of my ideal: nice scruff, otter tail, not-sparse hair (though not a long-coat), and shorter legs with a cobbier body. Show quality doesn't really matter to me...size doesn't matter (beyond the legginess) either, he/she could be 8-10 lbs. for all I care, but I just thought it was interesting to see pictures of her past pups and the differences they all go through. Pups who were short, cobby, and with a heavy coat as pups grow up to be long legged and sparse. Pups who don't have much of a defined snout, sparse hair, an almost non-apple shaped head will blossom into the prettiest little adults with all the characteristics that breeders desire from offspring. That just made me wonder how in the world do breeders know? How do they decide which to keep and which to give away/sell? I'm a little bit envious now that you've mentioned how people can just look and see potential. I'd never breed or show...all mine are pets and family members...but it would be nice to be able to identify certain desireable traits. I envy that talent.
__________________
04-20-2009, 01:13 PM
---
it is easy to see when a dog has a good shaped head with a resonably short muzzle and a good stop, if the stop isn't there then the chances are the head and muzzle won't be as good. If the muzzle is long, it nearly always grows longer. Heads do develope a little but not extensively.
__________________

Posting Rules

You may not post new threads

You may not post replies

You may not post attachments

You may not edit your posts

---

HTML code is Off

---
All times are GMT. The time now is
03:42 PM
.