| | |
| --- | --- |
| Critique Bella, Please? | |
08-11-2012, 01:22 AM
chi fan

Join Date: Aug 2012

Name: Kristine

Location: Elizabethtown, KY

Posts: 52

Thanks: 0

Thanked 0 Times in 0 Posts
Critique Bella, Please?
---
So I just got my first Chi last night and I have absolutely no idea even about basic dog conformation, so I need a detailed evaluation on her. Whether she should just be pet, breeder and/or show quality. I would love it if she were breeding or show quality because I think it would be fun to show her and then possibly get a puppy or two out of her for myself. But, I would also not have a problem at all with her being a pet quality and us getting her spayed. Here are her pictures for evaluation:
The above picture is to give you a side view of her head.
[IMG]http://i1125.photobucket.com/albums/l599/kywalkers2012/bella3.jpg
[/IMG]
Don't be afraid to be brutally honest about her. Any flaws at all you see, please let me know. Also, you can of course point out the good
Thanks, guys.
08-13-2012, 08:39 PM
chi fan

Join Date: Feb 2012

Posts: 75

Thanks: 0

Thanked 3 Times in 2 Posts
---
I know you just got her so this isn't your fault, but bella is way, way too thin, bordering being considered emaciated. You won't be able to get a good critique on her until you get a few pounds on her, I would bet she needs to gain around 2.5lbs I know that doesn't sound like much, but is a lot for a chihuahua. What do you plan on feeding her
08-13-2012, 09:08 PM
chi god/godess

Join Date: Dec 2009

Location: Colorado

Posts: 6,940

Thanks: 0

Thanked 9 Times in 5 Posts
---
She is pet quality, but a pretty pet
08-13-2012, 09:30 PM
chi god/godess

Join Date: Apr 2012

Name: Lindsay

Location: Alabama

Posts: 1,411

Thanks: 37

Thanked 160 Times in 149 Posts
---
I don't know much about showing at all, but to me she looks like a pet. I also don't think that she's emaciated. She looks thin, but it also depends on her age. How old is she? It could just be that she's in that lanky stage. The correct weight is when you can feel her ribs, but not see them.


Sent from my iPhone using PG Free
__________________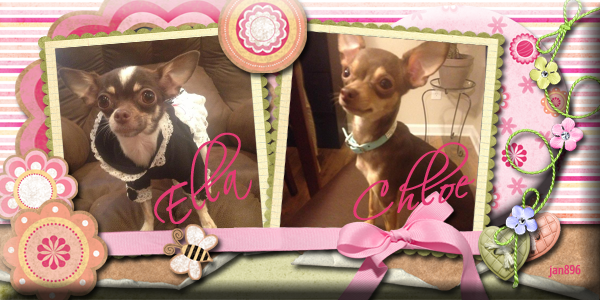 08-13-2012, 09:58 PM
chi fan

Join Date: Feb 2012

Posts: 75

Thanks: 0

Thanked 3 Times in 2 Posts
---
I dont think shes emaciated yet, just very thin. I do think that if she lost any more weight, she would be emaciated. She had posted on another thread that Bella is 8 months, my guys are usually past the lanky stage by that point, but Ive never had any go so thin in the lanky stage. Looking at some of the pictures, you can see that Bella is very sunken at the flanks, in the second picture you can see her hip bones sticking up,
in the third picture you can see that her backbone is sticking up visible, doesnt appear to have much muscle on her "thigh" area, and You should be able to feel ribs with a slight flesh padding over them, never see them. In the second picture of Bella if you look at the bottom of her rib cage, it looks like her ribs are starting to become visible, just when standing still. Im sure she will fill out in no time at her new home, shes adorable and Im sure shell be spoiled with plenty of TLC.
08-13-2012, 09:59 PM
chi fan

Join Date: Aug 2012

Name: Kristine

Location: Elizabethtown, KY

Posts: 52

Thanks: 0

Thanked 0 Times in 0 Posts
---
She's only 8 months old. She's been seen regularly by a vet. I've decided to keep her with the same vet she had been seeing. The vet we're using has seen Bella's mother since she was pregnant and Bella's father and all of the siblings and I was told by the vet that Bella was the runt of the litter. I've continued with the same diet that she was on, which is Purina Little Bites. The vet doesn't think that she is much underweight nor emaciated or even borderline emaciated. You can feel her ribs but you can't easily see them. Some of the pictures were at some bad angles where she was turned and then you can see her ribs. Bella has easy access to her food and water 24/7. I don't regulate when she eats or drinks, because I do know that she needs to gain a little bit, but 2.5 lbs would make Bella overweight with her body structure and how tall she is.

Now, I have another question. What makes her pet quality, versus breeding or show quality? Like I said, I pretty much know nothing of showing and conformation so I'd like to learn the difference between Bella and what someone sees as breeding and/or show quality.
08-13-2012, 10:20 PM
chi god/godess

Join Date: Jan 2009

Name: Tracy

Location: Wichita, KS for 26 years... just moved to UTAH!

Posts: 14,441

Thanks: 415

Thanked 426 Times in 299 Posts
---
She is very definitely pet quality. She also has an incorrect bite (undershot). But she is very cute and will be a great pet!
__________________
"Having heard all of this, you may choose to look the other way.....
but you can never say again that you did not know." William Wilberforce 1759-1833
08-13-2012, 10:39 PM
chi fan

Join Date: Aug 2012

Name: Kristine

Location: Elizabethtown, KY

Posts: 52

Thanks: 0

Thanked 0 Times in 0 Posts
---
Here are some pictures taken today of her bite:
Oh and please excuse my laundry in the background. It's laundry day for me lol.
If you guys could pick her conformation apart and please explain why you think she is pet quality it would truly help me to learn.
Posting Rules

You may not post new threads

You may not post replies

You may not post attachments

You may not edit your posts

---

HTML code is Off

---
All times are GMT. The time now is
11:23 PM
.