| | |
| --- | --- |
| Help.. cat and chihuahua help needed. | |
05-29-2013, 08:56 PM
Just arrived!

Join Date: May 2013

Posts: 5

Thanks: 0

Thanked 0 Times in 0 Posts
Help.. cat and chihuahua help needed.
---
ok how is everyone doing. so i searched but didnt get much help. and i know im probally going to answer my own question. well i recently picked up a chihuahua from the local spca cause adopting a dog from there seemed like the better thing to do lol. she is 2 years and 3 months old and very friendly, listens great, great with my 5 month old son, already house broken and used bathroom outside. when we got her from spca few days ago she was already microchipped, spayed, all shots so i know she is in a little paid from everything that has happened.

so my questino for you guys is i also have a cat she is 6 months old and she and the dog dont seem to be getting along granted i only have had the dog for 2 days so i know its going to take a little time. but the dog seems to run and hide from the cat and not want anything to do with her. im trying to see if you guys have any suggestions as to what i can do to maybe help them get along better. thanks for any help.
05-29-2013, 09:46 PM
chi god/godess

Join Date: Feb 2009

Name: Samantha

Location: Minnesota

Posts: 3,188

Thanks: 57

Thanked 389 Times in 371 Posts
---
You've got the right feeling, as it will probably just take more time. Don't force them. If they're just avoiding each other right now and not irritating or growling/hissing at each other, then I would say they are probably trying to adjust in their own ways. Learning each others smells, and just easing into everything.
__________________
Venus (born August 25, 2011)
Ocean (grew her wings July 25, 2014)
The Following User Says Thank You to lilbabyvenus For This Useful Post:
05-29-2013, 10:50 PM
chi-aholic

Join Date: Jan 2012

Name: Dawna

Location: Grand Junction, Colorado

Posts: 410

Thanks: 32

Thanked 47 Times in 44 Posts
---
Yep - just give it some time. Watch them to make sure that they don't try to hurt each other.

Animals all react in different ways to changes. And you just made changes to both the cat's and the dog's lives. They'll adjust to the new ways. The only thing that I can suggest is to make sure that both animals have places where they can feel safe. For cats it could be over a baby gate or up high somewhere. For the pup, it may be his crate, or a bed.
05-29-2013, 11:12 PM
chi god/godess

Join Date: Oct 2012

Name: Cathy Paoline

Location: New Jersey

Posts: 1,450

Thanks: 70

Thanked 391 Times in 379 Posts
---
I have a house full of critters....Currently 3 Chi's 2 cats and 2 guinea pigs....it will take time but they will learn to co exist, they may never be best friends but non the less will live happily together. I had a 1 year old cat at the time I brought a 9 month old shepard/husky mix home...lol, first few weeks were something else but they never did hurt each other and both lived to very old ages of 15(cat) and 17(dog).

When I got the chi's the 2 cats now could really care less, they just don't like when the pups run up to the barking, they just turn and run.

Being that the Chi is coming into a house with a cat already as a resident he could feel a little uneasy and need to learn his place, trust me they will be fine just need time to figure out the pecking order
05-30-2013, 12:07 AM
Just arrived!

Join Date: May 2013

Posts: 5

Thanks: 0

Thanked 0 Times in 0 Posts
---
thanks for all the answers everyone i really appreciate all are what i had figured already lol. i figured it would take time this is actually my first cat so i didnt know how they would react. and they arent trying to hurt each other at all. the cat actually wants to play with the chi. but she just wants nothing to do with the cat for now. each day seems she warms up and the cat gets closer and closer.. so i will def keep a watch on them. the cat would never hurt her so i know it may just be she is just overwelmed after all her surgery and all the other stuff they did to her at the spca.
05-30-2013, 01:11 AM
chi god/godess

Join Date: Aug 2011

Name: Krystal

Location: Canada

Posts: 5,614

Thanks: 851

Thanked 881 Times in 829 Posts
---
It's hard because when you adopt a pet, you don't always know their history. It's possible that she's had bad experiences with cats before. I'm sure that it will just take some time. It might be a good idea to separate them for the most part and slowly increase their interaction as they get used to each other. It might be overwhelming for your chi to warm up to a new animal in addition to settling in to her new home, especially a kitten who is probably pretty rambunctious!
__________________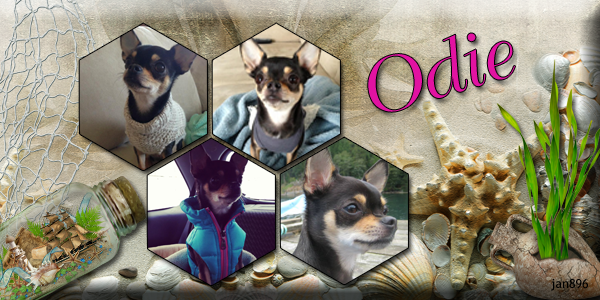 05-30-2013, 01:48 AM
chi god/godess

Join Date: Mar 2011

Name: Cindy

Location: Massachusetts

Posts: 3,287

Thanks: 330

Thanked 580 Times in 565 Posts
---
I wish I could offer some advice! I have a cat, 8 years old and we got Angel as a puppy at 9 weeks old. Well I have kept the two separated because I didn't want Angel to pee and poop upstairs! I couldn't follow him all over the house every minute of the day, so I blocked the stairs. I will admit that I was also afraid of what the cat would do to him. He was so "frisky" that the cat was afraid of him! Our cat is odd, to say the least! She has lots of places on high to go and a gated room, but she stays under the bed! Angel got under the bed with her a few times and she just growled - no claws came out! She is very gentle. I still have the stairs blocked, it's been 2 1/2 years now. He will poop in the hallway if I give him free reign and he eats her toys! My biggest problem is that if the cat gets really nervous she loses fur on her ears! So I am hoping that he will settle more and they will get used to each other! I don't want to see her nervous, but I don't want him making her scared!

I guess for you, supervised play time is probably the best. Don't make the same mistake I did! I think they will eventually be okay!
05-30-2013, 03:58 AM
Join Date: May 2013

Posts: 509

Thanks: 142

Thanked 131 Times in 116 Posts
---
One if my cars took to the pups like they were his babies. My other cat doesn't want anything to do with them. If they approach she may growl or hiss and they go away. They learned quickly if they kept going after a growl she would tap them in head. She does come and watch them sleep or jump on couch and watch them play. I think in time she will come around. They have been around each other a month now.
Sent from
Petguide.com Free App
Posting Rules

You may not post new threads

You may not post replies

You may not post attachments

You may not edit your posts

---

HTML code is Off

---
All times are GMT. The time now is
10:44 AM
.