| | |
| --- | --- |
| the trainer made me nervous...at first | |
09-21-2013, 09:19 PM
chi person

Join Date: Sep 2013

Posts: 25

Thanks: 6

Thanked 0 Times in 0 Posts
the trainer made me nervous...at first
---
So I adopted a chihuahua- Dragonlilly- from the SPCA this week and we went to our first lesson today.

She was insecure and barking, so the trainer reaches down and grabs her leash to which Dragonlilly starts screeching. I asked the trainer to stop, she did.

Later, she did a bunch of very sweet demos for me with treats and how to help her get more confident. But she did the leash thing again, to the point where DL gave an air snap at the trainer but then finally let the trainer hold her, but then DL would not take a treat. I don't know why the trainer wanted to do that.

Anyway, the trainer says my rescue is trying to manage the whole world, so she needs to be crated to help her calm down, and that I need to work on my leadership more. She says she's not a fan of Cesar Milan, but yet she has all this pack behavior stuff on her website. (Like this: "We need to build the foundation a Relationship. To do this, we need to change some of the Leadership dynamics in your relationship." but then also this "Say GOOD DOG! every time he does what you ask of him!".

In the end she seemed good, but why all the drama with the leash? She said it was to help her calm down, but it made Dragonlilly so upset.

Any feedback for me? I'm new to dog training. I did sign up for the SPCA's class, but it doesn't start until November.
09-21-2013, 09:34 PM
Administrator

chi god/godess

Join Date: Oct 2011

Name: Stella

Location: Frome, Somerset, UK

Posts: 5,713

Thanks: 230

Thanked 1,605 Times in 1,262 Posts
---
There are a lot of dog trainers who don't buy into pack theory, dominance, etc or aversive training methods. They rely purely on positive training techniques. It may be best if you look for a positive trainer, especially with a rescue dog who is lacking in confidence. There is no right or wrong way to train a dog, but you need to find a method you are comfortable with and fully believe in.
__________________
09-21-2013, 09:46 PM
chi god/godess

Join Date: Jun 2012

Name: Melissa

Location: Liverpool, England

Posts: 3,471

Thanks: 189

Thanked 289 Times in 271 Posts
---
I'm not really sure what the leash behaviour is about, it seems counterintuitive to me. There are lots of different ways of training dogs, lots of information on the internet for those who want it. I think some of the pack behaviour is good in so far as that your dog needs to respect you and know that you are in charge but you could say the same for a child. I prefer the positive training methods (for example, see Victoria Stilwell videos on YouTube). You might find Nothing In Life Is Free to be a better use of some of the theories Cesar Milan uses (earning privileges). It's really about what works for you and your dog but as Stella says; a rescue dog may have an easier time building their confidence through positive behaviour techniques. I've found them to work well with my two. Good luck and thanks for rescuing.
__________________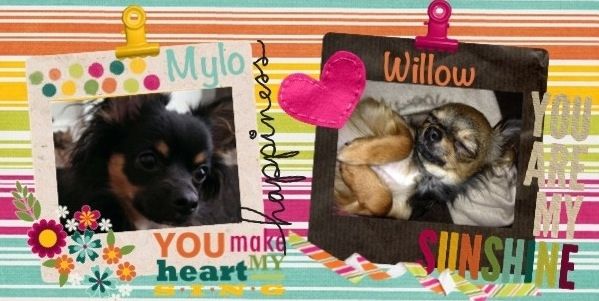 09-21-2013, 09:53 PM
chi god/godess

Join Date: Dec 2010

Name: Karen

Location: Kansas City, MO

Posts: 4,172

Thanks: 0

Thanked 319 Times in 214 Posts
---
That would be unnecessary for two of mine and for one of mine it would reinforce her shy/fearful/reactive behavior. That would be a no for me.

I would also suggest that you search shy fearful reactive training tips. You will find tips specific to this type of issue. It is NOT the same at all as how my other two can be trained. We successfully used streaming and other tips (that should have been common sense) such as telling her what we wanted her to do and telling her what was going to happen ("Ruby, pick up."). Made things less scary for her.

All the best as you get your little one more comfortable and trained.
__________________
09-21-2013, 10:02 PM
Join Date: Oct 2012

Name: Evelyn

Location: FLorida : from South Jersey

Posts: 2,899

Thanks: 352

Thanked 603 Times in 585 Posts
---
Maybe it is too soon and she needs to get more comfortable in her new home and with her new family. If it were me I would give her more time to adjust to you, and her home before taking her there.
09-21-2013, 10:40 PM
chi person

Join Date: Sep 2013

Posts: 25

Thanks: 6

Thanked 0 Times in 0 Posts
---
Upon reflection an after reading your replies (thank you!) I'm not sure why the trainer wanted to do that, but I called asked her! She said she was trying to help her calm down. I think it was dumb. But I do like other aspects of what she was teaching. I'll just let her know we're not going to get DL all wound up like that again. Again, it was just dumb. But the other stuff matches up with what I have read about positive training g. She's not shy but is not very confident right now.

I need training and help now because she is neurotic and anxious!
09-21-2013, 10:47 PM
Join Date: Jan 2009

Posts: 12,272

Thanks: 355

Thanked 845 Times in 731 Posts
---
As mentioned by Evelyn,you only got her this week she's scared and in a new home she needs to get used to all that change before she goes to training.Take your time get used to each other,she probably thought she was going to be hurt,being pulled about like that.Can do more damage treating a rescue dog ,the way she did.
10-15-2013, 02:54 AM
chi person

Join Date: Sep 2013

Posts: 25

Thanks: 6

Thanked 0 Times in 0 Posts
---
I went one more time and decided the trainer wasn't for me. It turns out the SPCA here has a Behaviorist- who was AWESOME- and a small breed class, which we start in 2 weeks. They are lovely, gentle and super helpful.
Posting Rules

You may not post new threads

You may not post replies

You may not post attachments

You may not edit your posts

---

HTML code is Off

---
All times are GMT. The time now is
04:56 AM
.