| | |
| --- | --- |
| Barking issues | |
06-06-2014, 01:48 PM
Administrator

chi god/godess

Join Date: Oct 2011

Name: Stella

Location: Frome, Somerset, UK

Posts: 5,713

Thanks: 230

Thanked 1,605 Times in 1,262 Posts
Barking issues
---
I need help with barking before things escalate any further.
my dogs never used to bark inappropriately. Harley is a happy barker, he barks on walks, he barks when he sees his dinner, the others never really barked much.
A couple of months ago they started barking early in the morning when i was still asleep, I never managed to figure out why. Now they bark at everything, noises in the house, (including normal noises of people in other rooms) they bark in the car, and they go crazy when i return to the room, worse if i have actually been out, it is a cacophony of barks and howls.
They have never been rewarded for barking, in fact they go silent as soon as i enter the room as they know they only get attention whilst calm. How do I stop them barking while i walk from the front door to the room they are in or from my bedroom to the room they are in?
They are tense and jump all the time now. Jasper has started barking at scary things on walks, and is extremely clingy. The barking makes me tense and jumpy which i am sure affects the dogs. They are only fully calm when we are all in the same room.
I don't want any aversive training methods, I don't think punishing them for expressing an emotional state is a good idea. I need to find a way of restoring the calm, which isn't easy when they all set each other off.
Any suggestions?
__________________
06-06-2014, 03:35 PM
chi god/godess

Join Date: Mar 2011

Posts: 6,155

Thanks: 3

Thanked 1,006 Times in 950 Posts
---
I have this problem too. My longhair Zarita will often go out on the porch and start barking for no apparent reason. This starts off the sheltie, and the other two start! I haven't found anything that works, except denying them access to the front porch. I laugh sometimes, 'cause you can see little Zarita's head start wondering "when shall I start something?" I don't know if you can start training them TO bark, then add "NO bark to the training.?
06-06-2014, 07:05 PM
Administrator

chi god/godess

Join Date: Oct 2011

Name: Stella

Location: Frome, Somerset, UK

Posts: 5,713

Thanks: 230

Thanked 1,605 Times in 1,262 Posts
---
I had thought of that actually Susan. I don't know.
I have minimised their access to anything stimulating ie no furniture they can climb on to see out of windows etc.
I have started leaving music on when I am out (not that they are ever alone for long) but I don't like background noise when I am in, i like things quiet lol.
__________________
06-06-2014, 11:23 PM
chi god/godess

Join Date: Mar 2011

Name: Cindy

Location: Massachusetts

Posts: 3,287

Thanks: 330

Thanked 580 Times in 565 Posts
---
I stopped Angel's barking with a squirt bottle! Whenever he barked, I gave a no bark command and sprayed him in the face, plain water! Now when he barks, once, I reach for the water bottle, give the command and he slinks away! He still manages to get one or two little ones in - but that's it! I don't know what he does when I'm not home, though. And if I go out when hubby's home, he will bark when I come in because he doesn't tell him no bark!
The key seems to be in surprising them with something unexpected like water or a loud noise! There he goes. . . Just barked at something outside! I reached for the bottle and he stopped!
06-07-2014, 01:51 AM
Administrator

chi god/godess

Join Date: Oct 2011

Name: Stella

Location: Frome, Somerset, UK

Posts: 5,713

Thanks: 230

Thanked 1,605 Times in 1,262 Posts
---
Spraying water is an aversive technique. It may prevent the behaviour, but it doesn't alter the dogs emotional state, the dog is just afraid to express that emotion.
I think I am looking for the reason that they have started barking and a way to make them not want to any more.
I would prefer to only use positive training methods.
__________________
---
Last edited by Wicked Pixie; 06-07-2014 at

01:54 AM

.
06-07-2014, 05:38 AM
chi god/godess

Join Date: May 2012

Name: Camille

Location: London UK

Posts: 3,306

Thanks: 823

Thanked 679 Times in 635 Posts
---
We're having a similar problem. Lilo never barked before we got Rocky, but at some point he started barking at every little noise and now Lilo joins in. Noises our housemate makes when he's not in the same room as us (like his bedroom or bathroom door opening and closing... or when he's cooking), when he comes home (when we come home too sometimes), cats outside, neighbours, etc. At least they don't bark while on walks.

I saw a great video about this a while back and how to stop it. I don't have the link anymore, but basically it involved creating a positive association with the noises that trigger your dogs. First you pick one of the triggers and make the sound in front of them, repeatedly, giving a treat each time. Then you need two people for the next step... one makes the noise while the other is in another room with the dog, feeding a treat and praising the dog after each sound (before the dog has had time to bark). Repeat with other random sounds that set them off. We started doing this and they're getting better. It might be harder with 5 dogs though! lol
---
Last edited by coco_little_bear; 06-07-2014 at

09:25 AM

.
06-07-2014, 09:01 AM
chi god/godess

Join Date: Dec 2011

Name: Amy Jo

Location: Texas

Posts: 3,561

Thanks: 435

Thanked 698 Times in 648 Posts
---
We are having the same problem.

Jaxx never barked before Opie came into the house. Then Opie started barking at every noise now Jaxx does the same thing. I have been giving them treats when they get alert from a noise and they do not bark. Jaxx is getting it and now if he hears a noise outside he looks at me and I tell him it is okay and then give him a treat. I think it was easier with Jaxx because he was never really vocal before.

Opie on the other hand is VERY vocal. He is starting to understand quiet but it is still a work in progress. With him we are still giving the treats when he is quiet inside but we are really focusing on outside and being vocal because he barks more outside than in and I figure if he figures out the quiet command outside than we can do it inside a lot easier. Opie barks at everything that moves if he is outside unless he is being carried then his body language changes if he sees or hears something but he is quiet.

Our biggest problem is neighbors. When I see Opie getting ready to bark outside I get his attention onto me and tell him quiet but if he barks once then people think it is so cute for a little dog to be barking so they keep talking to him and encouraging him. I do not want to be rude to our neighbors but I also do not want Opie to grow up and always bark at every person he sees.
__________________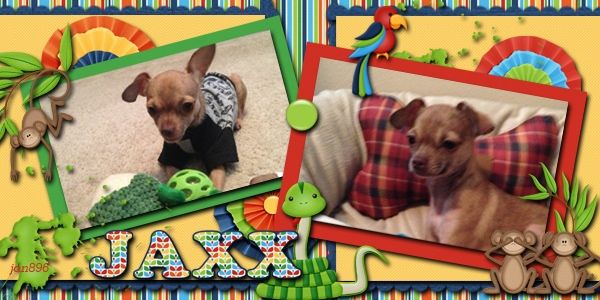 06-07-2014, 02:43 PM
Administrator

chi god/godess

Join Date: Oct 2011

Name: Stella

Location: Frome, Somerset, UK

Posts: 5,713

Thanks: 230

Thanked 1,605 Times in 1,262 Posts
---
Coco_little_bear, I think the video you mean is this one by kikopup
https://www.youtube.com/watch?v=Jp_l9C1yT1g
We have been trying to de-sensitise them to noises using that method, but you are right, it is harder with five lol
They also relapse because of the barking before we enter a room, which I think is a separate issue (although i don't know which behaviour triggered the other) They are summoning us, they know we are coming and bark excitedly (or howl in Bibi's case) which always works, because we do come in, either to the house or the room. I don't go into the room they are in until they are quiet but it is harder when we have been out. The reward of us coming back seems to override the fact that we don't interact with them until they are calm.
Talking about it has actually clarified in my head what I need to. So thanks guys. I think I needed to vent, the noise does my head in and it is impossible to progress when you are cross with your dogs.
__________________
Posting Rules

You may not post new threads

You may not post replies

You may not post attachments

You may not edit your posts

---

HTML code is Off

---
All times are GMT. The time now is
07:57 PM
.