| | |
| --- | --- |
| HELP My pup bit my daughter | |
07-22-2015, 03:00 AM
chi fan

Join Date: May 2015

Name: Babbs

Location: South Carolina

Posts: 64

Thanks: 4

Thanked 3 Times in 3 Posts
HELP My pup bit my daughter
---
Ahhhh my daughter left a bag of fruit loops under her bed. Ava my 4 month old puppy was eating it, my 8 year old went got the bag to pull away and ava took a bite and drew blood out of my daughter's hand. I had to get the dog bc my husband was LIVID, I am not happy either. I KNOW both the biting and cereal is bad. How do I keep this from happening. She has never done this before around any other foods when my daughter or any of us went towards food. She was just reaching for the bag and the pup got out of bag and took a hunk out. I'm in tears with my daughter.
__________________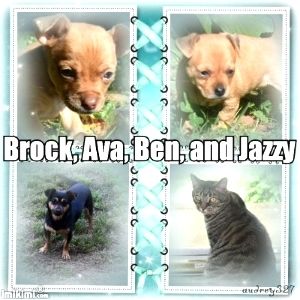 07-22-2015, 03:29 AM
chi fan

Join Date: May 2015

Name: Babbs

Location: South Carolina

Posts: 64

Thanks: 4

Thanked 3 Times in 3 Posts
---
Oh there was food in the kitchen, so she has had food. I do not want to get rid of this puppy, my daughter is begging me for her to stay, but I can't have her biting or growling, or my husband will take her himself. I am calling the vet tomorrow for advice I was just wondering from other chi mommies any suggestions?
__________________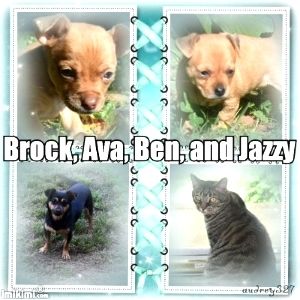 07-22-2015, 05:45 AM
chi-aholic

Join Date: Jun 2010

Name: April

Location: North Carolina, USA

Posts: 326

Thanks: 79

Thanked 55 Times in 55 Posts
---
I'm so sorry to hear this! I hope you don't have to rehome her! Some dogs do have food aggression where if they are eating something and it is taken away they will bite whatever is trying to take it away from them. The only thing I would know to do in this situation would be to work through it with her by disciplining her and letting her know that isn't acceptable behavior. I wonder if you could test the food aggression theory by having something she really likes to eat down let her start eating it and then trying to move the bowl away you may want to wear thick gloves or use a handle of something just to see if she shows her teeth, growls, or trys to bite at it. My hubby used to have a beagle that had this problem.
__________________
07-22-2015, 08:17 AM
chi god/godess

Join Date: May 2012

Name: Camille

Location: London UK

Posts: 3,306

Thanks: 823

Thanked 679 Times in 635 Posts
---
I'm sorry to hear this happened. Please don't rush into rehoming her though... these things can be worked on. It sounds like resource guarding. Some dogs do that if you're trying to take something of value from them like food. Finding a bag of fruit loops must have been the best thing ever for her and she got upset that it was being taken away. You need to teach her that this is unacceptable.

Like April said above, you could practice by taking away a food she likes, maybe a chew treat. My Rocky was like that when we adopted him. He bit both me and my boyfriend. So after that we practiced taking a chew treat away. We praised him as we approached, but if he showed any signs of aggression, we told him NO and grabbed the chew (while wearing gloves in case he bit). We also locked him out of the room we were in for a couple of minutes. Then we let him back in, gave him the treat again and repeat. Now he's fine. I'm not an expert, but this worked for us.
---
Last edited by coco_little_bear; 07-22-2015 at

08:19 AM

.
The Following User Says Thank You to coco_little_bear For This Useful Post:
07-22-2015, 11:47 AM
Join Date: Jun 2014

Name: Karen

Location: Sydney, Australia

Posts: 671

Thanks: 120

Thanked 137 Times in 128 Posts
---
It's very common for dogs to guard food and many need to be taught that you are not a threat before they will be comfortable with it. Children should be taught *never* to try and take food from dogs, they should always get a grown up to do it. The good news is that you can teach your Puppy to be comfortable giving up food quite easily. I like the method below:
https://www.aspca.org/pet-care/virtu.../food-guarding
Anything that uses force or punishment will just reinforce that your Puppy was right to feel threatened. Teach your daughter some boundaries with the Puppy and at the same time teach the Puppy to be more comfortable around food and you will have no need to rehome.
__________________
The Following User Says Thank You to Kismet For This Useful Post:
07-22-2015, 01:30 PM
chi fan

Join Date: May 2015

Name: Babbs

Location: South Carolina

Posts: 64

Thanks: 4

Thanked 3 Times in 3 Posts
---
TY, yes I do NOT want to re-home her. With her being so young I am hoping I can work on. My daughter was upset she said, "Mommy, this is all my fault, I should of not had food in my room, please don't make her go away" I had to explain to her that it wasn't her fault but she is right food should never be in the floor or in rooms. It is why I am asking for ways to help Ava to learn not to. We have always took food, she never growled but this is first, but lets face it, give me a bag of sugar I'd get mad too if you took it. I was wondering HOW to teach her not to feel threaten. I will work harder on this.
__________________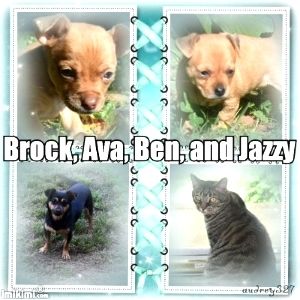 07-22-2015, 01:35 PM
Join Date: Dec 2013

Name: Meoshia (me-oh-shuh)

Location: West Chicago suburbs

Posts: 6,617

Thanks: 311

Thanked 1,044 Times in 983 Posts
HELP My pup bit my daughter
---
It's not about whether the dog had food in the kitchen or not. In your dogs mind, it's about someone taking something yummy away from her. What happened to your daughter is unfortunate, however is very common and fixable. First thing first is to keep food in out of reach places. You've had these dogs since only 6 weeks of age right? That's a very young age and she is still only a baby. Being that you're a wife, mom, and trying to raise pups it sounds like you've got quite the busy household and maybe the dog wasn't being supervised as it should have been. I would take the advice given by some of the others, and it wouldn't hurt to get your pups in some obedience classes, as well as teach your daughter some boundaries and to let the adult step in next time. It's for her safety and your dog. Good luck.
---
Last edited by Chiluv04; 07-22-2015 at

01:45 PM

.
07-22-2015, 01:45 PM
chi prince/princess

Join Date: Jan 2015

Name: Katie J.

Location: Missouri

Posts: 703

Thanks: 75

Thanked 96 Times in 94 Posts
---
As a child I remember having a wiener dog with the same issue. I was taught to never make a sudden move for him while he was eating or if he had something he shouldn't have. My Mom made sure that he would allow adults to mess with his food while he was eating but would not allow me to do the same. The risk was just too high. So if I saw him with something he shouldn't have I would tell my Mom. If my Mom or Dad weren't there, I would say "treat?!" and he would follow me into the kitchen to get one and then I would later go get whatever he had.
Posting Rules

You may not post new threads

You may not post replies

You may not post attachments

You may not edit your posts

---

HTML code is Off

---
All times are GMT. The time now is
07:32 PM
.