| | |
| --- | --- |
| Arrgghh I cant win | |
07-21-2008, 12:44 PM
Arrgghh I cant win
---
Right, if I explain whats going on... (would help wouldnt it)

I have the following medical problems :

Asthma
diabetes
poly cycstic ovarian syndrome
regular migraines
raised bp
raised cholesterol
arthritis
nut alergy
shell fish allergy
allergy to washing poweders, soaps sticky plasters etc
hayfever (lol)
irritable bowel syndrome
restless leg syndrome
clinical depression (I havent ever told anyone that before, not even my husband!)

and

this past week i decided to change what I eat, been having lots of salads, fruit, veg, fresh home made veg soups etc.

I lost 8 pounds in a week, I know that is a lot but I have a LOT to loose

but

my blood sugars keep dropping so low I feel sick,s leepy and slurr my speach.

Ive been having bananas and milk and toast thru the day to keep my carbs up.

I just cant win, eat and be fat, or eat healthily and be in a coma almost lol.

Anybody have any ideas?
07-21-2008, 01:04 PM
---
I hate to say it and I'm not someone for this but I think you might need to see a nutritionist to get a diet sorted out just for your specific needs.
I have a lot of problems with my stomach so I can't eat much and diabetes does run in my family along with heart problems and poor circulation, not to mention I was left with a pretty screwed up pelvis and back due to a botched operation to fix my birth defect that I was born without hip sockets. But I guess through trial and error I worked out what I can and can't eat, plus I'm someone who has to bear in mind I need to eat certain things for my mobility as my joints freeze up and get stiff especially in winter. I also get horrific headaches ( I think I mentioned them before) which I'm doped up on Tylex for and that amount of paracetamol can't be good for my stomach, and I have had a lot of problems with depression since I was 13. Lmao all this and I'm only 26 god bloody help me. But I have found regular exercise really does help and just taking time out and meditating helps
I'm naturally too stressed.
You'll get through it Janie it's just not easy as a lot of the things I need to eat for one aliment I can't eat due to another.
---
Last edited by *Sarah*; 07-21-2008 at

01:09 PM

.
07-21-2008, 01:46 PM
---
oh you reminded me i have "gastric irritation" as well. (Thats what it is actually down as on my notes. things like apsirin and coke and orange squash agrivate it)

I can alwys go back to the crips and ice cream lol.

I'm only 31, And i sound like a pensioner with all wrong with me. I have a hearing loss in both ears too, so only my teeth that work ok lol.

THings must be hard for you then, it's hard enough for me.

You msut have a strong character to cope with all that though
07-21-2008, 01:52 PM
---
When you've had it your whole life in a way it just becomes second nature, what doesn't kill you and all that
We all get there eventually but I have found myself shying away from conventional medicine as of late mainly due to not wanting that many toxins in my body at one time, they generally make me feel worse. What you probably need to do is find more natural sources of carbs to help keep your sugars level. Also as I said you would be shocked how much exercise and relaxation can help with stress, depression and even general health problems especially head aches.
07-21-2008, 01:55 PM
---
I am tired of pumping tablet after tablet into myself.
I now use a TENS instead of taking tramadol, and I take glucosamine for the arthritis, and cinamon, omega 3 and starflower.
It might be working, i'll tell you when I stop biting peoples heads off lol.

I like natural and herbal remedies, they seem especially good for the pets.

I know, I'll eat salad fruit and veg all day, and a box of chocolates in the evening lol
07-21-2008, 02:04 PM
---
lmao you see I'd like to do that but even chocolate unless in a small quantity disagrees with me. But I do have a stupidly unhealthy addiction to caffeine, but I class that as compensating for being teetotal, I need some form of stimulants or I just wouldn't damn wake up in the morning.

The herbal stuff does actually work after all a lot of medication to an extent has a placebo effect anyway. I honestly can't see how taking 8 high strength pain killers ever day is good for me, after all paracetamol is a toxin anyway, so in all reality I am slowly poisoning myself but due to years of needing pain medication, I now have to take really strong stuff, so earlier this year I became so worried as to what I was taken I literally cut it all down, after all if I'm on 8 pills a day now and it has 30mg of codeine in each what the hell am I going to need to be on when I'm 40. Lol the funny part is I'm not allowed to go over a size 12 due to my hips and lower back they literally can't cope with it sooo I have to watch my weight like a hawk as well which doesn't help with the family genetics grrr, also that pretty much means I could never have kids even if I wanted them as my back and hips couldn't take it. But I kinda resided myself to that fact when I was a teenager so I'm fine with it now, plus I wouldn't want to pass my medical condition on in all fairness.

So I'm trying the mind over matter approach which isn't easy but I'll only take pain killers when the pain is so terrible I can't move without them, plus they are right that changing your life style does really help.
---
Last edited by *Sarah*; 07-21-2008 at

02:15 PM

.
07-21-2008, 02:37 PM
---
Well if I am honest I have about 5 stone to loose, at least. So it wont be easy.
but I am really enjoying the change, ahving so much fresh fruit and salad and veggies.
I feel better already just doing that since friday.

I love my TENS for pain relief, use it every time I need without worrying about side effects.

I was actually taking tablets to stop the side effects of other tablets i was on. And at one point I was on 120mg of codeine at a time.

Sometimes you have to say whoooaa.

But then I thought like you, if I am 31 and on all these meds what will i take in the future?

Tried going on the treadmill today but after 4 minutes and 53 seconds (lol) my knee was sore and I had to stop. I'll try again tomorrow though.

And I promised myself when I loose the weight I'll go horse riding again, I LOVFED horse riding as a teenager, and really miss it.
07-23-2008, 12:01 PM
chi prince/princess

Join Date: Nov 2007

Name: Kimberely

Location: NC

Posts: 774

Thanks: 0

Thanked 1 Time in 1 Post
---
not to but into your convo but have you tried getting into a pool and doing water walking? i did that when i missed up my hip and it did help ease off the pain.
iwac you sound like me. i have a lot of those same ailments.
precscription drug allergy
latex allergy
ibs endometriosis nausea(?)
severe depression
ptsd
headaches
possible fibro
tore the cartilage lose in the bottom of my foot, tore the cartilage lining my hip socket,bulging disk in my neck.
i'm 41 and feel like i'm 81. i too have a tens unit. love that thing. i have several heating pads too.
if you have access to a gym try to use the pool or the eliptical or stationary bike it is less stress on your joints. don't give up, you didn't gain the weight overnight so you will not loose it overnight. hope both of you and sarah have a less painful day.
__________________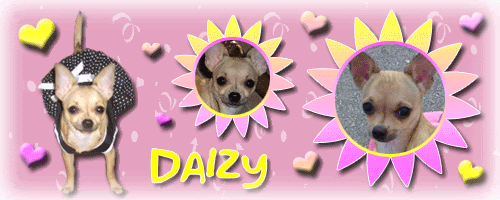 thank you for my pretty new siggy Holly's mom
Kim Max and Daizy
Posting Rules

You may not post new threads

You may not post replies

You may not post attachments

You may not edit your posts

---

HTML code is Off

---
All times are GMT. The time now is
08:14 PM
.