| | |
| --- | --- |
| WARNING, It Really Sneaks Up On You ... | |
01-05-2013, 12:31 AM
chi god/godess

Join Date: Mar 2012

Name: Dee

Posts: 2,480

Thanks: 317

Thanked 255 Times in 173 Posts
WARNING, It Really Sneaks Up On You ...
---
Hi girls, most of you will notice I've been absent lately. I decided I wanted to share a little of my story with you, if only to save 1 person from having the same experience, then it will be worth it. Sorry but this will be an essay, but it needs to be!

For the last 3 years, even longer, I've suffered from a whole combination of things - perpetual fatigue whereby I've slept literally 18 hours a day which has all but ruined my life, constant unrelenting depression & foul temper.

I went from being a super woman reno'ing houses, running a large'ish' charity & doing lots of stressful admin & heavy labor to a physical & emotional cripple, to the point I ceased work & ended up on a disability pension (for being a sleeping/emotional wreck). No pain alert, but life was screwed, royally!

My waterworks have been getting worse & worse in terms of incontinence, going far too many times a day & t/out the night, with terrifying urgency that I put down to the onset of old age (50yo). Oh, and often times, even after you think you're done & are re-dressing, whoosh, out of no-where comes some more - then that goes away and comes back later. It's because everything gets pushed, moved pressured etc. Also, you'll pee and then 10 mins later you feel the need to go again. Listen to your plumbing, it's usually the first thing to tell you there's a problem!

My stomach has been bloated to the point of ugliness, but recently over a period of months, it's taken on the appearance of a 6 month pregnant woman & exactly the identical shape too from under the boobies down (the rest of me has remained tiny & thin/trim) and tummy has been rock solid & beyond huge - to the point I had to start wearing maternity smocks and only leggings, much bigger ones than I normally would i.e. size 8 went up to size 14.

Indigestion has been hideous and indescribable, with so many different symptoms I can't begin to list them.

Xmas day I was hobbling around like an 80yo feeling as though I'd torn a muscle in my groin (that freaked me, how could that happen when I sleep 18 hours a day lol).

So called "irritable bowel" had become a way of life, like you would not believe.

Shortness of breath (put that down to my heavy smoking of cigarillos) has been fairly scary but every time that went away so did any thought of seeing a Doctor - that to me seemed like the ONLY real life threatening thing, everything else was just put down to life moving on & various organs getting older & more tired/worn out. But, because I was so depressed, even shortness of breath wasn't really a concern because it meant I could depart the planet sooner.

Every time I went to the Doc to get a prescription renewal for depression meds, I'd angrily lift up my smock & say, "Doc, for pity's sakes, we gotta to something about this guts, I can't stand it" and they never saw it as a priority or offered any options/suggestions.

Well, earlier this week it went to about 8 months pregnant, and that was enough for me, I was seriously worried I'd get stretch marks which I did not either either of my 2 children, one being 9lb 2oz - I bitched & whinged to a girlfriend I'd been moaning to about it 2 years earlier when she had emphatically said, "I'm telling you, you've got exactly what I got, just go get an ultrasound, they'll do ..... and .... and .... & you'll be better than you ever were!" I ignored her. This time I was spurred into action and I went on the web & searched "Ovarian Cancer".

I made an appt. the very next morning, stormed into Dr. saying, "I'm here for an u/sound for O/cancer". I walked out of there, straight across the road & had it done. I knew straight away there was something drastically wrong even though she didn't indicate a thing.

I read the report before going back to Dr. Hmm, 3 largish (1-2") cysts and an unidentified mass 6" x 5" x 6" - which, guess what, this little family of aliens had been using ALL of my hormones to feed themselves and grow, hence they had destroyed my life during the preceding 3++ years. Remember this, EVEN BENIGN CYSTS and other masses have to use your hormones to start, survive and grow - those hormones you're not getting will be the ruination of you.

Within 24 hours as at yesterday arvo, I had numerous blood tests, a CT scan, have been told they cannot say for certain that the large mass is not cancerous (will know after biopsy). I'm booked to be intro'd to my Professor surgeon on Tues a.m. and will be having a radical hysterectomy done by him next Friday - soooo excited about that, sick to death of periods at 53yo!!!

The thing with ovarian cancer is that it is incredibly common, oh yes it is, and the worst part is that it is stealthy & silent, AND, is almost always diagnosed as some other illness or condition initially, so that by the time it's caught with a simple ultrasound, it's often in advanced stage of malignancy.

I can only say that if you have 2, 3 or more of those symptoms, please, please go and ask your Dr for an Ultrasound to make sure it's not. DO NOT ignore it like I have - I've missed the boat for simple key-hole surgery and have risked my life which I'm extremely embarrassed about for my 13yo son, my beloved pack of puppies and those who love me.

I'm confident mine will be found to be benign, but there's still a chance it may not be. Even though this insidious damn thing will probably end up being benign, it's taken a HUGE chunk out of my life I won't get back, and turned it upside down, inside out by ruining my career, my mental health & well being - those hormones are what keep us sane, balanced & healthy - DO NOT FEED THE INTERNAL TROLLS girls, kill them, kill them with the scalpel!!!

It breaks my heart that you don't have a medical system like we do - so far none of this has cost me a cent, and I believe health insurance will cover 100% of all expenses yet to come, if not, at worst it'll cost me $500 max. an I will be in a 5* luxury private hospital for a week. Even though it may cost you $'s to get yourself checked out via a simple, easy ultrasound, please, please do not let that stop you, it could well save you from being where I am today - facing the biggest surgery a woman can have, and it could've been avoided if I'd listened to my body (and friend) years ago. There are 1,000's of women who lose their lives to this, I cannot stress strongly enough how important it is to act as the first sign & do NOT back down until the Docs do what you tell them to damn well do!
__________________
---
Last edited by AussieLass; 01-05-2013 at

12:41 AM

.
The Following User Says Thank You to AussieLass For This Useful Post:
01-05-2013, 12:45 AM
chi god/godess

Join Date: Oct 2011

Name: LS

Location: Canada

Posts: 10,706

Thanks: 2,062

Thanked 813 Times in 693 Posts
---
Dee, I love you, I missed you, and I'm sorry to hear about all of the challenges
you've been dealt. It breaks my heart. But I know you, I know you are strong
and I know you will get through it all. I have an abdomen and pelvic ultrasounds
scheduled for the 17th of January. I have to get them done regularly because of
my disease. I was going to postpone the appointment due to my current well
being, or lack thereof, but after reading your story I won't. Thank you for being
so brave and sharing your story, I'm sure it will help several people. Hugs.

I'm here for you my friend, anything you need, anything at all, just ask.
01-05-2013, 12:45 AM
chi god/godess

Join Date: Mar 2012

Name: Ashley

Location: NC, USA

Posts: 5,776

Thanks: 331

Thanked 783 Times in 685 Posts
---
Wow Dee. I wondered where you were, but I had no idea something l Ike this was going on. I hope you feel better after the hysterectomy. And I pray it isn't cancerous- please let us know when you find out. As terrible as it is, I am so happy you finally have a game plan and know what was causing you such misery. You are a tough lady and you can get through this. If you need anything please let me know.
I will be thinking of you. Xoxo
Sent from my iPhone using
Petguide.com App
__________________
01-05-2013, 12:48 AM
Join Date: Oct 2010

Posts: 5,888

Thanks: 557

Thanked 909 Times in 832 Posts
---
Oh Dee I am so sorry to hear this but on the other hand I'm so glad you finally went to see a doctor. It's funny bc we would do anything to take the very best care of our pups but we always put ourselves last. I am guilty of this too but not to this extent. I hope it comes back benign and thanks for the heads up post. Being a healthcare professional, I agree with you, we know our own bodies the best so if things are off, we need to get checked out ASAP before it turns into something worse.
This past year I was so irritable, unhappy, gaining weight like no other, and so so tired. My mom finally made me get my bloodwork done and my tsh and thyroid antibody levels were off the charts-hypothyroidism.
Please keep us posted on your progress! Be strong, we are all here for you! Your presence has really been missed. Praying for you Dee!! Hugs and kisses love!!!
Sent from my iPhone using
Petguide.com Free App
__________________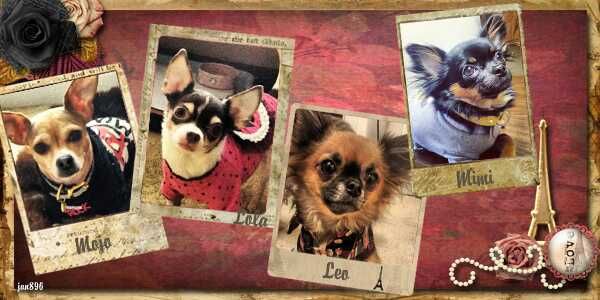 01-05-2013, 12:48 AM
chi god/godess

Join Date: Jul 2008

Name: Elaine

Location: Massachusetts

Posts: 10,017

Thanks: 404

Thanked 771 Times in 754 Posts
---
hi Dee,
i'm so sorry to hear that you have not been feeling well all this time
. i'm sending positive thoughts your way and will be thinking about you on Friday when you have your surgery. Also i am wishing you a speedy recovery.
Lots of Love and Hugs, E
__________________
01-05-2013, 12:55 AM
chi king/queen

Join Date: Apr 2012

Name: Nichole

Location: Rochester NY

Posts: 836

Thanks: 148

Thanked 67 Times in 65 Posts
---
I am sure by sharing your story you will have helped someone. I will pray that your biopsy is good news, and life will be better for you! ((Hugs))
Sent from my iPhone using
Petguide.com Free App
__________________
01-05-2013, 12:59 AM
chi god/godess

Join Date: Mar 2012

Name: Dee

Posts: 2,480

Thanks: 317

Thanked 255 Times in 173 Posts
---
Ah treasures, hugs to you all.

It's hard to explain, but whilst I'm feeling confident it will be benign, if by some small chance it turns out not to be, I'm fine with that too. I'm really not stressed about which way the coin falls to be honest, but I know the majority are different to me, and hence my reason for sharing. I've read the stories of the women who've battled it, and I simply want to alert as many as I can that so many of us get cysts, get them out!!!! Have your smears, mammograms AND ultrasounds (every couple of years I would say).

I know most would never understand that mindset, but it's mine and I've had it forever - I have a completely different view about death/dying to most people, it doesn't frighten me in the least (because I am in control, it will be exactly as, when and how I plan it - unless it's an accident or I am incapable of proceeding to my plan). And there'd be an extensive & very delightful overseas jaunt before farewelling family & loved ones.

Yes, I speak of euthanasia, I'm an avid member of Exit International and applaud them for their cause. Our Govt. ensures that 75% of old people who can no longer take their illness, incapacity whatever take their own lives by hanging - that is unnecessary, barbaric and inhuman for anyone to be put in that position, when there are other completely stress and pain free ways to leave behind their world of pain & suffering.

We do it for our pets, why can we not do it for ourselves? My coffee cup says, "I'd Rather Die Like a Dog" - think about that .... I wish the damn self-righteous, do-gooder Politicians would!!!!
__________________
---
Last edited by AussieLass; 01-05-2013 at

01:02 AM

.
01-05-2013, 01:07 AM
chi god/godess

Join Date: Nov 2008

Location: furrybutt, NY

Posts: 16,946

Thanks: 984

Thanked 753 Times in 708 Posts
---

hope u have butter days my aussie friend




__________________
Posting Rules

You may not post new threads

You may not post replies

You may not post attachments

You may not edit your posts

---

HTML code is Off

---
All times are GMT. The time now is
12:38 PM
.