| | |
| --- | --- |
| Does it get better? | |
05-04-2014, 01:39 AM
Just arrived!

Join Date: May 2014

Name: Ashley

Location: UK

Posts: 5

Thanks: 13

Thanked 0 Times in 0 Posts
Does it get better?
---
Hello, I'm not looking for sympathy etc i just need to get this off my chest. So here goes, on 1/5/14 my world came to an end when i lost my little girl (Belle) in a god awful accident, some taxi driver thought it was ok to speed on a 20 road, hit,stop, look and drove off and leave my precious girl dying in the street just around corner from home, my 3 year old opened the back door and this is how she trotted off, thank god i was pretty close to home when i got the call, i was an hysterical mess when i saw her, unconsolable, traumatised, deranged you name it. My eyes are so sore, bloodshot, dry and forever stinging! I haven't eaten nor slept, I'm up and down constantly, I'm angry. How can i carry on and be happy again when my best friend, my girl, my everything was snatched so soon away from me just like that she was only 2!
I'm devasted beyond repair, I'll never get over this i just no i won't. The vet must of thought i was crazy because all i remember is screaming *I want to rewind* over and over, i keep expecting her, coming in from the garden, coming upto bed, cuddling on couch, playing hide and seek etc, all i'm doing is expexcting what used to be. She wasn't just a dog to me she was my baby who i adored to the end of the earth. I'm sorry if i sound over dramatic but i'm totally, completely heartbroken, my heart is bleeding for her. But i'm more sorry she has gone. She had 2 little girls last year, she was a fantastic mum. They haven't left my side since but i take comfort knowing i still have a part of belle with me in them. Thanks for reading and listening, no one really understands me at the min because she was just a dog! I can do without the negative replys too, no one can hurt me anymore than i already am. P.S I'm new to the site.
05-04-2014, 02:18 AM
chi god/godess

Join Date: Oct 2013

Name: Debby

Location: Naples, Fl

Posts: 3,048

Thanks: 1,201

Thanked 555 Times in 537 Posts
---
My heart goes out to you. You are right...no one really understands because your experience is your own. We are all different in what we have been through. I do believe however that this forum is a group that can empathize with you and grieve along with you.
I shed tears as I read about your precious baby.
The only insight that I can offer is that grief is real. The notion that it gets better is nonsense!
What I do know is that it CHANGES. It all takes time and we are all here for you.
I am thinking of you...
__________________
The Following User Says Thank You to debrawade10 For This Useful Post:
05-04-2014, 02:59 AM
Administrator

chi god/godess

Join Date: Oct 2011

Name: Stella

Location: Frome, Somerset, UK

Posts: 5,713

Thanks: 230

Thanked 1,605 Times in 1,262 Posts
---
There are several of us here who have lost a beloved Chi suddenly. The shock and guilt are overwhelming at first, and there is nothing anyone can do or say to make it better.
It does get easier with time, but grieving is not something that can be rushed. We grieve in proportion to how much we loved, and you loved your Belle. It doesn't matter that she was a dog, losing a loved one is painful, and we all feel your pain. xxx
__________________
The Following User Says Thank You to Wicked Pixie For This Useful Post:
05-04-2014, 03:06 AM
chi god/godess

Join Date: Jan 2012

Name: Tina

Location: Alabama

Posts: 5,186

Thanks: 647

Thanked 940 Times in 878 Posts
---
Debby and Stella are both right. Each person's experience is their own, and we grieve in proportion to how much we loved. I hope that being able to talk with people that understand your great love for your beloved Belle brings you some comfort. I am truly sorry for your loss.
__________________
Life is better because I have a friend like you.
The Following User Says Thank You to lulu'smom For This Useful Post:
05-04-2014, 03:12 AM
chi god/godess

Join Date: May 2012

Name: Camille

Location: London UK

Posts: 3,306

Thanks: 823

Thanked 679 Times in 635 Posts
---
I'm so sorry this happened to you. I went through something similar last year. I lost my chihuahua Coco who was only 14 months and a half. She was run over as well after running out of the house where she was being taken care of while me and my partner were gone on holiday. We loved her so much we were beyond devastated. I still remember the moment I found out about it, it's like my whole world collapsed and I was broken. I was so hurt, I couldn't bear the thought that she was gone (and at such a young age). I couldn't eat, sleep or take care of myself properly for weeks after and I cried daily for a very long time. A lot of people would think it's crazy to feel this way about "just a dog", but dogs are not just dogs, they are family and friends.

To answer your question, it does get better. I really didn't think it could at the start and I don't think you can get over losing someone you love (whether it's a human or a dog), but it becomes less and less painful with time. It's been nearly a year and I still miss her, but I'm able to remember her without feeling like my heart is breaking and like my life makes no sense without her. I wish there was something I could say to make you feel better. Feel free to message me if you ever need to talk.
The Following User Says Thank You to coco_little_bear For This Useful Post:
05-04-2014, 03:21 AM
Join Date: Jun 2012

Posts: 5,089

Thanks: 75

Thanked 884 Times in 846 Posts
---
I am so sorry for what happened. I think your grief is natural since your pup was such a special one; I cringe thinking that one day I will lose mine. When a pet is lost in a totally unexpected way it is even more difficult. I think there is truth to time will heal but everyone experiences healing in a a different way and time frame. I wish you peace and good memories and good healing over time.
__________________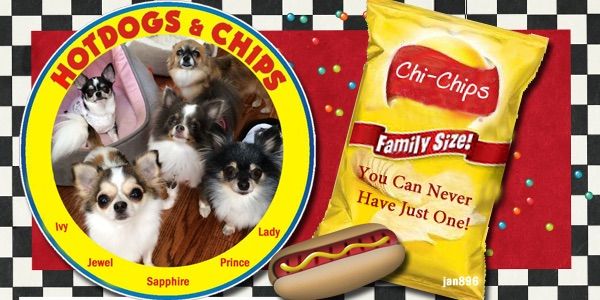 The Following User Says Thank You to Jayda For This Useful Post:
05-04-2014, 09:19 AM
chi person

Join Date: May 2014

Name: Janet

Location: Lincolnshire, UK

Posts: 43

Thanks: 6

Thanked 3 Times in 3 Posts
---
What a dreadful thing to have happened, I am so sorry. I know how it feels to lose old dogs, so what the pain must be like to lose a young dog in such a way I cannot bear to imagine.

I hope that eventually you will be able to come to terms with what has happened and just remember the happy times, and take joy from her two daughters.
The Following User Says Thank You to only me For This Useful Post:
05-04-2014, 11:34 AM
chi god/godess

Join Date: Mar 2011

Name: Cindy

Location: Massachusetts

Posts: 3,287

Thanks: 330

Thanked 580 Times in 565 Posts
---
I feel so so bad for the way it happened! Why can't people obey the rules of the road!

She was not just a dog! Anyone without a dog wouldn't understand. They become part of our family, just like any other member of our family. I will use the term loosely . . . "You get 'over it'." I believe what happens is you actually "adjust" you life to the loss. My first chi passed away about 9 years ago and I am still not "over it," but I have adjusted!

Unfortunately Angel is so opposite what he was that it makes me miss him more!

Don't rush the grieving process, it is real! And don't feel badly for it!

My thoughts are with you!
The Following User Says Thank You to Angel1210 For This Useful Post:
Posting Rules

You may not post new threads

You may not post replies

You may not post attachments

You may not edit your posts

---

HTML code is Off

---
All times are GMT. The time now is
01:09 AM
.