| | |
| --- | --- |
| My heroes | |
02-28-2015, 01:16 AM
chi king/queen

Join Date: Aug 2012

Name: Marty

Location: Pennsylvania

Posts: 864

Thanks: 155

Thanked 235 Times in 199 Posts
My heroes
---
I hear so often that people don't want to rescue because the dogs are "damaged" or "you don't know what you're getting." I will not deny these things. I have 2 rescues, and 2 that have been with us since they were very young. Both my rescues have reactivity issues that will likely need lifetime management.

Today I collapsed in my living room from abdominal pain and was unable to get up until my partner helped, about 10 minutes later. These were the reactions I got:

Max (13 years old, been with my partner since he was 5 weeks) laid right down where he was.

Stella (3 years old, been with me since she was 7 weeks) checked to make sure I wasn't dead and went to play with her toys.

Maggie (rescued at 2 years, been with us for 6) licked my face to make sure I was okay, then laid down and held my hand until she heard my partner coming downstairs.

Rufus (rescued at 2 years, been with us about 2 months) checked to make sure I was ok, then started alarm barking (not frantically, but in a very controlled manner) to try to get someone's attention. Stopped when my partner came downstairs.

There is no doubt in my mind that rescues create a special bond, due to what they've been through. These two dogs are my heroes, and they got anything they wanted today! <3
__________________
The Following User Says Thank You to MMS For This Useful Post:
02-28-2015, 01:35 AM
chi-aholic

Join Date: Jan 2015

Posts: 479

Thanks: 0

Thanked 30 Times in 30 Posts
---
I'm glad you're okay, and yay for rescues! I love my baby girl and didn't think twice that she had "no history" and was dumped! She needed me, and I am sure some day I will need her and she will be there for me, just like your babies!
02-28-2015, 01:45 AM
Join Date: Oct 2010

Posts: 5,888

Thanks: 557

Thanked 909 Times in 832 Posts
---
I'm so sorry you fell! Ru ok?? Bad cramps? I agree rescues are so special. I have a special bond with Mojo, I swear he appreciates everything we do for him and he's the only one who every night comes over to my belly and lays his head by the baby (I'm pregnant). The other 3 have no clue but I think Mojo knows there's a little something in there. Thanks for sharing such a beautiful story! Yay for rescues!
I often see bumper stickers that say "who rescued who?"
__________________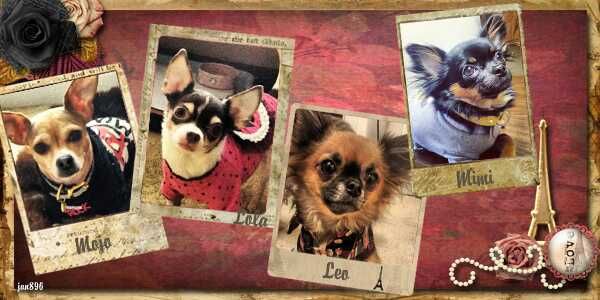 02-28-2015, 01:55 AM
chi god/godess

Join Date: Jan 2012

Name: Tina

Location: Alabama

Posts: 5,186

Thanks: 647

Thanked 940 Times in 878 Posts
---
I sure hope all is well with you now, Marty! I love the saying on the bumper sticker Zorana mentioned--"Who rescued who?" Not only are the dogs who are rescued special, but so are those who rescue them!
__________________
Life is better because I have a friend like you.
02-28-2015, 04:39 AM
chi lover

Join Date: Feb 2015

Name: Lisa

Location: NE Ohio

Posts: 116

Thanks: 19

Thanked 24 Times in 19 Posts
---
Rescues are awesome! Glad you're ok!

Every dog I've lived with (in my adult life) has been a rescue. I would never dream of buying a dog. Do they have a couple minor issues? Yes, they do. Just like every human family member does as well. I just do what I need to do for them.

I rescued my Chihuahua from a shelter about 5 weeks ago. He is estimated to be about 8 years old. He had an injured eye removed at the shelter and is mostly blind in his remaining eye due to scarring on that eye. He spent 6 weeks living in a kennel run in the shelter sleeping by himself. It makes me happy to see him happy now.
__________________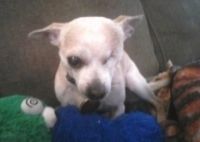 Marley, Kendra, and Gizmo
02-28-2015, 12:58 PM
chi king/queen

Join Date: Aug 2012

Name: Marty

Location: Pennsylvania

Posts: 864

Thanks: 155

Thanked 235 Times in 199 Posts
---
I am alright, thank you for all the concern! I believe I have endometriosis (which is where tissue similar to the uterine lining grows in places outside the uterus, for those who don't know) but it can only be diagnosed with surgery - since I can't work steadily due to pain, I can't afford insurance, so I am trying to save my pennies... I did see a dr about it, but all he could tell me was "it's definitely your uterus"

I love rescue stories too! I do understand why some are apprehensive, though. Rufus has more than a little damage - he has some PTSD. Though it has improved dramatically in the short time he has been here, he still has episodes where you can see the switch flip in his brain. Usually when he gets over stimulated, he will attack but when his brain switches back he gets all cuddly and kissy. Thankfully, as he settles in, these episodes get fewer and further between. Otherwise he is the sweetest thing! He loves to cuddle, and is learning how to play. I wouldn't trade him in for anything!
__________________
02-28-2015, 07:01 PM
chi god/godess

Join Date: Nov 2012

Posts: 1,358

Thanks: 2

Thanked 224 Times in 211 Posts
---
I also may have endo. I hope you can get the diagnostic soon- I haven't had it either but the disease is debilatating.
__________________
Douglas the chi, Alli the heeler/boston terrier, Kaira the yorkie/chi
02-28-2015, 10:50 PM
chi god/godess

Join Date: Mar 2011

Posts: 6,172

Thanks: 3

Thanked 1,010 Times in 954 Posts
---
Endometriosis can usually be somewhat controlled with birth control pills IF you can take them. I used them for 20+ years until I had a hysterectomy.
Posting Rules

You may not post new threads

You may not post replies

You may not post attachments

You may not edit your posts

---

HTML code is Off

---
All times are GMT. The time now is
11:29 AM
.