---
Theismann will be 2 yrs 2 months on Thursday. He is a shorter boy but has perfect Harl markings and great conformation. He is only 34" at the withers and alot of the other danes are taller but he has more bone than most so when he is fully matured he will be much thicker. There are quite a few Ch's that are shorter than he is so I dont worry much about his height.

As for him and the Chi's. The Chi's have to learn to move out of the way when he is walking but for the most part, my big guys are very well behaved in my house and pretty much come in and lay down. Chibi worships the ground T walks on though and it is always interesting watching Chibi bite on or sometimes try to hump T and T just ignores him, LOL!

I also have a Sheltie and a Weimaraner.
__________________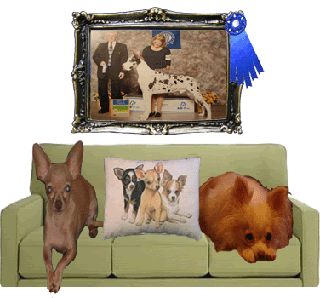 RIP Yoshi...You will be forever in my heart as you took most of it with you...
The bitterness of poor quality lingers long after the sweetness of a low price is forgotten....