My fiance and I bought our first house in May, and Ive started doing a little shopping in preparation for our first holiday together in our home. Bought a star for the top of our tree, a few ornaments and some cute monogrammed stockings from Pottery Barn (they have free monogramming on holiday stuff and free shipping on ornaments, decor etc for the holidays until tomorrow, fyi!) and then I got to looking on Etsy for some chihuahua ornaments for our tree
Found some super cute stuff so I thought I would share...
This one I loved because it reminded me so much of Miley, but they have a number of other chi ones and lots of other breeds too
from BestFriendsStudios...theyre all sooo cute, kind of wish I could buy all of them and just have a dog themed tree!
Best Friends Studios by BestFriendsStudios on Etsy
And I almost bought this one until I saw that she will make one specific to your dog, so she is making him in chocolate and tan for me! She even sent me a message asking for more detail about his coat/coloring so she could get it just right for us. Yay!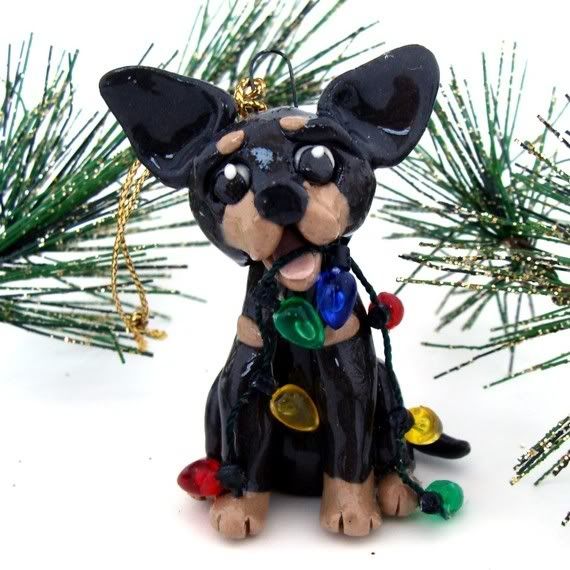 She has several other chi ones too, including long coats and in different poses, as well as other breeds. Kind of kitschy and fun, just loved them.
Heres the link to the shop
Dog and Cat Custom Ornaments and Fantasy Art by TheMagicSleigh
We don't have any ornaments yet, so I want to start building our collection slowly and having them all be special and have meaning, so I am excited to have some chi ornaments that look like Reese and Miley for our tree, now I just need one for Leo! Thought Id share since we are all chi-obsessed here, it would be a fun human gift for the SS to get an ornament in their chis likeness too if its in your budget. Happy shopping!