I had wanted a chihuahua since moving in with my boyfriend - i had been very patient and looked for the perfect one for about a year. Then i found Cookie: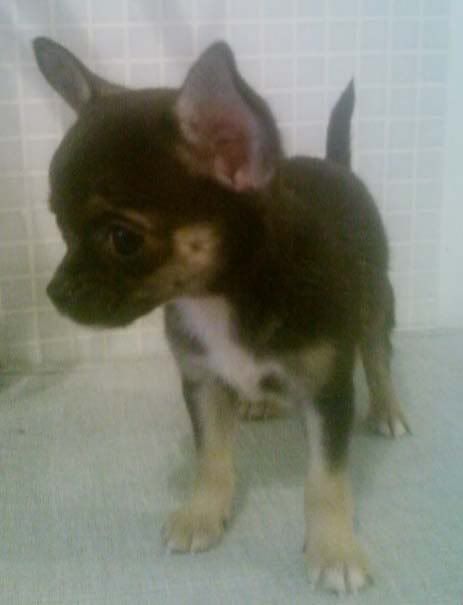 She cost a fortune but as soon as we saw her we fell in love with her. Talking to the breeder she said that she had advertised her for an hour then taken the advert off as she had changed her mind and i saw her in that small space of time (meant to be??)
We brought her home and she settled in quickly - she loved her new home and slept like a baby on the first night.
She was a sweetheart and followed me round all the following day or sat curled up on my lap. She was so calm and grown up for a puppy but still playful. Again that night she fell straight to sleep no crying or anything.
The next morning she was still in her bed when i came to see her i opened the crate door so she could jump out and have breakfast 30 minutes later she was still in bed. I picked her up she looked so sad and tired , and gave her cuddles but when i put her on the floor she collasped and i knew something was seriously wrong.
We rushed her to the vets. He seemed quite calm and said Puppys play hard and sleep hard she is probably just fatigued. He gave her some antibiotics and said to keep an eye on her if there was no change by 2pm we should bring her back.
We came home and made her as comfortable as possible, gave her a hot water bottle and placed her bed where she could see us. My boyfriend jumped in the shower as he had his motorcycle theory test to take that day.
Cookie then started fitting. I screamed my boyfriend and he ran in dripping he scooped her up and cuddled her till she stopped fitting - i was hysterical at this point.
We rushed her back to the vets where we had to leave her so they could treat her as best as they could. He promised to let us if there was any change.
We went into town for my boyfriend to take his theory test - he failed.
The moment we got home the phone rang it was the vet. Cookie had had 3 more fits and vomitting and diahoerra. They had done all they could but she had Parvo virus and the kindest thing to do was end her suffering and put her to sleep - i couldn't control myself and dropped the phone my boyfriend gave the vet permission.
The breeder had not believed in vaccinations and given all her chi dogs (13) homeopathic vaccine pills. We had planned to vaccinate Cookie as soon as possible but had never gotten the chance.
We picked Cookie up 3 days later in a box.
This was heart breaking we had her for 2 days but i missed her so much the house felt empty.
We have now gotten another lil chi puppy called Pebbles. The poor thing has had so many vaccinations and health checks she thinks the vet is a member of the family. BUT it is better to be safe than sorry. Remember that, always vaccinate your pups.
Cookie will never be forgotten half her ashes are on a sunny window ledge and half have been scattered on the beach which she never got chance to run along.