I know y'all don't really know him. He is my daughter's little boy, Chew. Actually, he was my middle grandson, Tember's dog, but I didn't really know that until now. And he was accidently killed night before last as he ran out the garage door to greet them as they came home. Ami ( my daughter), Tember and Teiger (my grandsons) were shattered. I came over and stayed with the boys while Ami and Travis (sil) rushed Chew to the vet, but there was nothing the vet could do. Chew was put to sleep around 12:30pm that night.
Chew Boo
born December 26, 2003
died April 28, 2007
It is Tember and Chew in the 2nd pic.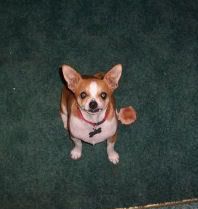 Ami said Tember cried through the night in his sleep.
I offered Tember any of my puppies he wanted, because I felt like a puppy would give him something to hold and distract from the pain in his heart.
He chose a female, black with sandy coloring. He named her Dayzee. I think that's a fabulous name and it fits her so well. And I think Dayzee helped him get through yesterday, even though he was still so sad. She actually made him smile a few times.
My son-in-law Travis buried Chew yesterday morning under a pretty tree on my property. This evening, we will have a little funeral service. Travis is going to make him a headstone for his grave.
It's so hard to lose one when you love them so much. My heart feels so heavy for the loss of Chew and for what my family is going through. Only people who love their pets like a family member could understand. This is just so devastating.