| | |
| --- | --- |
| Just started yesterday!!! | |
08-08-2013, 12:54 PM
Just arrived!

Join Date: Aug 2013

Posts: 5

Thanks: 0

Thanked 0 Times in 0 Posts
Just started yesterday!!!
---
I have been researching this for so long. This forum has been like gold and it's nice to see the help and dedication from all the users, especially with this topic. I have a 19 pound chi named Rambo who will be 5 in Dec. A little heavy too, but I like to think it's all muscle lol. I started the raw diet change yesterday after years of kibble, and I just want some quick re-assurance....

I used some calculators and found feeding him 6 ounces a day was the amount. I gave him ground chicken to start, all 6 ounces in one feeding and he took. But he ended up going 4 times last night, all mush. Thats the only status so far. My questions are...

Based on 6 ounces a day, 6 ounces of ground on soft days... on bone and organ days, which I was planning on doing twice a week, would it be 3 ounce bone meat and 3 ounce organ?

When should I get into first bone and organ day? Considering his first helping of ground chicken gave him runs already yesterday.

What are recommendations of first bone and organ meal?

Where should I feed him the bone and how should I feed him the organ. We live in Canada, and more colder months than warm. So I don't want to get him used to eating outside. Rambo can take on entire armies in war, but he hates the cold! Lol....the bone seems easy, but how to get the organ in him?

How long before I could get him into Ground beef for soft days? Is beef better than ground chicken or turkey when he's able to go that route?

Its weird, I read and read, I think I have it, then when I start...boom, all these questions I thought I had covered, all of a sudden don't feel covered. I just need some interactive answers. I thank all for the help in advance, but also for this forums availability in general!!
08-09-2013, 02:35 AM
chi god/godess

Join Date: Mar 2011

Posts: 6,172

Thanks: 3

Thanked 1,010 Times in 954 Posts
---
Sorry I don't feed raw. Someone on this forum will help, I'm sure.
08-09-2013, 02:40 AM
chi god/godess

Join Date: Aug 2010

Name: Lisa

Location: Tennessee

Posts: 4,436

Thanks: 228

Thanked 451 Times in 420 Posts
---
You should always transition slowly between foods to avoid stomach upset causing diarrhea. Maybe do half kibble, half raw for a week depending on how he does. If he still seems hungry, you could give green beans, carrots, sweet potatoes, etc. Tracy is our raw specialist on here. Maybe she'll chime in soon. She posted a really good raw thread in the raw food section. Check it out.
__________________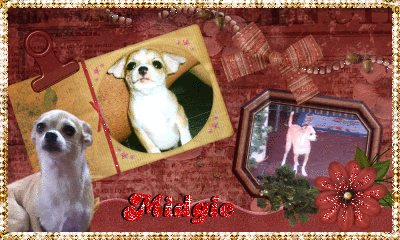 [url=http://www.TickerFactory.com/]
08-09-2013, 11:58 AM
Just arrived!

Join Date: Aug 2013

Posts: 5

Thanks: 0

Thanked 0 Times in 0 Posts
---
Tracy has posted tons of awesome threads regarding this. Its honestly what's got me moving forward entirely with this.

I was worried about the constant wet stool after giving him ground chicken, so I went and bought chicken thighs and some chicken liver...just to see if I could get some bone in him, and what his response would be. as a backup, I had some chicken gizzards and hearts as backup for "soft" meat in case he didn't take to the thighs. I read here that that is a good soft meat option for chis? I lay down some newspaper and put 4 ounces of a whole thigh down. Didn't know if the skin was ok to leave on or if the "knuckle" ends of the joint bones were going to be to big. So I watched carefully...

Well, he licked the crap out of it at first. Lol Wasn't taking to biting it at all. He didn't even know what to do. After holding it up a bit and a lot of patience, he started to gnaw and bite, then the meat started going, the he got to the bone and crunch crunch, away he went!!! Again, was worried about the knuckle part but he didn't finish it all anyways, but he made a decent amount of meat and bone disappear. I then gave him some live by hand. Which really stunk in my opinion, and he started eating that like it was treats!!! He loved it, which I thought was weird. At 19 pounds and 6 ounces of food a day, wasn't sure if I was to give him 3 ounces chicken thigh and 3 ounces liver, but at that moment I was happy he was taking anything!!!

As of now, he didn't dropped anything washroom wise at all since his soft stool the night before, so I can't tell what the stool is like yet, worried he hasn't had to go yet, but waiting to see. Thanks so far for the responses!!!! I will be giving him 6 ounces of chicken gizzards and hearts tonight...
08-09-2013, 03:20 PM
Just arrived!

Join Date: Aug 2013

Posts: 5

Thanks: 0

Thanked 0 Times in 0 Posts
---
Ok, another quick update. He did not drop any stool this morning, which is not normal. I tried to get him to go but he just wouldn't. I felt bad crating him and leaving for work with him having his morning "drop". He has not gone since the mush he encountered 2 days ago when I started him on ground chicken only. Did he maybe eat to much nbone and not enough liver yesterday? Should I be worried? Thanks again for all the help.
08-10-2013, 12:48 AM
Just arrived!

Join Date: Aug 2013

Posts: 5

Thanks: 0

Thanked 0 Times in 0 Posts
---
Another update...I gave him 6 ounces of ground chicken after I got home from work. held off on the chicken gizzards and hearts...YUM! He devoured it, then about 30 mins later, he had some scented gas, so I took him out, and total mush again!
happened twice already since his last feeding earlier. I'm going to try 3 ounces in the morn and 3 more at night of chicken gizzards and hearts tomorrow.
08-10-2013, 01:07 AM
Administrator

chi god/godess

Join Date: Oct 2011

Name: Stella

Location: Frome, Somerset, UK

Posts: 5,713

Thanks: 230

Thanked 1,605 Times in 1,262 Posts
---
I wouldn't be feeding any organs yet, so keep the liver frozen for later.
I would also be feeding the bony parts of the chicken to help keep the stool firm while you are transitioning. It doesn't have to be a huge amount of bone, even just a section of wing will help to keep things solid.
Don't add anything new (even different parts of the chicken) until he is doing well on one thing. If he is having soft stools, stay with bone in chicken for a few days until his stool is normal. Then add your new food, just a little alongside the food he is tolerating well. There is no need to rush into feeding everything.
I would definitely split his daily allowance into two meals as well, large meals can also cause loose stools.
__________________
08-12-2013, 12:53 PM
Just arrived!

Join Date: Aug 2013

Posts: 5

Thanks: 0

Thanked 0 Times in 0 Posts
---
Thank you so much Wicked Pixie!!! So here's the menu update!! He LOVES ground chicken and chicken liver!!! Destroys it!! He hates gizzards, licks it and puts it down then just walks away, lol, and likes chicken wings but, I have to hold it up for him, then he devours it from my hand, bone and all. I tried covering a chicken wing in ground chicken, and he ate around the ground chicken then started licking the wing until I held it up. I'm worried this will become a habbit.

My questions now are, can I, should I be feeding him a chicken wing a day, would that be good for him to get his bone amount per week in?

Would small skinless chicken legs be ok to give whole as a morning meal then soft at night everyday? (I think he doesn't like the fat and skin on wings)

Since he currently loves liver so much, could I give him X amount of ounces per day, or should I give X amount 1 or 2 times per week? He's 19 pounds and I know it's 10 percent liver and kidney.

I'm going to give it one more week then introduce ground beef or veal mixed into the ground chicken!!!

Thanks so much for the help!!! I'm getting the hang of this now!!! Thank you!!
Posting Rules

You may not post new threads

You may not post replies

You may not post attachments

You may not edit your posts

---

HTML code is Off

---
All times are GMT. The time now is
01:45 PM
.