---
I agree with Susan stop the pain meds more than likely thats the reason why hes throwing up. When any time i have to give pain meds to a dog or cat i always make sure they eat alittle then wait for 20 to 30 mins after and then give the pain med. Coating the stomach most the time helps.
__________________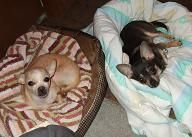 "Deja Voo" & "Muffin" My sweet little girls.
Saving one rescue at a time.